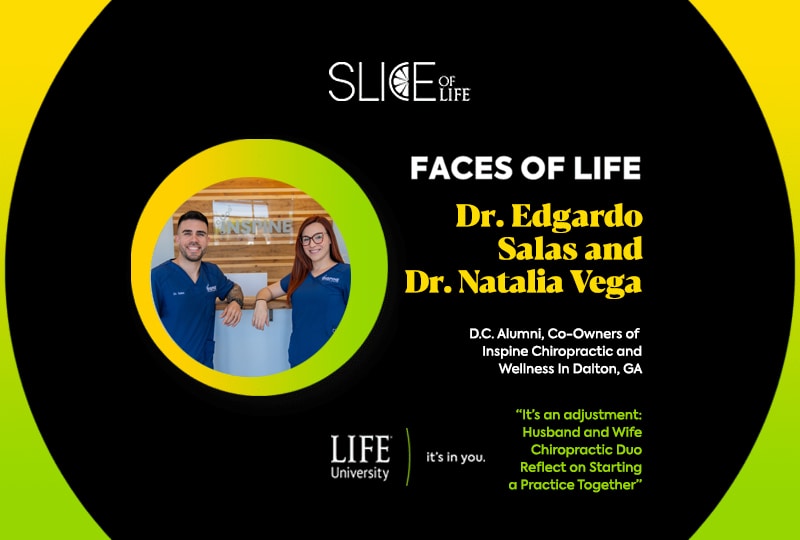 D.C. Alumni, Co-Owners of Inspine Chiropractic and Wellness in Dalton, Georgia.
"It's an adjustment: Husband and Wife Chiropractic Duo Reflect on Starting a Practice Together"
Everybody loves a good romance story, and a Life University (Life U) romance story often seems especially unique and heartwarming. Drs. Edgardo Salas and Natalia Vega both met as students enrolled in the Life U D.C. program. Interestingly enough, they both grew up very close to one another in Puerto Rico, but they ended up meeting and connecting over 1,500 miles away from home. Talk about a meet-cute!
But let's back up a bit to the beginning of their Life U journeys.
"I was actually thinking between M.D. and D.C. [Medical Doctor versus Doctor of Chiropractic], and then I had this friend that went to the LIFE Leadership Weekend. She talked to me about that, and I was already seeing a chiropractor, so I talked to him. He was so excited about it. He pushed me, so I went, and I just fell in love with the University," Dr. Vega said.
She already described herself as "in love with chiropractic care" after being connected to Chiropractic for years before visiting Life U, but when she visited the University, Dr. Vega said, "'This is my place." Dr. Vega has a B.S. in Biology from Life U in addition to her D.C. degree.
Dr. Salas came to the States originally on a baseball scholarship to Alcorn State University in Mississippi where he received a Bachelor's degree in Health and Physical Education. Throughout his student-athlete career, Dr. Salas suffered a number of injuries related to his sport, and during his senior year of undergraduate, he went to a staff chiropractor. He was intrigued to learn more about Sports Chiropractic and Chiropractic in general, so he attended a LIFE Leadership Weekend to get a better feel for what that might look like. His passion for Chiropractic has grown exponentially since then, and it has been rewarding to help facilitate healing not just for athletes but for "the whole family."
In regard to his time at Life U, Dr. Salas remarked how there was "a good balance of teachers who were practicing teachers and teachers who had already done it to give back in the form of teaching." He enjoyed how he was able to have the time to complete his classwork but also engage in beneficial extracurriculars, such as shadowing nearby chiropractors and connecting with alumni.
Dr. Salas had been about a year ahead of Dr. Vega in the D.C. program, so he graduated in 2019 and began working as an associate in a practice in Dalton, Georgia while Dr. Vega finished her last portion of the program in 2020. They were living in Smyrna, Georgia at the time, so the commute was an obstacle, but they were eager to hit the ground running as young and enthusiastic chiropractors.
After Dr. Vega graduated from Life U, they made the move to Dalton so Dr. Salas could continue his associate work there while Dr. Vega found a similar role at a different company. They spent the next few years gaining more valuable hands-on experience, all the while thinking it might be a good idea to go into practice for themselves. Then when Dr. Vega announced that they had a future chiro baby on the way (now one-year-old baby Camilla), it seemed like the right time to take the plunge and take the steps to set up a family practice together.
Inspine Chiropractic is located in Dalton, Georgia and has been open for about eight months since January 2023. The practice serves personalized care to patients of all ages and for a variety of needs, including wellness treatment, automobile accidents, sports injuries, pregnancy and more. It has been a transition – adjusting to running their own practice as opposed to working in an established office.
"Looking back, I probably would have done it sooner," Dr. Salas said.
Dr. Vega wholeheartedly agreed with that statement.
"You don't realize how ready you are when you get out of school. You think there is some magic or trick you need to learn to be your own boss, and it's not true. We learn every day from each other; we learn from our employees; we learn from patients. We make mistakes and pay for them, and that's how we grow," Dr. Salas elaborated.
When asked about advice they would give to young chiropractors close to graduation or early in their careers, here was what they had to say.
"Go and shadow. I didn't; he did. I feel he was more ready than me because there were a lot of things that I did not know when I started. Of course, you learn a lot of things in school, but you don't learn the business side [as much]. If you get to shadow, you can learn the clinical part and the business part. If you are already graduated and working for someone, learn the business part," Dr. Vega said.
Drs. Salas and Vega are open and willing to offer shadowing of their practice to interested students, so reach out through their website contacts for more information. They both do encourage and live out that familiar Nike slogan of "Just Do It," demonstrating by example that once you put in all the necessary legwork to learn the skills and obtain your licensure, the last step is to believe in your capabilities and allow yourself the ability to grow without self-limitations.
"Running a business is a day-to-day adventure. You always have something new to learn, but you are ready when you get out. If you put in the work and effort in while you are in school, you are going to be ready.
Faces of LIFE is a story campaign that showcases members of the dynamic Life U community, including faculty/staff, students, alumni and health science professionals. Interested in being featured or nominating a candidate? We want to hear from you! Email Marketing@life.edu. Read more Faces of LIFE stories.
Related posts