At Life University (Life U), we are always striving to find ways to serve those around us through the concept of Lasting Purpose. What better way to do that than to give blood? Life U has hosted several on-campus blood drives in the last five years to benefit the American Red Cross, most recently on August 19, 2022. There was a great turnout, with all four available donation stations being used for the majority of the six-hour event. Thank you to all who donated, and we ask that you save the date for our next drive on November 22.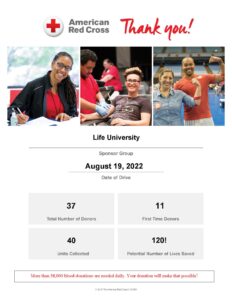 Rebecca Koch, Director of Service Initiatives, who coordinates the on-campus blood drives with Red Cross staff, found herself unable to physically oversee the August event due to conflicting vital meetings. Luckily, however, she had willing Life U staff volunteers ready to step in.
"I'd like to send grateful and great big WOWs to Diane Benson-Brown in Enrollment and Kelsey Asher with Marketing for their help in covering the blood drive when I found myself double booked for most of the blood drive, especially the beginning and end. I knew that Diane, with all her experience from LIFE Leadership Weekends, would be able to troubleshoot any issues that might arise, and I was very grateful to her for saying, 'Yes' when I asked for her help."
Also present to assist with donor check-in that day was Rich Murphy, a Blood Donor Ambassador volunteer with the Red Cross who routinely serves at blood drives in the surrounding Atlanta area. It is an important role to help get people checked in and also make sure that people are feeling well after donating, offering snacks and water to replenish the system.
"The way that I got involved with this is that one day I was actually donating blood, and there was no one to check anyone in. I was the first person that day. I walked in; the Red Cross staff said 'You can check yourself in' as they were setting up. It was a little hectic," said Murphy.
Ideally, having a Blood Donor Ambassador volunteer(s) at all blood drives to free up the Red Cross staff to do their necessary work is the goal, but it doesn't always work out that way depending on how many volunteers are available. It is a simple way to give back. Learn more at the Red Cross site.
Fast Facts
Let's take a look at some fast facts about the need for blood donations and how it helps patients in need, from the American Red Cross and their article "Importance of the Blood Supply".
Every two seconds, someone in the United States needs blood and/or platelets.
A safe blood supply is essential for surgeries, cancer treatment, chronic illnesses and traumatic injuries.
About 40% of the nation's blood and blood components supply is provided through the Red Cross.
Each year, an estimated 6.8 million people in the U.S. donate blood, with 13.6 million units of whole blood and red blood cells collected.
Despite these exciting numbers, the blood supply does not always meet the ever-present demand because only roughly 3% of age-eligible people chose to donate blood annually. Every new donor and donation is helpful and essential to meeting patient needs.
One blood donation can be used to save up to three lives.
Approximately 29,000 units of red blood cells are needed for everyday use in the U.S. Nearly 5,000 units of platelets and 6,500 units of plasma are needed daily.
One car accident victim can require up to 100 units of blood in their care.
Blood and platelets cannot be created by artificial means; they must be donated by volunteer donors.
If you have type O blood, it is especially important that you consider donating on a regular basis, as Type O is the blood type most requested by hospitals. Typically you can request information about your blood type after a donation, which is always good information to know in case it is needed.
For people with blood diseases or cancers, such Sickle cell disease, blood transfusions are a literal lifesaver that they often require throughout their life. Sickle cell disease affects 90,000 to 100,000 people in the U.S., with about 1,000 babies born with the disease each year.
Slice of LIFE is an invitation to and extension of everything happening at Life University. Whether you are a current student, a potential freshman or a proud alum, Slice of LIFE can help keep you connected to your academic community. Know of a compelling Life U story to be shared, such as a riveting project, innovative group or something similar? Let us know by emailing Marketing@life.edu.
Related posts