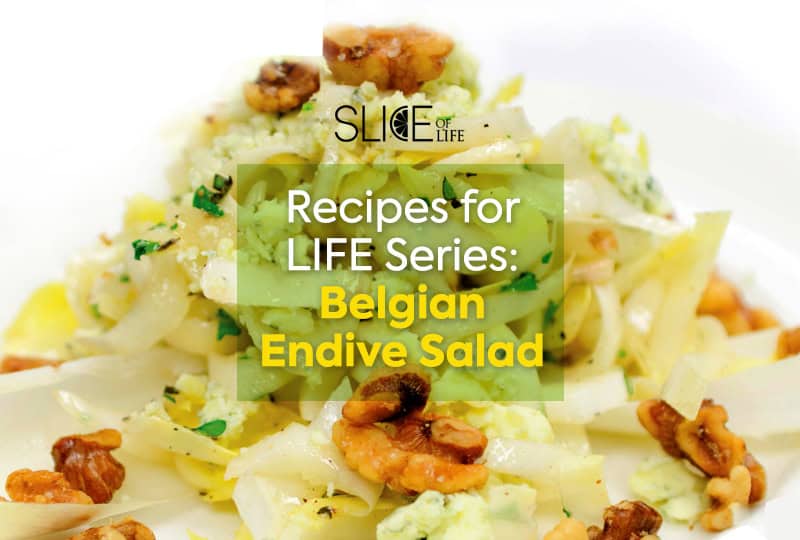 Life U is committed to healthy living, and as part of that commitment, we would love to share with our readers these tempting and healthy recipes in a periodic series. They have been created by our own Associate Professor of Nutrition Dr. Denise Pickett-Bernard.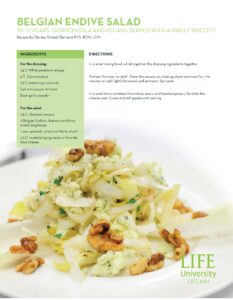 Ingredients:
For the dressing:
1/4 C White premium vinegar
2 T Dijon mustard
1/2 C extra-virgin olive oil
Salt and pepper to taste
Dash garlic powder
For the salad:
1/2 C chopped pecans
9 Belgian Endive, cleaned and thinly sliced lengthwise
1 pear, peeled, cored and thinly sliced
1/2 C crumbled gorgonzola or favorite blue cheese
Directions:
In a small mixing bowl, whisk together the dressing ingredients together. Preheat the oven to 350F. Place the pecans on a baking sheet and toast for 7-10 minutes or until lightly browned and aromatic. Set aside. In a salad bowl, combine the endive, pears, and toasted pecans. Sprinkle the cheese over. Cover and refrigerate until serving.
About the Writer: 
Denise Pickett-Bernard, Ph.D., RDN, LDN, IFMCP, is a registered and licensed dietitian (FL, GA). She has held a variety of faculty and leadership positions throughout her career in higher education. Dr. Pickett-Bernard has developed courses and curricula at both the graduate and undergraduate level. Her expertise in culinary nutritional medicine is sought after for her unique view toward including herbs and spices in food-as-medicine protocols. Presently, she is a full-time Associate Professor in the Nutrition Department at Life University.
Dr. Pickett-Bernard holds a degree from the Culinary Institute of America, a B.S. in Food Service Management from Johnson & Wales, and an M.S. in Food Science and Nutrition and graduate certificate in dietetics from the University of Rhode Island and Brown University's teaching hospitals. She earned a Ph.D. from Barry University studying spiritual factors that affect weight control maintenance. She has had a private practice for over 25 years where she provides functional nutrition therapy, industry consultations and public presentations.
Related posts