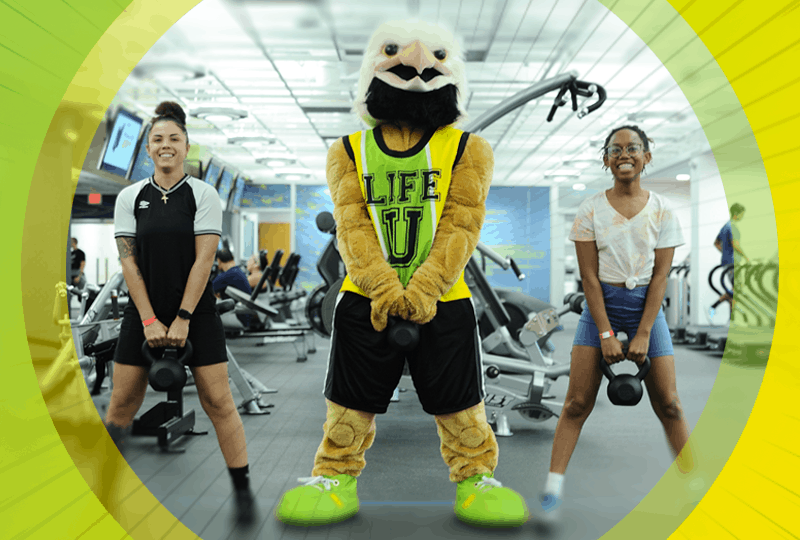 Sometimes motivation comes from an inspiring message, or a new discovery, or a role model. Sometimes, however, motivation comes from asking yourself a tough question and answering honestly. Without more ado, ask yourself: How long has it been since I have been to the Life University Fitness Center?
Exercise is first and foremost a habit. Sometimes it is easy to imagine that a gym is full of human figures who have either found a way to melt nearly all the fat off of their bodies or, alternatively, have stuffed themselves so full of muscle that people instinctively get out of their way. I won't pretend that some of these people don't exist out there, but the truth is that any gym will also be full of people who are trying to find their way and make a change in their lives. Even those lucky few who do draw admiring glances in the gym only do so because they have turned exercise from an activity into a habit and from there they have found a way to make a habit into something *gasp* actually enjoyable. Your dear author today looks far more like a sports fan than an athlete, but a regular running schedule not only helps me keep aging at bay a little, but also gives me an escape from the rest of my day and has become something I look forward to.
To return to the question of how long it has been since you have checked out what is happening at the Life U Fitness Center, we are going to address three of the main reasons why you perhaps haven't been to see us this year.
I Haven't Actually Been to a Gym Before; Or, What Are All of These Machines?!
Alright, we're feeling a little self-conscious, and that's fair. The truth is, on any given day, a number of people will go to the gym for the first time. First, experienced gym-goers will not mock you because they are focused on their own business and also because life isn't a movie from the 80s. Second, the Fitness Center and our staff know this‒it is quite literally our job to help. From easy-to-follow guides around the Fitness Center, which teach you how to use our equipment safely, to instructional classes and personal training, we are looking for people who want to learn!
Working Out Is One Thing, But I Want to Play with Others; Or, Ball? BALL?! I Want To Chase a Ball!!
If you're feeling a little bored of weights and treadmills, that's understandable. In fact, it's such a fair opinion to have that the University is currently accepting players and teams to register for intramural sports! League play for intramural sports runs from Week 3 to Week 7, meaning you get a strong burst of activity in the middle of the quarter, but you also wrap it up before finals become too real. As our website says, even if playing in an intramural league sounds too much, then "In addition to league play, Intramural Sports also offers special events, providing opportunities to get off campus and explore the local region though hiking, indoor rock climbing, golfing, team trivia, online gaming, and community building initiatives."
Exercising Takes Too Much Time; Or, Don't You Understand How Busy College Is?!
If you're feeling overwhelmed, that is totally fair! To help fit into your schedule, the Life U Fitness Center is open from 6:00 a.m. to 8:00 p.m. (currently with an hour break from 1:00 to 2:00 p.m. for COVID disinfection). While those doors are open as long as we can manage, it's understandable that many students fall out of the habit of regular exercise because it becomes one of many tasks they manage over the course of a day. The key, like so many other things in college, is to plan ahead and make time for what you know is important. If going to the gym constantly requires you to, in that very moment, put everything to the side and get your heart-rate up for an hour, then you will have a very hard time moving from an occasional workout to making it a habit. Instead, plan ahead and schedule times for yourself to get over to the Fitness Center so the decision to actually go feels less like a rare gesture and instead becomes something planned and anticipated. In fact, currently you must reserve a gym time due to COVID-19 policies so try to use this to your advantage. Book your times early so you have a schedule that you can use to hold yourself accountable. Consider building on this and find a friend to go at the same time as you; even if you aren't necessarily doing the same things together, the feeling that you and a friend are relying on each other can take you an incredibly long way. 
There is a saying that goes, "The best time to plant a tree is 20 years ago, the second best time is right now." The useful thing about this motto is that it is both realistic about the past while also acknowledging that the present offers us a plentitude of ways to change and improve. The best time to have gone to the Fitness Center was your first day at Life U; the second best time is today.
More Information About the Fitness Center
Renovated in 2020 and located on the ground floor of the Sports Health Science building, the Life U Fitness Center provides state of the art fitness equipment for all ability levels and fitness experiences. Enjoy looking out over the Life University pond from our cardio area as you walk, jog, run, or stair step your way to achieving your fitness goals. We also offer Olympic lifting options and platforms, free weight areas, and a cross fit rig to facilitate a variety of weightlifting options to challenge and inspire you towards your personal fitness outcomes.
Already a current Life University student, faculty, or staff member? Check out the Life University My Rec Portal for full access to Classes, Schedules, Programs, and registration information!
Related posts