Marietta, Georgia, January 22, 2021 – Life University (LIFE) is proud to announce that its Bachelor of Science in Biology degree, offered both on campus and through the College of Online Education (COE), has been named one of the "15 Best Online Bachelor's in Biology for 2021." LIFE is ranked No. 11 on the list, which was released January 21 by Bachelor's Degree Center.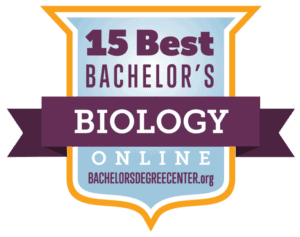 Founded in 1974, Life University is a health sciences institution most known for its Doctor of Chiropractic (D.C.) program, the largest single-campus chiropractic program in the world. Undergraduates can pursue 14 undergraduate degrees as well as a pre-chiropractic, degree-seeking pathway. Three graduate degrees are available, encompassing areas of sport health science, clinical nutrition and positive psychology.
Some degree programs are offered both on-campus and to distance learners through the College of Online Education. LIFE established the College in 2019, bringing together undergraduate and graduate degrees offered to students worldwide, regardless of where they are located. The University is committed to continued expansion of the COE in the years to come in order to fulfill the increasing needs of those who seek fully virtual higher education opportunities.
"One of the reasons our Bachelor of Science in Biology is so highly successful is our commitment to our students," said Dr. Richard Belcastro, Dean of the College of Online Education. "Our students should never feel as though they are alone – they are an important part of LIFE's larger, vitalistic community. We introduce Online students to a vast array of resources from day one during a specialized orientation. Throughout their coursework, they find there are numerous aids to enhance their success, building on personal relationships as well as web-based tools."
Dr. Belcastro pointed out that the College of Online Education's curriculum matches what the University provides to on-campus students, with the same learning objectives, assignments and outcomes.
"However, our faculty is what sets us apart from other colleges and universities," he continued. "The individuals who teach LIFE's Online courses not only have a wealth of experience in their fields but also in working with students who are learning virtually. We see ourselves as partners with the students on their journeys, and we measure our success by the success of our students."
In addition to undergraduate degree programs, Life University offers a Master of Science in Positive Psychology (MSPP) exclusively through the College of Online Education. The MSPP is a fully accredited, one-of-a-kind online degree that is one of only a handful of such highly sought-after programs in the entire world. Students pursuing the MSPP may specialize in one of two tracks: General Positive Psychology and Coaching Psychology.
LIFE's Master of Science in Positive Psychology investigates strengths-based research that enable individuals and communities to thrive. It focuses on the study of flourishing and positive human functioning, in particular key areas such as finding meaning in life and cultivating what is best within themselves including gratitude, compassion and forgiveness.
Life University strives to empower its students to succeed both professionally and personally. LIFE advances a leading-edge approach to higher education while also remaining true to the University's philosophical commitment to produce informed leaders who exemplify humanistic values in their professions. To achieve this goal, LIFE recognizes and demonstrates its dedication through three official Life University Values: Lasting Purpose, Vitalism and Integrity.
LIFE's 110-acre campus in Marietta, Georgia, just northwest of Atlanta, is home to more than 2,700 undergraduate, graduate and professional students who come from all 50 United States and more than 45 countries.
Additional information about the College of Online Education, including all of its degree offerings, is available at LIFE.edu/Online.
For more about Life University, please visit LIFE.edu.
Related posts