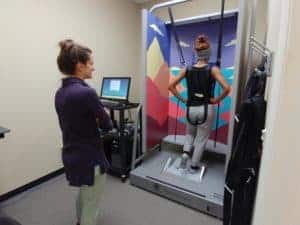 Life University offers its students many opportunities to get involved in research. Research is a critical component in health care, especially Chiropractic. Students can develop their own research studies or work on a new or existing study with LIFE faculty, staff or field doctors.
Much of the research conducted in the CCR includes student-driven and student-assisted studies. The active engagement of students in the research process helps to develop the next generation of chiropractic researchers. Currently, there are 23 students assisting in research studies or being mentored on their own research studies by faculty and staff. Some of the student research projects include:
Effectiveness of Chiropractic care on a Healthy Population as Assessed by Balance and Dual Task Performance Analysis
Does Chiropractic care change post-stroke Activities of Daily Living (ADLs) and brain activation patterns
Focus Group Assessment of Laboratory Assessment Challenges within a population of chiropractic students with ADHD
Timing comparison of lower limb muscle activation and hand-based force sensor technology as trigger for Global Mechanical Assessment of feedforward activation patterns in abdominal core musculature
The relationship of spinal flexibility to various cardiovascular health determinates
A prospective naturalistic study comparison of EEG results in verbal vs. non-verbal children with autism post-chiropractic care
The neurological effects of clinician empathy during the doctor-patient interaction
Evaluation of the Global Mechanical Assessment (GMA) Method as a surrogate for neuromuscular dysfunction: a feasibility study
Stress adaptability and Chiropractic: executive task performance and EEG
It is our hope that ever-increasing student involvement in research studies at Life University will provide more growth for our future chiropractors involved and for the future of the profession as a whole.
Related posts