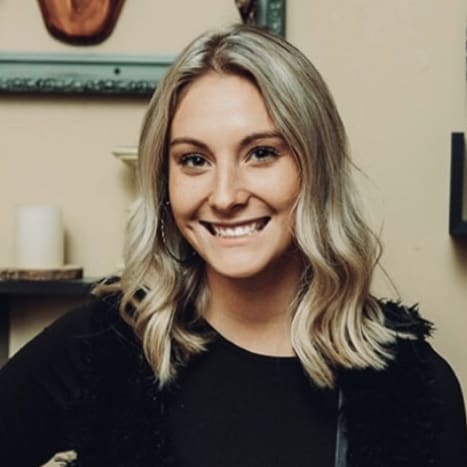 Sydney Bickmeyer
Love the Chiropractic Philosophy
Student: Bachelor of Exercise Science & Doctor of Chiropractic
September 2020
Sydney Bickmeyer started at Life University in the exercise science program in January 2018 and started the Doctor of Chiropractic program in January of 2019.
"I decided on LIFE because I loved the philosophy, and I could pursue both my undergrad and my [Doctor of] Chiropractic at the same time," Bickmeyer said. "I realized it was going to save me a ton of time and a ton of money in the long run.
Bickmeyer started her college experience at a community college in Missouri. She had her associate degree when she moved to Marietta, Georgia. She felt like she was coming in at the middle of the program. "It was a little harder to meet people, especially in the undergrad program since it is a little bit smaller." She lived on campus her first year and loved making friends with her roommate.
Though she felt like the beginning was difficult, once Bickmeyer started getting into her exercise science classes and meeting fellow future chiropractors, she started finding her community. "One thing I really did like was how familiar with everything I was when I started the D.C. program and how I had the opportunity to join the chiropractic clubs when I was in undergrad," she shared. "So, I kind of felt like I had a head start, and I think that really helped me make friends in the chiropractic program because I was a resource to everyone for where things were and what kind of clubs to check out."
Now, Bickmeyer is in her seventh quarter of the chiropractic program and in her last quarter of undergrad. "I chose Chiropractic because I knew I wanted to help people and was looking at doing something in the medical field," Bickmeyer shared. "My dad kept saying I was going to be a chiropractor, but I wanted him to back off so I could do what I wanted to do."
Her dad then took her to her first philosophy seminar at Focus OKC to make sure whether or not she wanted to be a chiropractor. She heard speakers talk about subjects like innate intelligence and how the power that makes the body heals the body and realized she had no idea that was what Chiropractic was all about. "I thought it was just neck pain and back pain, and that realization just blew my mind, and I was like 'this is what I am going to do for the rest of my life.'"
After graduation, Bickmeyer doesn't want to stay in Georgia or go back to Missouri either. "I am actually looking at places now for where I want to open up a practice right after school." She just recently took a trip to Arizona in June and fell in love with Scottsdale. "I think that will probably be the place I settle down."
She feels like she has found Lasting Purpose at LIFE. "One of the student clubs I am a part of is Student LIFEforce, and my Work-Study at LIFE is my [LIFE]force assistant," she shared. Their mission is simple: they will not stop until everyone on the planet has access to chiropractic care and a chiropractic education if they so choose. They believe that members of a committed tribe can make the difference in helping Life University spread principled, vitalistic Chiropractic and Lasting Purpose around the world. "So, I am really involved in that. Basically, our main mission in Student LIFEforce is to spread Chiropractic." She is passionate about answering perspective students' questions and helping them see if Chiropractic is right for them.
Her biggest piece of advice is for prospective students to come to a LIFE Leadership Weekend and see if they fall in love with the philosophy. "If you don't love chiropractic philosophy, you are going to get burnt out," she said. "But I say anybody who wants to help people and are looking in the medical field should at least give Chiropractic a chance."
LEARN MORE:
Faces of LIFE is a story campaign that showcases members of the dynamic LIFE community, including faculty/staff, students, alumni and health science professionals. Interested in being featured or nominating a candidate? E-mail Natalie.Esparza@LIFE.edu. Read more Faces of LIFE stories.
Related posts