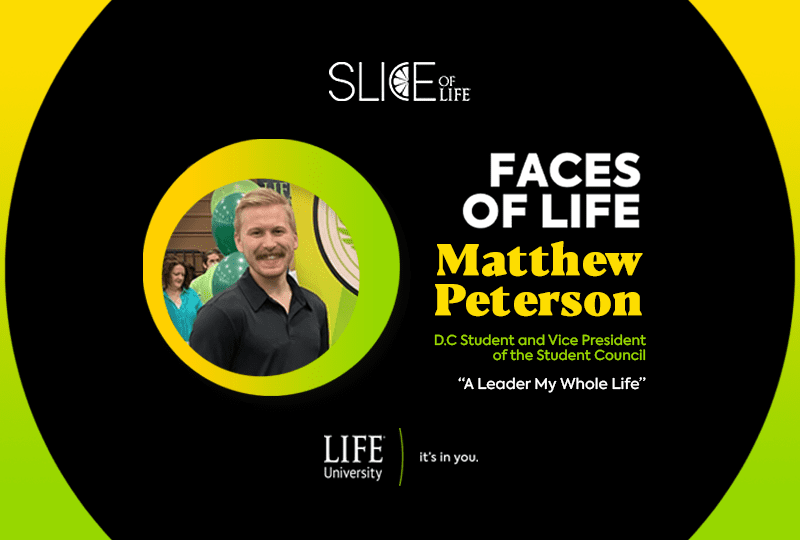 D.C Student and Vice President of the Student Council
"A Leader My Whole Life"
Growing up in the not-so-bustling metropolis of Milltown, Wisconsin, with a population estimated at fewer than 1,000 people, Matthew Peterson made a point to get involved. As an only child, his parents pushed him to make connections and pursue different passions in his childhood and adolescence. For example, his participation in Boy Scouts of America proved to be a formative venture for him, as Peterson started when he was in kindergarten and continued with scouting until he achieved his Eagle Scout award at age 17, the highest honor given to a scout.
"That really set me up for success and sent me down a path to be a leader. So, I have kind of been a leader my whole life," said Peterson.
Peterson also dedicated a large amount of time and energy to cross country and track in middle and high school, serving as a team captain for every team he joined. Going into his undergraduate, however, he decided to shift focus more singularly on his academics instead of pursuing the student-athlete path in college.
Around the time that Peterson was entering college, Peterson's dad began addressing some minor health issues, such as high cholesterol, and it struck Peterson and his family as strange how quickly medical doctors seemed to simply want to prescribe this pill or that pill instead of delving into the possible root causes of disease, such as diet or lack of exercise. It didn't "sit well with him." Peterson had originally been considering medical school, but he didn't want to go down a career path that might lead to lots of prescription writing.
Peterson's family has commonly utilized chiropractic care, so Peterson had asked their family chiropractor about his reasons for becoming a chiropractor in the hopes that that might shed some light on chiropractic care as an alternative care path.
"He basically gave me a 15-minute philosophy talk on the idea of [above-down]and inside-out,' the fact that the body heals itself. And I was sold," said Peterson.
He went home and immediately changed his major to Kinesiology in preparation for his eventual pursuit of a Doctor of Chiropractic degree. Peterson made good use of his time at University of Wisconsin-Eau Claire. He decided to join a fraternity, serving as the Community Service Coordinator, then Vice President and later President. He also got involved with the Chiropractic Club at his college, which has a great relationship with Life U and its recruiters. Dr. Rob Scott even makes an appearance on the Wisconsin-Eau Claire campus, typically at least once a semester.
"Talking with my mentors, some of whom didn't even go to Life U, all said that 'Life is the place to be right now.' We really are the premier program and the best chiropractic school in the world right now," said Peterson.
Peterson likes the variety that Life U offers in terms of chiropractic electives and clubs, from a tonal approach to pediatrics to sports and more. The rigor of the D.C program took him a bit by surprise, however, especially given a somewhat slower start during "the COVID quarters," but he seems to have a good pace now.
Continuing with a servant leadership mindset, Peterson now holds the title of Vice President of the Life U Student Council.
"We essentially are the liaison between the student body and the faculty and administration. There is a lot of communication from bottom-up to top-down, but essentially, we want to hear the voices of the students when it comes to any concerns, questions and proposals that they have," said Peterson.
Sometimes this advocacy involves holding focus groups to get student input on major changes, such as curriculum changes or proposals on clinic changes. The Student Council tends to be the facilitators of vital activities such as these. The Student Council also holds monthly Town Hall meetings in RCCE 127, so check on Engage for upcoming dates.
True to form, Peterson has found a way to get involved and serve others at Life U through Student Council. He encourages new students to find their own ways to get involved and make their own paths.
---
Faces of LIFE is a story campaign that showcases members of the dynamic Life U community, including faculty/staff, students, alumni and health science professionals. Interested in being featured or nominating a candidate? We want to hear from you! Email Marketing@life.edu. Read more Faces of LIFE stories.
Related posts