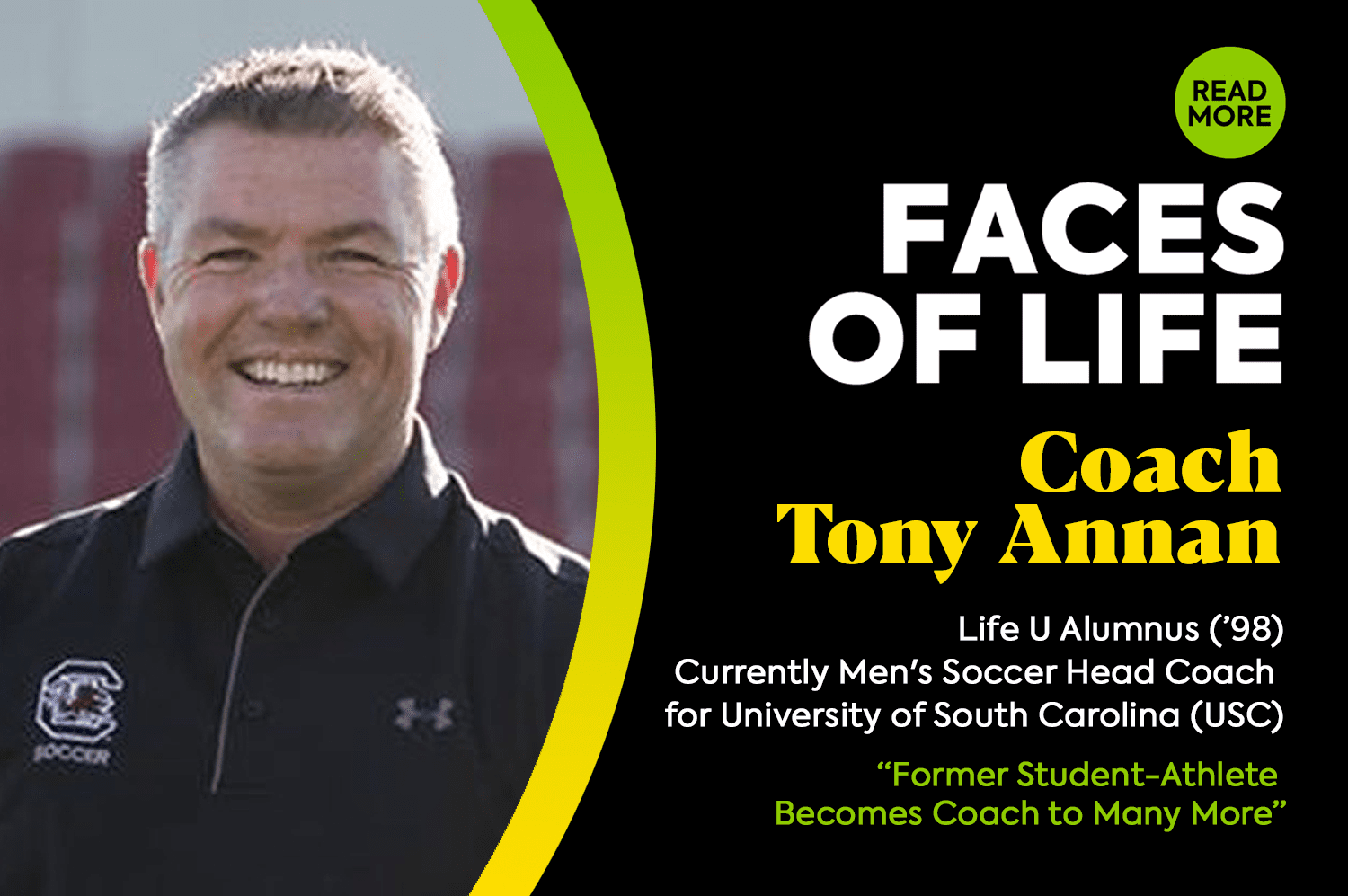 Life U Alumnus ('98)
Currently Men's Soccer Head Coach for University of South Carolina (USC)
"Former Student-Athlete Becomes Coach to Many More"
Native of Newcastle, England, Coach Tony Annan lives in Columbia, South Carolina with his wife, Elizabeth; son, Jax; and daughter, Ella. He played college soccer at Life U as captain, where he earned his B.S in Nutrition and Dietetics in 1998.
"[My time at Life U] was in the years of Dr. Sid [Williams], who looked after and treated his athletes well. We were given multiple resources to do well. It was an excellent time, and we were very successful. We had a very big international team, so it was a lot of fun," said Annan. "It's tough to do the athletic thing and do the collegiate thing and academics, but I managed to get through and get my degree. I had a great time; I loved it."
Since his time at Life U, Annan's coaching career has taken him to many far-away places. As outlined in his USC staff directory profile, his career highlights are impressive and lengthy, so let's touch on a few of the most recent and compelling ones.
Annan was named the Head Men's Soccer Coach at USC on April 22, 2021, as the second head coach in the history of Gamecock Men's Soccer. Prior to that, Annan completed a six-year stint at Atlanta United, a Major League Soccer franchise not far down the road from Life U. He was hired as the fifth employee in 2015 in the club's young existence and built the development academy from scratch. Most recently, he was appointed to interim head coach for Atlanta United 2, the reserve team of MLS's Atlanta United on July 27, 2020, and served as academy director.
As Atlanta United became the first MLS Academy to launch before its First Team, Annan oversaw one of the most successful seasons for any academy across the board during the 2016-17 United States Soccer Development Academy (USSDA) season. Serving as head coach of the U-17s, Annan won the club's first piece of hardware, claiming the national championship in 2016. In addition, the U-19s also won the Southeast Division and finished the season as the No. 1 overall national seed. And in 2018, Annan became the youngest coach to be inducted into the Georgia Soccer Hall of Fame.
Perhaps as a young "futbol" player tearing up Lupo Family Field back before it was renovated and named after its current namesake, Annan did not see the big career goalposts he was racing headfirst toward, but then again, maybe he did. Nonetheless, now, Annan is able to mentor and coach the next generation of student-athletes to help them reach the success that he's achieved .
"I love the challenge that it presents. I love the life of an athlete in college. You obviously have to look after the well-being of the athlete, but you also make sure they are academically on track […]. I take the experience of being a student-athlete myself and applying that to my coaching as well," said Annan.
Annan started coaching early on, even while he was still attending Life U. And even now, the skills and experiences that he gained from his time at the school help to propel his success, such as "time management, what it is like to be a student-athlete, and having the pressures to maintain your grades and being able to be at the top of your game athletically."
He may be a USC Gamecock now, but he was a Life U Running Eagle first.
"I loved my time at [Life U]. I would never take those year's back. It was a great time," said Annan.
Faces of LIFE is a story campaign that showcases members of the dynamic Life U community, including faculty/staff, students, alumni and health science professionals. Interested in being featured or nominating a candidate? We want to hear from you! Email Marketing@LIFE.edu. Read more Faces of LIFE stories.
Related posts