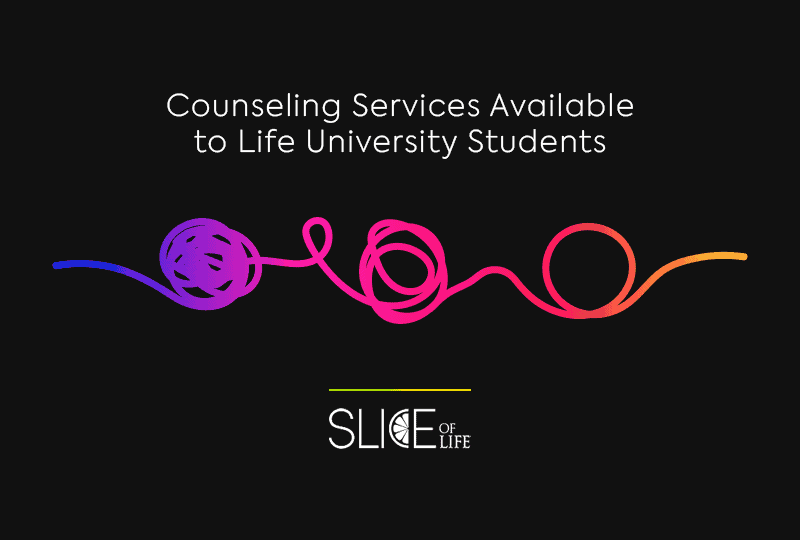 To say that collegiate studies can be a little stressful is quite an understatement. Fear not, however, as Counseling Services at Life U are available to help students cope with stress in healthy ways. In order to help make sure that our student body understands the resources available to them, here is an outline of our counseling programs and workshops.
For a full list of all counseling resources, visit life.edu/campus-life-pages/counseling/.
Counseling Services is located in the Guy F. Riekman, D.C. Center for Chiropractic Education (CCE). For an individualized response to setting up counseling support, fill out the Counseling Support section on the bottom of the Counseling Services page linked above.
Student Assistance Program (SAP)- Life University offers individual and couples counseling through the Student Assistance Program (SAP). SAP provides 24/7 availability of an off-campus counselor via phone.
Life University students can request face-to-face visits with an off-campus therapist and will be provided with six free sessions per year. In addition, students have six free coaching sessions available (telephonic), a text option for services as well as a dedicated Life U phone number. With the use of the dedicated phone number, students receive unlimited calls for services and immediate help from a mental health professional.
This service allows students consistent availability, including nights, weekends and/or holidays with a licensed mental health professional outside of the University. In addition, the service can be utilized by students' dependents, which include spouses and children. You can contact SAP directly at 866.734.5890, text 94097 and/or request support at (password – lifeu). A Counselor can also assist you in contacting SAP.
Counseling Wellness Workshops- During each quarter, Counseling Services offers several wellness workshops to give students a chance to discuss relevant therapeutic topics in a safe space, group environment. All wellness workshops and activities are held via Zoom unless otherwise noted in the event description listed on the Counseling Services page, under the "Counseling Wellness Workshops" tab. Visit engage.life.edu to locate Zoom links or other information for each event.
Wellness Wednesday (Weeks: 2, 4, 6, 8 & 10) is a popular wellness workshop program that highlights problems that students might be facing and offers possible strategies.
Upcoming Wellness Wednesday Programs include:
March 2: Sleep Awareness Week
11:00 a.m.- Self-Care: Me, Myself & I (Taking Care of My Needs)
4:00 p.m.- That's Not an Addiction – It's Just Something I Do
Each day people struggle with letting go of an addiction. In this workshop we will define addictions, develop an understanding of why it occurs, warning signs and ways to manage (tools).
March 16, 2:00 p.m.- Perfectionism: Recognize, Explore & Discuss
Parent-to-Parent (P2P) (Weeks: 1, 3, 5, 7 & 9) is a reoccurring workshop that allows Life U students who are parents to join others like themselves for P2P support.
Next P2P event: March 9, 12:30 p.m.
Circle of Hope (Weeks: 1, 3, 5, 7 & 9) offers support related to grief and loss.
Next Circle of Hope events: March 9, Noon and 5:15 p.m. (2 separate sessions)
Other upcoming wellness workshops include:
Mix, Mingle & Grow (March 10, 11:00 a.m.)- A collaboration between Counseling and Global Voices.  Join in for an opportunity to meet, relax and learn a new strategy to help
navigate life and/or finals.
Decisions: The Choice Is Yours (March 10, 3:00 p.m.)- If you are unable to make a choice or worry about your choices, join in this talk about why we do what we do.
I Can't Stress This Enough (March 14, 3:00 p.m.)- Take the time to learn some tools and techniques to support your well-being during stressful times.
M&M: Mindfulness & Meditation (March 15, 11:00 a.m. and 4:00 p.m.)- This session will provide an opportunity for you to relax, relate and breathe.
Creative Expression (March 17, 1:00 p.m.)- Are you in the mood to sketch, paint, doodle, color, listen to music and enjoy the benefits of creative expression? If so, join in and allow your creativity to take control. No experience necessary.
Slice of LIFE is an invitation to and extension of everything happening at Life University. Whether you are a current student, a potential freshman or a proud alum, Slice of LIFE can help keep you connected to your academic community. Know of a compelling Life U story to be shared, such as a riveting project, innovative group or something similar? Let us know by emailing Marketing@life.edu.
Related posts