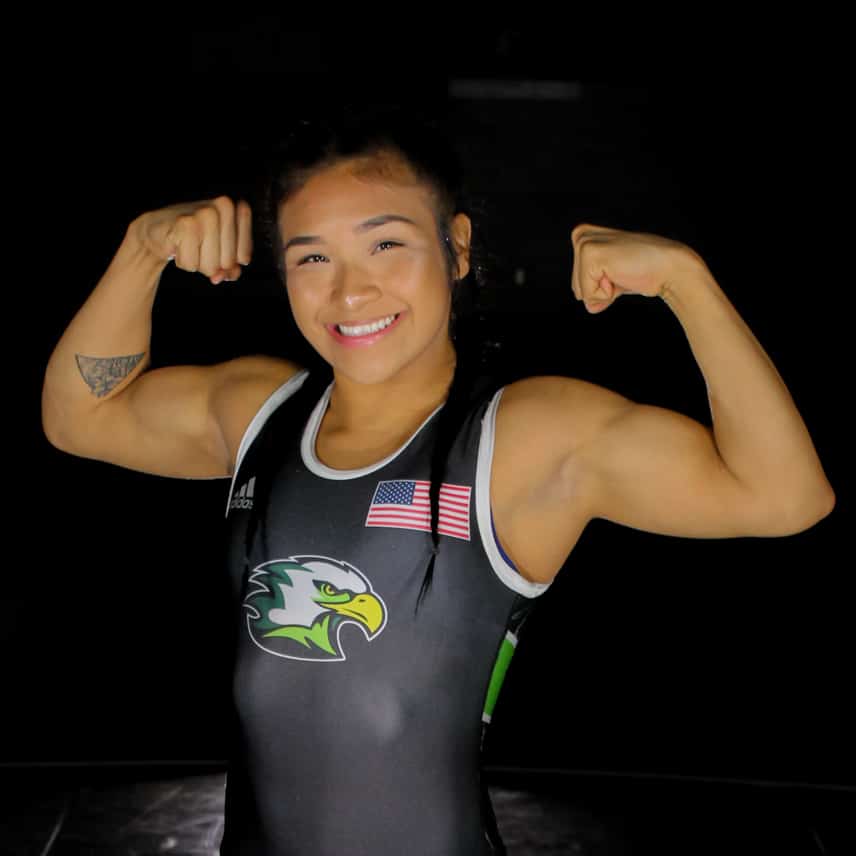 Aysia Cortez
Keep Pushing Forward
Bachelor of Business Administration
March 2020
Aysia Cortez is in her final quarter at Life University, on track to graduate in June with a Bachelor of Business Administration degree. She plans to put her degree to use in the future, but first, Cortez is pursuing a career as an MMA fighter.
The California native has been a member of the women's wrestling team since coming to LIFE in 2016. When she started, the team was small.
"Since we're still a new program, we're still finding tweaks here and there," Cortez said. "Obviously throughout the season, some girls get hurt. Things mess up, but we're adapting to all these little changes that are happening. We're still growing."
According to Cortez, the team spirit is strong.
"I love my team this year. It's like a sisterhood," she said. "It's like those annoying little sisters that you never really asked for, but they're still there – those little sister type relationships. I'm one of the older ones, and sometimes you have to have those little sister talks. I love my team – they're awesome, and they're always there supporting me."
Cortez comes from a martial arts family. Her father and brother are both black belts, and so is she. One day, she hopes to open her own martial arts studio.
"I was always around sports. I grew up with martial arts and everything, so I knew what I wanted to do, but I didn't know what kind of degree would help me get to certain areas of my life," she said.
One of the ways Cortez said she thinks about Lasting Purpose is to help others. She plans to offer self-defense classes for women at her future martial arts studio.
"Bringing women together to teach them the skills they need to know to make safer choices, to incorporate all that … that's how I want to give back and to help each community that I can," explained Cortez.
Cortez said she wasn't planning to seek a four-year college degree until she was offered wrestling scholarships. Once she visited LIFE, she knew it was the right place for her.
"I feel like you know when you come here, and you just have that feeling like, 'This is home,'" she said.
Cortez said being a student-athlete is a full-time job, but she also balances academics and a job at Starbucks. Her day starts at 3:40 a.m. and doesn't end until wrestling practice concludes at 8:00 p.m. One thing that she likes about LIFE is its small class sizes, with a 16:1 student-faculty ratio.
"Especially for business, the classes are very small, so you get to really know your teachers. Throughout the years I've been here, all these teachers have gotten really close to me. We have that connection – This is the goal, this is what I want to do, this is the goal for me, and they help me out."
Cortez's words of wisdom for other students can be summed up by these three words, "Keep pushing forward."
"There's always going to be trials and tribulations throughout your college years. Don't always be too hard on yourself," Cortez advised. "I had a lot of trouble in my freshman year. There's always an easy way out, like, 'I don't want to do this – I want to go home.' But it's part of growth. Being away from family is going to be different. Just keep pushing forward – it may be hard right now, but that's a part of growing. You've got to learn to be on your own and handle things on your own without Mom and Dad."
LEARN MORE:
Faces of LIFE is a story campaign that showcases members of the dynamic LIFE community, including faculty/staff, students, alumni and health science professionals. Interested in being featured or nominating a candidate? E-mail Natalie.Esparza@LIFE.edu. Read more Faces of LIFE stories.
Related posts