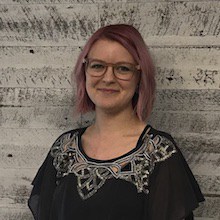 Kelli Yates
Switching Gears
Student: Dietetics
August 2018
Kelli Yates, who is currently studying Dietetics here at Life University, changed her mind about her career a few times before coming to LIFE. After high school, Yates started a degree in photography at the Art Institute of Atlanta but moved on to an associate degree in veterinary science while working as a veterinary technician for five years. Next came a foray into personal training before finally settling on dietetics.
"After trying a bunch of things, I just kept coming back to nutrition. I had many personal experiences that made me want to work with and guide others through those same experiences," Yates explains. She found that this meant going back to school once again, but this time with a new direction and renewed commitment.
Yates notes that she decided on this new focus after having been troubled by a number of maladies when growing up—digestive problems, migraines and depression—for which she could not find any relief. Plus, she adds that she does not care for the idea of taking a lot of medications, so she looks to nutrition to help stave away illnesses.
The turning point for Yates—what she says really changed her mind—was that while her health problems were "pretty minor," the combination of all of them overwhelmed her. She then tried several popular diet plans, such as the paleo diet and going gluten free, but when doing so, had the realization that she is more susceptible to eating disorders. That is when she also learned that a lot of people do not know that they have "disordered" eating until they also begin to diet. Once she started dieting, she says that it "flipped a switch," and she developed a binge eating disorder. "But, that was actually a gift because it helped me realize that it's not just the 'diet' that affects people, but all of the other stuff too, like stress, sleep, movement and body image."
That awakening helped Yates realize that she wanted to tell others about her findings and help them discover their most healthful eating habits. She wanted to do everything that she could to help balance and normalize eating, removing some stigmas and to make eating about not only nutrition, but about enjoyment also.
So, at 25 and with a husband and a house, she decided to take the leap and go back to school. "My friends were all done with college and even starting to have kids. I was unsure at first, but I'm so glad now that I did it!"
How Yates came to LIFE is very charming. While considering schools with a good nutrition program, she suddenly remembered attending a Life University function as a child – Lights of LIFE. Born from her sweet holiday memory of a vivid light display came the next step, a very important step, in her career and life.
She adds, "I really like LIFE's size, and I especially like the LIFE message with its overall natural vibe here. Then my husband and I just happened to move to the area, and I took that as a sign that this is the right move for me. And it all worked out so well." She says that it has been an awesome experience here with such abundant nature on the campus and instructors who not only focus on the clinical aspect of the degree, but also a holistic approach that takes the whole body and mind into account.
Yates continues, "After graduation, my goal is to have my own practice and work with women with disordered eating. To help with that, I really like the 'intuitive eating' approach as a filter to view things through." She explains that intuitive eating relies heavily on listening to one's body and getting in touch with the sensations of hunger and fullness, while also eliminating so-called "good" and "bad" foods. She adds that this approach is very useful for people who have eating disorders since eliminating certain restrictions removes the desire to binge on the "bad" foods and also removes the guilt factor that can trigger and add to the severity of the disorder.
Yates notes how much she enjoys LIFE's nutrition program and touts its class sizes as a major factor. "Since the classes are relatively small, it allows us to have a very personal relationship with our instructors. They know who we are, and they can better mentor us through the program. That's not something that you're going to get at a lot of bigger universities." She also adds that another reason for her adoration is the culture at LIFE. "Everyone is thinking the same holistic and wellness-focused way. Plus, it's really diverse here, and I've gotten to meet people from all over the world, which is really cool."

LEARN MORE:
Faces of LIFE is a story campaign that showcases members of the dynamic LIFE community, including faculty/staff, students, alumni and health science professionals. Interested in being featured or nominating a candidate? E-mail LIFENews@LIFE.edu. Read more Faces of LIFE stories.
Related posts