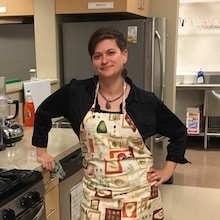 Jennifer Baugh
Food is Fuel for a Better LIFE
Student: Dietetics
January 2018
After watching family and friends suffer from health problems, Jennifer Baugh's passion to help was fueled. As she witnessed first-hand the ravages of multiple sclerosis on her mother, her father's cirrhosis of the liver, a friend's breast cancer and multiple other family members with diabetes, she knew that she wanted a way of providing them with the help and guidance that could potentially have a very positive effect on their health.
From Lilburn, Georgia, and now at Life University obtaining a Bachelor of Science Degree in Dietetics, Baugh grew up in an environment where she says was dominated by the traditional medicine practice of pharmaceutical prescriptions, but unfortunately no nutritional instruction for her ill parents. Neither thrived, and sadly they both succumbed to their illnesses.
Baugh put those incidents behind her and later went to work as a paralegal in a law office that collected debt on automobile loans and apartment building leases. She says that there was no "community" feeling in the office and that the work she was doing was not the least bit satisfying. Plus, she knew that she still wanted to do something with more purpose.
"The real turning point for me was when a friend told me that she had breast cancer. I just don't know how much time any of us have, and I already felt at that time that I was wasting my talents on doing something that I just didn't feel good about," Baugh explains.
So, she started the search for the career that would be meaningful, while also filling the void in care that was missing for her parents. When she came across dietetics, she knew it was a perfect fit since she wanted to learn more about the digestive system and how food is a fuel for people to live their lives to the fullest. She adds, "I can see the difference it's made in people's lives, and I also wanted to learn the science behind it. I looked at other medical professions, but based on my less than positive experience with traditional medicine, I didn't think any of them would be the proper avenue for me."
When Baugh refers to "traditional medicine," it is mostly with her mother's illness in mind. She says, "Doctors don't really know what causes multiple sclerosis, but there are some pharmaceutical treatments available. So, I saw prescription after prescription being given to my mother and yet, she kept declining. I would have liked to have seen more intervention, more hands-on personal training for her to learn to better take care of herself, rather than just giving her medication and sending her home. She should have been taught how to reshape her life to thrive, not just survive."
And with that in mind, Baugh says that this concept is what she would like to achieve with dietetics. Her idea is to not just give people a new food plan and a pamphlet, but to provide whatever support they may need in better planning their meals and preparing the foods to ensure that they are eating correctly for optimal health. She continues, "I want to be more hands on with my client-patients since I feel that this is where our traditional health care is failing people. They're not really being given the education and training as they should be, no matter their ailment."
Baugh also notes that the correlation between food and good health is something that some people may not recognize and that may be why they do not feel their best. She cites, from her reading, examples such as that a vitamin B-12 deficiency can lead to depression and a highly processed diet can lead to other vitamin and mineral deficiencies. She adds, "A poor diet can be a starting point for a whole host of health problems, and aid in the decline of someone with an illness."
After obtaining her dietetics degree, Baugh says that she would like to start working with the diabetic population, as she feels that it is sadly growing quite rapidly. She notes that typically, after the diabetes diagnosis, people are sent to a nutritionist for counseling on how to take their blood sugar and work the glycemic index into their meals. However, since she is so passionate about hands-on education, when she starts her career, she would like to try to find a cost-effective way to conduct one-on-one interventions. She sees that plan involving the healthcare center for which she will work providing classes to teach patients healthy culinary skills. She also thinks about setting up a private practice where she can go into people's homes and help them do a pantry cleanup or grocery store tour and show them how to create new recipes to help them achieve optimal health. She adds, "There are studies that show time and again that interventions like these are much more successful in helping people curb their diabetes and reducing their need for insulin therapies."
At LIFE, in keeping with her passion for a more personalized learning experience, Baugh says that she really enjoys the low student-to-teacher ratio of her classes. And being truly committed to dietetics, Baugh serves as president of the Student Nutrition and Dietetics Association on campus. However, she definitely still finds plenty of time to devote to her studies because, as she puts it, "You better be prepared to work hard for this degree! But, the reward is so amazing – the knowledge and the sense of accomplishment you gain is well worth it."
And a special thought that Baugh wants to impart is, "The Nutrition Department here at Life University is full of a lot of really talented and educated women, and I really admire them and enjoy taking classes under their mentorship."

LEARN MORE:
Faces of LIFE is a story campaign that showcases members of the dynamic LIFE community, including faculty/staff, students, alumni and health science professionals. Interested in being featured or nominating a candidate? E-mail LIFENews@LIFE.edu. Read more Faces of LIFE stories.
Related posts