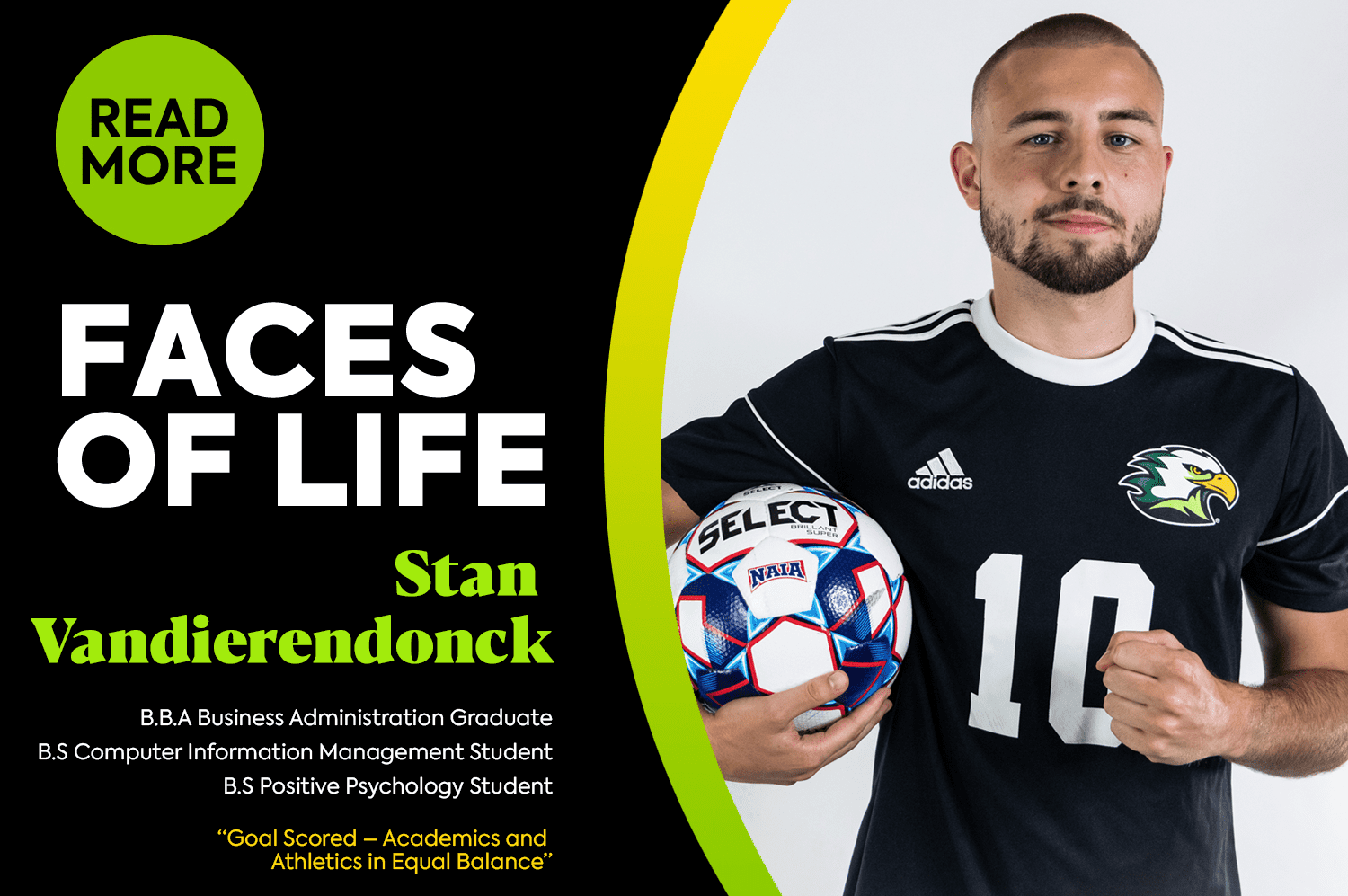 B.B.A Business Administration graduate,
B.S Computer Information Management student,
B.S Psychology student
"Goal Scored – Academics and Athletics in Equal Balance"
For a student-athlete, time management is critical in achieving personal, academic and athletic goals. Stan Vandierendonck, mid-fielder and captain for the Life U Men's Soccer team, understands the delicate tightrope he must walk and appears confident to take on any challenges that life throws at him.
Vandierendonck is a B.B.A Business Administration graduate who is currently dual enrolled in two additional bachelor's programs, B.S Computer Information Management and B.S Psychology. He hails from Brussels, Belgium and accepted a scholarship to become a Life U student-athlete.
Prior to coming to the states, Vandierendonck played for Division 1 and Divison 2 teams until he turned 18, then played briefly for the national team of Belgium and later in the Netherlands. Eventually, he decided he needed to pursue an education along with his athletic career.
"Coming into an environment where sports and education is combined along the way in an equal balance is something we don't do well in Europe. In Europe, it's a choice between playing soccer at a high level or trying to combine it with higher studies, but eventually you will sacrifice some things. But in America, to become pro or to do something [in sports], it is easier to have the combination," said Vandierendonck.
At Life U, the student body is extremely diverse, with 10% of 2022 currently enrolled students designated as international. Vandierendonck dives right into that lively melting pot to discover valuable professional insights.
"I have learned a lot about the American view on business, to be creative with money and create passive income," said Vandierendonck.
When not training or studying, Vandierendonck enjoys exploring all that metro Atlanta and the rest of America has to offer in contrast to what he is used to back home.
"[Attending Life U] is a way of discovering different cultures; it's close to Atlanta with a broad social background," said Vandierendonck.
Besides local excursions, Vandierendonck has made a point to travel to other U.S hotspots during breaks, such as New York and Miami. But no matter where his travels take him, Vandierendonck's possibilities appear to be wide open.
"It's in my character to take a challenge and make the most out of it, so it is only beneficial," noted Vandierendonck.
Faces of LIFE is a story campaign that showcases members of the dynamic Life U community, including faculty/staff, students, alumni and health science professionals. Interested in being featured or nominating a candidate? We want to hear from you! Email Marketing@LIFE.edu. Read more Faces of LIFE stories.
Related posts