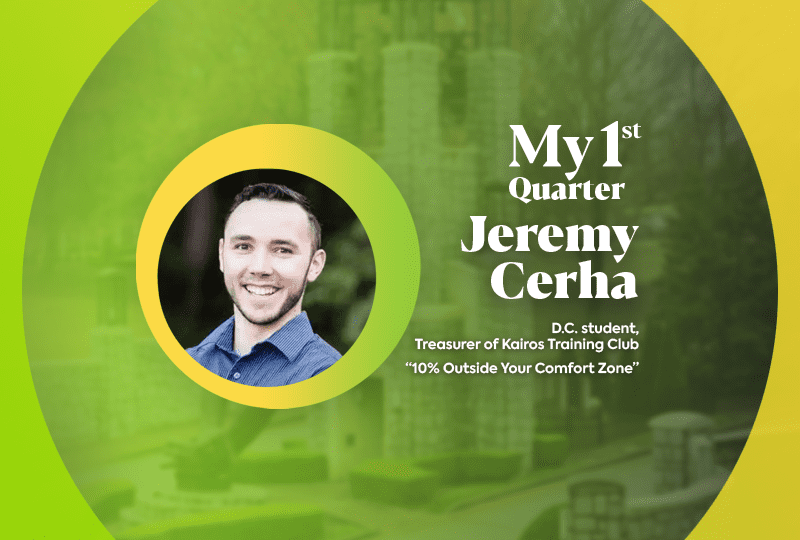 D.C. student. Treasurer of Kairos Training Club
"10% Outside Your Comfort Zone"
What was memorable about your first quarter at Life U?
I love how many people are in the same [chiropractic] program. You will see people from first quarter all the way up to 14th quarter. We are all in the same boat, all rooting each other on, and we are in it together in the same mission – just being able to walk on campus and have people there supporting you.
What surprised you about your first quarter?
 The amount of opportunities; the amount of clubs on campus blew me away. When I first got here, my chiropractor said 'Hey, go to as many clubs as you can go to because that is where you are going to learn extra stuff, learn techniques and things that aren't taught in the program.'
It was really cool to see how many opportunities are on campus here at Life U, whether it is clubs, events or seminars in the area. There is just so much to do here at Life U.
Kairos Training Club is a student-led club on campus that focuses on providing a comprehensive training program that helps chiropractic students develop mentally, physically and spiritually in the profession. Tell us about your experiences with Kairos Training Club.
We wake up early, we train and we operate under different principles. One of the principles we operate under is '10% outside your comfort zone.' This allows us to obtain sustainable growth. When you are outside your comfort zone, you are able to achieve more, do more and to grow – […] to level up to your circumstances and adapt from there.
We train to be more sustainable; we train to be able to connect with our future [patients] that we will serve; and we train to be the best version of ourselves. It's fun. We breathe; we move; we meditate and learn chiropractic technique.
Tell us about other on-campus organizations with which you are connected.
I am part of the Pediatric Experience Student Club. It's a group of individuals who are mission-focused to get Chiropractic to kids and families. […] The importance of Chiropractic with these kids is so much more than back pain, neck aches and headaches. You are able to get to a child early on, and you are able to influence the development and neurology. You are able to change the trajectory of that kid's life.
So, getting the communication, the certainty and the care plans through the Pediatric Experience is one of the things we harp on big time in the club so that we are ready and equipped to serve those families once we get out and start. 
What advice would you give to a new or prospective Life U student? 
If you are planning to come to Life U, I highly suggest going out and shadowing. If you are going into Chiropractic, shadow a few chiropractors. If you are going to nutrition or something else, go shadow the people and see what they are doing and get really involved with that first.
Come to LIFE Leadership Weekend if you are a chiropractic prospective student. That was an awesome experience for me. It felt like it was too good to be true, and I got here, and it was just phenomenal. I'm still here, and I'm still baffled that it's such an amazing experience.
If you are in first quarter, show up to clubs, do events. Dive in deep, headfirst. If you know that this is the path you are meant to be on, dive in. This is a once-in-a-lifetime opportunity to soak up all these opportunities.
My 1st Quarter is a campaign featuring students reflecting on their 1st quarter of studies at Life University and why it was so special and unique. All University students (undergraduates, graduates and D.C.) are encouraged to share their experiences in order to help those in future incoming classes get a real-life glimpse of what they can expect as they start a new chapter of their education journeys at Life U. If you would like to be featured or have a suggestion, email Marketing@life.edu.
Related posts