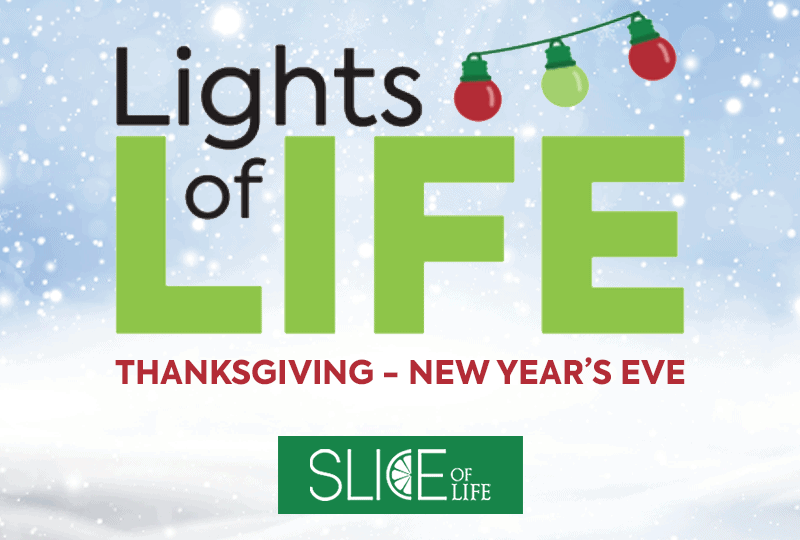 There are many things that signal the "start" of the holiday season‒wintery displays begin replacing jack o'lanterns at the grocery store; Black Friday advertisements start to fill up your mailbox; and every commercial on TV now features snow, sleigh bells or is narrated by a snowman. Of course, there are people really in the know who understand that the real beginning of the festivities is only once the power is connected and the Lights of LIFE display roars to life for another season of fun!
Lights of LIFE runs every day from Thanksgiving (November 25) to New Years' Eve (December 31)
For the uninitiated, the Lights of LIFE display is much more than an all-star display of festive and creative Christmas lights (which of course it is). The city of Marietta brags about us, saying "The event features more than a million lights spanning across more than a mile of campus. Displays include a nativity scene, a menorah, a 60-foot tall Christmas tree, and numerous stationary and animated holiday displays." Additionally, children are welcome to enjoy our pony rides and train rides that zig-zag through our scenic campus. Also, our petting zoo lets you get up close and personal with some new furry friends! We have plenty of concessions too, so you and your family can spend your time under the lights sipping hot cocoa.
Admissions are done on a per-vehicle basis; cars and trucks pay $10, while busses or vans pay $20, so carpool with your friends! Find us on Barclay Circle, just off Highway 41 and north of Dobbins ARB in Marietta. Share your photos and memories on social media with #iheartlightsoflife.
As the days continue to grow shorter, let us light up some of your life so that you can keep that burning with you through the whole holiday season. We look forward to seeing you and your family.
Related posts