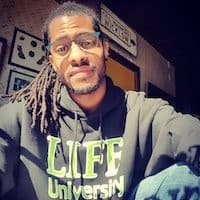 Jonathan Powell
Monumental Paths
Alumni: Master's in Positive Psychology – Coaching Psychology Track
November 2019
Studying psychology runs in Jonathan Powell's family, so it was natural for him to gravitate toward it as well. His dad has a master's in psychology, his sister has a master's in social work, his aunt is a licensed family therapist and he just graduated in September with a Master's in Positive Psychology – Coaching Track from Life University.
Powell is from Pittsburgh, Pennsylvania, and he obtained his undergraduate degree in psychology, philosophy and ethics from Slippery Rock University of Pennsylvania in December 2015. He was a board of governor scholarship winner, which gave him a full ride through his undergraduate studies. "A lot of people get involved with university clubs, but I worked full time through my undergrad and continue to now," Powell explains. "I'm black, my family is black and our opportunities are limited compared to some people, so I needed to make sure to hustle to succeed and take full advantage of the opportunity."
Toward the end of high school and his first year at Slippery Rock, Powell was interested in Clinical Psychology because he wanted to work with suicidal patients. Once Powell was introduced to Positive Psychology in one of his courses, he changed his mind to go from therapy to coaching due to its different approach.
"Coaching gave me the platform to do the kind of work I want to do because coaching is not therapy." When Powell discovered coaching, he felt a change in his energy levels compared to Clinical Psychology. "When I am in a coaching thing with someone, I don't get drained by that experience, which was a key indicator that I should pursue that instead."
"I moved down to Charlotte, North Carolina the first week of September in 2016 and knew I wanted to go to grad school, but I waited three years to have a sense of adventure and figure out exactly what I wanted to do next." After an online search of graduate level degrees in positive psychology, Powell found Life University's positive psychology program that was only one of three of its kind. "The coaching track specifically is the only one of its kind as a graduate level master of science degree," Powell notes. "I had my eye on the program for about three or so years before I applied."
Powell started at Life University on October 1, 2018 on his birthday, which he took as another sign. He was an online student who studied in Charlotte, North Carolina. "When I changed from clinical psychology and started at LIFE, I was surprised by how many new approaches I learned. It was helpful to see that there was another way to do this."
In his free time, Powell loves going to hot yoga at least once a week, building puzzles and riding his long board. Live music is also vitally important to him – "If I haven't gone to a live show in about a month, there is usually something wrong."
Powell's business "Monumental Paths" originated from his capstone project. "I focus on resilience and what it looks like in academia," Powell says. "I talk about how students can benefit from engaging in coaching conversations and applying mindfulness and movement-based practices."
Powell believes school can take a financial, physical and emotional toll on both students and parents. His vision is that things can be done a different way. "Students need higher quality and diverse forms of support to help them get through school."
While his business is brand new, he is excited that his capstone was able to be put into motion. He is ready to start changing lives.

LEARN MORE:
Faces of LIFE is a story campaign that showcases members of the dynamic LIFE community, including faculty/staff, students, alumni and health science professionals. Interested in being featured or nominating a candidate? E-mail LIFENews@LIFE.edu. Read more Faces of LIFE stories.
Related posts