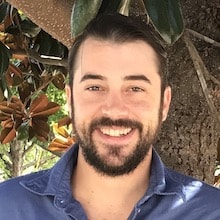 Michael Becker
Taking the Artist's View
Student: Doctor of Chiropractic
October 2017
When looking at Chiropractic through an artist's lens, you may well see it as an "art" as well. Michael Becker, on his way to becoming a Doctor of Chiropractic, does indeed take that view. An extremely well-spoken individual, Becker possesses a degree in Philosophy obtained from the University of Tampa in Florida, yet is now at Life University walking a very different path. He says that LIFE's philosophy aligns well with his own personal beliefs, and after he came to the realization that he wanted to serve his fellow man, he came to LIFE to learn a profession that does just that.
For many years, Becker's mother worked as a chiropractic assistant in both New Jersey and Florida, and the idea of Chiropractic seemed to always "nudge" him in its direction. His initial contact with Chiropractic as a therapy was when he was about thirteen and had transient synovitis, also known as toxic synovitis, in his hip joint and was hospitalized due to the pain of the condition. The chiropractor for whom his mother worked visited him in the hospital and covertly performed a side posture hug adjustment. He says, "My fever then broke, and I was out of the hospital the next day. I had been in excruciating pain that the medical profession couldn't help me with, and my chiropractor did an adjustment and that immediately did the trick." He seemed to be "nudged" even further into Chiropractic with the experience of his own successful result.
Fast forward several years, Becker has received his degree in philosophy and is now looking to start a new chapter in his life. Those "nudges" have now blossomed into a "push" and he decides to pursue Chiropractic. He says, "Once you are able to see the light, you can't turn away. A lot of my philosophy is tied back into this profession. I can't just make money to make money. I just wouldn't feel fulfilled. Helping others improve their health is an awesome gift."
Next, Becker would need to find an educational institution that would also align well with his philosophy. Upon the suggestion of the chiropractor who helped him with his transient synovitis, he attended a chiropractic fair and met with a Life University representative. After conversation, he was interested but did not immediately make the commitment. "So, about six months later, I came here for a LIFE Leadership Weekend. I made the decision right away and moved here and started school. I think things happen for a reason, and I feel that I was meant to do this."
As he notes that a lot of the philosophy that he studies is Eastern in nature, Becker adds, "I had been looking for some sort of direction, and that direction came from Eastern philosophy, and Chiropractic aligned with it so well. In Hinduism and Buddhism, they say that life is suffering, and the way out of suffering is through the Eightfold Path. I feel that it is somewhat parallel to LIFE's Eight Core Proficiencies. And I also thought that what better than the use of Chiropractic to take my energy and help someone. I'm not even doing the healing. I'm just putting the force into them, and their body is healing itself."
Becker says that he feels there is a social and political change afoot in Chiropractic, and we are in the right place and time to help society's transition to greater understanding and acceptance. To that end, he joined the World Congress of Chiropractic Students and recently took on the responsibility of president of the Life University chapter. "It's a lot of work, but a great vehicle for networking about issues and, ultimately, change. I feel that there are differing views on where Chiropractic should be heading, but I think that our generation is the one that will really put it together for the common good of all."
When speaking about his talent for painting, Becker says that he won several art competitions when he was younger, and his work was even showcased in the Tampa Museum of Art and the Tampa Performing Arts Center. While he had success in his youth, he did not pick up his brush again until the completion of his undergraduate degree. And now, he paints as a creative outlet and to "ground" himself.
A favorite painter of Becker's is abstract artist Wassily Kandinsky. He says that he feels that Kandinsky's paintings do not represent anything concrete and do not have a lot of structure, making them abstract and up for interpretation. They hold a great deal of meaning to him. About his own work, Becker says, "I really like outer space, so a lot of it has a cosmic feel to it, and it's very abstract. My favorite part of showing my paintings to others is the different interpretations that people have of them."
Becker works in the abstract, hence, there is a vagueness to his art that is open to interpretation by others. The way that he speaks about his creative art also relates to the way he speaks about the art of Chiropractic. As he puts it, "That 'vagueness' about Chiropractic is very much up for interpretation – each person can interpret and take from it what they need, just as they do with my art."
LEARN MORE:
Faces of LIFE is a story campaign that showcases members of the dynamic LIFE community, including faculty/staff, students, alumni and health science professionals. Interested in being featured or nominating a candidate? E-mail LIFENews@LIFE.edu. Read more Faces of LIFE stories.
Related posts