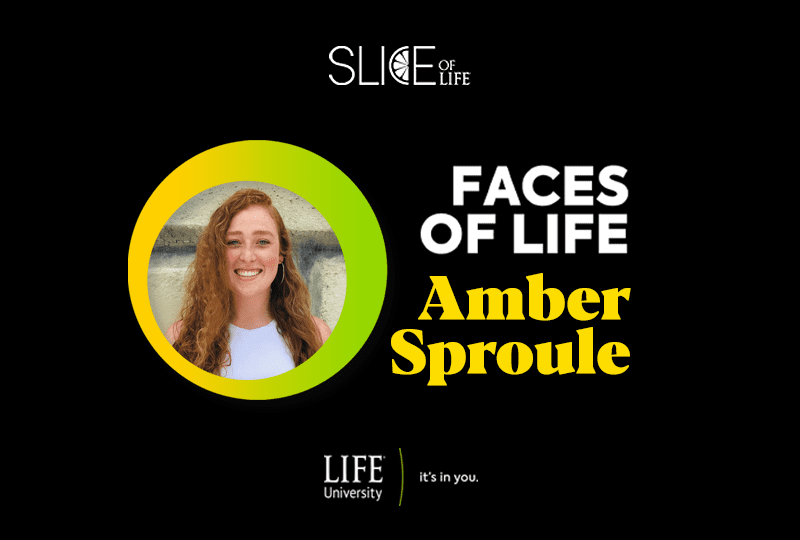 B.S Dietetics student
Amber Sproule grew up in Middle Georgia, and she is the second oldest of five kids. Sproule's older sister graduated last quarter from the chiropractic program at Life University (Life U), so a vitalistic approach to education clearly runs in the family.
"Life University caught my eye because of the holistic and vitalistic values and because it is one of the very few colleges in Georgia that offers dietetics as a degree. I also loved the peaceful campus environment and that it was close to my family," said Sproule.
Sproule has noble ambitions to help people as a registered dietitian, and the comprehensive instruction and experience she receives with Life U will help her achieve her goals. She especially enjoys when she gets an opportunity to use her knowledge in a real-world setting.
"One of my favorite classes was last quarter's 'Foodservice Management Lab.' My classmates and I got to go out into the school system and help the kitchen staff prepare and serve lunch. I had the privilege of going to the Cherokee County School District and serving at two of their elementary schools and one of their middle schools," said Sproule.
Sproule is a dedicated student, but she is also very active outside the classroom. She currently holds the title of President of the Food and Nutrition Club. She has been a member since the 2018 Fall Quarter and became an officer in 2020 Fall Quarter. Before that, she ran the club's social media and events. She stepped into the president's position in the 2021 Spring Quarter.
"Our club focuses on promoting nutrition and nutrition education through events like food demos, bringing in professors to give a presentation and celebrating national nutrition month each year in March. This year the theme was "Celebrate a World of Flavors," so we did a nutrition fair where we provided dishes from all different countries of the world. We really wanted the students to experience different dishes," explained Sproule.
Ambitious students at Life U like Sproule learn how to thrive in a fast-paced world, finding ways to balance their social life with their scholastic one. Sproule admits that the quarter system at Life U can pose a challenge and requires focus, so she recommends new students plan out their study schedule but also allow time to unwind.
"One of the things that I have learned throughout my time here at Life U is that self-care is so important," continued Sproule.
Big plans await Sproule post-graduation. She will be packing her bags, Texas bound for a dietetics internship. She also plans to pursue a master's degree with an emphasis in functional nutrition. Once the internship and the master's are completed, Sproule will take her National Board exam to become a registered dietitian. Her dream is to eventually go into private practice, collaborating with her sister's emergent chiropractic practice.
Faces of LIFE is a story campaign that showcases members of the dynamic Life U community, including faculty/staff, students, alumni and health science professionals. Interested in being featured or nominating a candidate? We want to hear from you! Email Marketing@life.edu. Read more Faces of LIFE stories.
Related posts