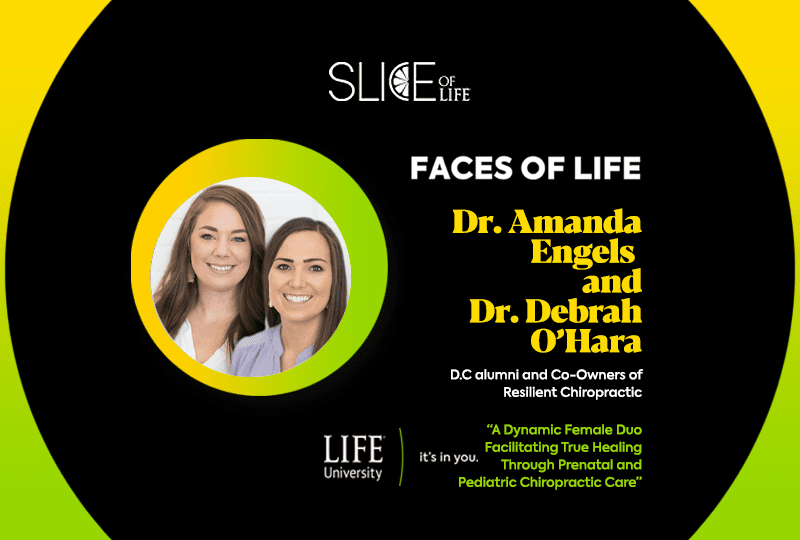 D.C. alumni and Co-Owners of Resilient Chiropractic
"A Dynamic Female Duo Facilitating True Healing Through Prenatal and Pediatric Chiropractic Care"
Here at Life University (Life U), students make long-lasting personal and professional connections that can have a profound impact on their trajectory and growth. The power of meaningful connections forged here at Life U is evident in regard to two alumni DCs who have opened up shop together, Drs. Amanda Engels and Debrah O'Hara.
These devoted friends and colleagues are co-owners of Resilient Chiropractic, a chiropractic office located in Baton Rouge, Louisiana that offers prenatal and pediatric services. Their practice was recently featured on Red Stick Mom, discussing "5 Benefits of Chiropractic Care During Pregnancy."
In January 2015, Drs. Engels and O'Hara started in the D.C. program at Life U. They actually met on the second day of their program in class, becoming quick study buddies and eventually good friends and later roommates. They graduated in 2018, and though O'Hara is native to the Atlanta area, Engels convinced her to make the move to her home state of Louisiana, so they could share their skills and talents there.
Both doctors look back on their school days fondly and appreciate how Life U equipped them to succeed in their chiropractic careers.
"[Life U] is the most philosophically driven, and that is something that I could not be more appreciative for because I didn't grow up with Chiropractic. […] It was because of their philosophy that it made sense to me, and I could only hope it was going to be a good fit," said Dr. Engels. "Now I think it's the best profession in the world, and I am super thankful for all of the opportunities Life U offers their students."
Drs. Engels and O'Hara operate as a "female duo," cooperatively treating patients to ensure thorough patient care. They see all ages, though they specialize in pediatric and prenatal care. Dr. Engels expanded on how Life U prepared them for practical practice skills, such as X-ray analysis as well as "dealing with a patient from start to finish, as far as being thorough with the exams" and "learning to treat the person as a whole."
The clubs on campus were also very beneficial, particularly the International Chiropractic Pediatric Association (ICPA), of which they are now members as practicing doctors. Club involvement and support from Life U faculty and staff helped them to gain the confidence to grow their business skills and believe in themselves enough to open their own practice. It's wonderful because it allows them to practice in the manner that they feel works best for them and their patients.
Prenatal chiropractic care is a particular passion of theirs – to help women to be comfortable and safe throughout and after pregnancy. They primarily use Webster Technique for prenatal care, a tried-and-true technique developed by Dr. Larry Webster, founder of the ICPA. Both doctors are certified in the Webster Technique and find it helpful to set patients up "for an easy labor and delivery as much as possible." They both also have the Pediatric and Family Proficiency Certification with Pediatric Experience.
As a mom herself, Dr. Engels understands the importance of chiropractic care for children.
"We are able to help [children] with the knowledge we gained from the additional training and feel confident about it," noted Dr. Engels.
When asked about what she would tell students thinking about becoming chiropractors, Dr. Engels' response was enthusiastic and decisive.
"Do it. It is the most rewarding thing you will ever experience because you get to watch true healing happen," said Dr. Engels.
*Note- Dr. O'Hara had not been available at the time of the interview due to recently having her first child (Congratulations!) Therefore, this piece is primarily from Dr. Engels' point of view, but we still wanted to highlight both amazing women in this piece.
Faces of LIFE is a story campaign that showcases members of the dynamic Life U community, including faculty/staff, students, alumni and health science professionals. Interested in being featured or nominating a candidate? We want to hear from you! Email Marketing@life.edu. Read more Faces of LIFE stories.
Related posts