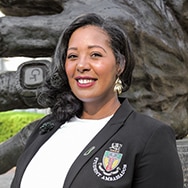 Amber Jackson
Chiropractic Ripple Effect
Student: Student Ambassador & Doctor of Chiropractic Student
October 2020
Amber Jackson is originally from Chicago but has lived in Kennesaw, Georgia for more than 23 years. She has a 7-year-old son and appreciates having her mother live near her so that she can be around her immediate family. She is studying to earn a Doctor of Chiropractic at Life University.
Jackson grew up around LIFE, and it seemed like an obvious choice to her since it was 20 minutes away from her home. "It helped me get back to what I really want to do, which is help people heal and feel better," she said. "One day I had a nap in the middle of the day and had a dream that I was a chiropractor, and I saw myself in practice and working with my son, and I called the school to ask how to enroll." Jackson said this opportunity has been very fulfilling.
Coming back to school was an adjustment for her, but she was surprised by the camaraderie. Jackson said it was different than any academic experiences she's had in the past, and it was a pleasant surprise. "The family environment we have and the willingness of the professors to help has been really fun and interesting," she said.
When Jackson started at LIFE, she would explore different organizations to learn her options. "I would visit functional neurology, network spinal and different things like that just to see what technique I wanted to get involved with," she shared. "So, my route has been a little more winding than most students because some of them have been involved since day one with organizations and technique clubs."
When Jackson was little, her family moved every 12-18 months because her mother worked for Marriott; her family moved a total of nine times before they settled in Georgia. After she graduates, however, Jackson is interested in staying put. "This is like home for me, and I want to stay here," she said. "I love that I have the luxury to not have to uproot. I can stay right here."
As a Student Ambassador, Jackson has served at events such as LIFE Leadership Weekend, Eagle Madness, Weekly Campus Tours, Graduation and Recruitment Webinars. "I love that I have been able to serve other students and prospective students," she shared. "I love that I've seen students that were at LIFE Leadership Weekend who were not sure about choosing Chiropractic or coming here, and now they are getting ready to go into clinic. That is absolutely amazing for me."
Jackson shared that this is the primary way she has been able to find Lasting Purpose at LIFE. "I see my son who constantly talks about being under chiropractic care. I mean this 7-year-old understands some of the chiropractic principles," she shared. "So, the ripple effect from what my education has been able to offer has a hold in every part of my life."
LEARN MORE:
Faces of LIFE is a story campaign that showcases members of the dynamic LIFE community, including faculty/staff, students, alumni and health science professionals. Interested in being featured or nominating a candidate? E-mail Natalie.Esparza@LIFE.edu. Read more Faces of LIFE stories.
Related posts