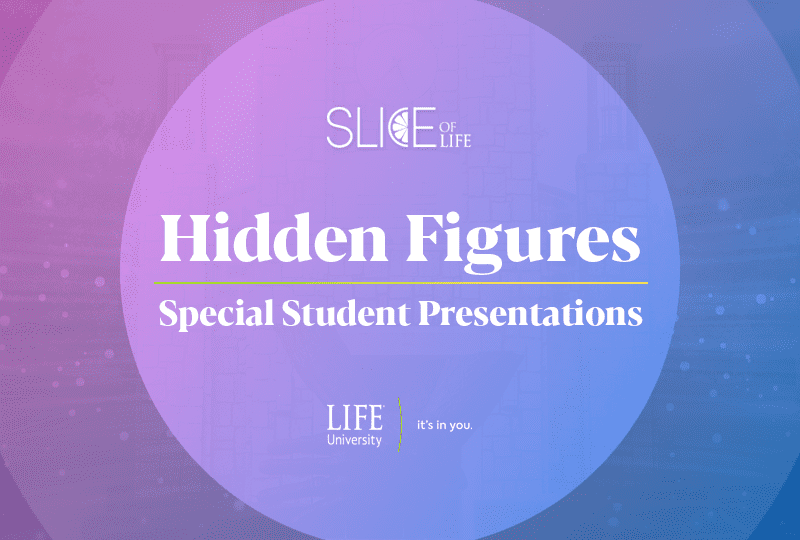 Students came together to give their final presentations on a most valuable topic: Hidden Figures in history from Asian American Pacific Islander (AAPI), Latino/Hispanic American, Caucasian, Native American & African American Ethnic Groups.  The presentations were conducted by Dr. Marla Thompson's Spring 2022 Diversity in Organizations class on June 9 in CGUS 131.
The term Hidden Figures is most commonly associated with a true and truly inspiring moment in American history celebrating a brilliant team of female African American mathematicians who served in vital roles for NASA during the early years of the U.S. space program. A critically acclaimed movie of the same name hit box offices in 2016, and as a result, these hardworking women received much-belated appreciation for their scientific contributions.
To facilitate compassionate and critical thinking in her students, Dr. Thompson asked her class to spend nine weeks researching a hidden figure that they connected to and then give a detailed presentation on that individual's accomplishments and impact. The students received guidance and insight through a field trip to the Drs. Sid E. & Nell K. Williams Library and a helpful introduction to research resources with Instruction/Reference Librarian Tamisa Ridley.
On the day of presentations, Dr. Thompson gave a fun pep talk prior to the first presentation to encourage her students to do their best and speak from the heart.
"The idea behind the Hidden Figures presentations stems from the fact that diversity allows students from a variety of backgrounds and cultures to consider opinions and perspectives beyond those that have already been shaped, formed or, in many cases, uninformed," said Dr. Thompson. "During the course of researching their topics, students are presented with viewpoints that are far different from their own and get the opportunity to view the world in fresh ways and think critically as they authentically assess the research on their Hidden Figure."
Several Life U staff members were in attendance on presentation day, offering insightful questions and commentary as well as scoring the students' performances. This included the Director of the Center for Excellence in Teaching in Learning (CETL), Bill Watson, as well as two esteemed colleagues from the College of Graduate and Undergraduate Studies (CGUS), Dr. Paula Billups and Dr. Michael Smith.
Joshua Pavon, presenting on Selma Burke
A penny for your thoughts, or perhaps a dime? Joshua Pavon gave everyone present a dime to look at while he talked about renowned sculptor Selma Burke, an African American woman best known for her bust sculpture design of Franklin D. Roosevelt, which eventually became the inspiration used for his portrait on the 10-cent U.S coin.
As stated by the Smithsonian American Art Museum site, Burke was a talented artist, sculptor and teacher that proved instrumental in the Harlem Renaissance movement, opening the Selma Burke Art School in New York City in 1946 and later the Selma Burke Art Center in Pittsburgh, Pennsylvania. She had created many beautiful works of art in her career, but the one that she is most famous for is the bust sculpture she created of President Roosevelt after winning a national contest. She had the honor of meeting with the president to conduct a sitting with him for the bust, which was later turned into a bronze two-dimensional relief that served as the inspiration for the dime portrait. Unfortunately, perhaps due to racial prejudices, it was decades later before credible sources acknowledged her artistic contribution to the dime's image.
Dort Bence, presenting on Dolores Huerta
Farm workers are a population that can often be marginalized and mistreated. These injustices were ones activist Dolores Huerta fought to address, and they are still being addressed today. According to the Dolores Huerta Foundation for Community Organizing site, Huerta first felt the call to community organizing in a leadership role for the Stockton Community Service Organization (CSO). She founded the Agricultural Workers Association, set up voter registration drives and pressed local governments for barrio improvements. She worked alongside another well-known activist, colleague and friend, César E. Chávez, with whom she launched the National Farm Workers Association. In 2012, she received her most prestigious award from President Obama, the Presidential Medal of Freedom.
Karen Einarsdottir, presenting on Yuri Kochiyama
As a Japanese American pollical and civil rights activist, Yuri Kochiyama's story of survival and triumph in the face of immense adversity is laudable and impactful. As chronicled by the National Park Service, Kochiyama and her family were interned along with thousands of other Japanese Americans during World War II. She dedicated her life to speaking out against oppressive systems and injustice in the U.S. Her efforts were essential in supporting the liberation and empowerment of African Americans, Asian Americans and Puerto Ricans. She also advocated for nuclear disarmament, reparations for Japanese Americans who had been interned and the release of prisoners whom she regarded as prisoners of conscience. She was also a friend and colleague of well-known activist Malcolm X.
Bradley Crane, presenting on James Earl Chaney, Andrew Goodman and Michael Henry Schwerner
Freedom is never free, as these brave young men knew too well. As revisited by a PBS article, Chaney, Goodman and Schwerner worked as civil rights workers for the Congress of Racial Equality (CORE), assisting in voter registration and education in Mississippi, an area with a high Ku Klux Klan membership. Neshoba County's Mt. Zion Baptist Church was burned, and the three men went to investigate the arson. They were detained by Neshoba County sheriff's deputy Cecil Price, a suspected Ku Klux Klan supporter.
The sheriff escorted them out of town, and then the three men were never seen alive again. Their bodies were located buried on a farm outside Philadelphia. Because murder was a crime covered by state law, the federal government could not bring charges. Instead, on December 4, 1964, the Justice Department charged 21 men with conspiring to violate Schwerner, Chaney and Goodman's civil rights. The trials brought much attention to the civil rights struggle and the need for major reform.
Elmaz Hasanovic, presenting on Tatanka- Iyotanka
Also known as Sitting Bull, Tatanka- Iyotanka was the first man to be chief of the entire Lakota Sioux nation. According to the History Channel, Iyotanka was a fierce opponent of white encroachment on Sioux land, leading the resistance effort in North Dakota. His most famous victory, the Battle of Little Big Horn, had his tribe members surrounding Lieutenant Colonel George A. Custer's Seventh Cavalry after Custer's attack and taking it down. He has become something of a legendary figure that many looked up to and gained some perspective on the plight of Native Americans.
Devyn Gomex, presenting on Maria Tallchief
Grace, poise, athleticism. These are all skills needed to excel in the art of Ballet. And then there is one more needed attribute that Maria Tallchief represents, which is courage. Maria Tallchief is known as the first woman of Native American heritage to work professionally in ballet, as noted by Womenshistory.org. She moved to New York City at age 17 to pursue her dream of being a dancer. It was an uphill battle as many of the companies rejected her due to her ethnicity. She eventually performed with the Russian ballerina company Ballet Russe and became the first American to dance with the Paris Opera Ballet. She received advice to change her last name to further her career but refused to do so. Never forgetting her Native American upbringing, she spoke out against injustice and discrimination. Tallchief and her sister opened the Chicago City Ballet after she retired from dancing.
Thomas Morrissey, presenting on Emmett Till
Emmett Till only lived to be 14 years old, but his legacy endures far beyond his short life span. According to the Library of Congress, Emmett Till's murder in 1955 brought the racial violence and injustice rampant in the South into sharp focus for the nation to see. Till was visiting relatives in Mississippi and goofing around with his cousins, apparently making a flirtatious whistle toward a white woman named Carolyn Bryant. Her husband Roy Bryant and brother-in-law J.W. Milam kidnapped and murdered him, dumping Till in the Tallahatchie River. He was presented in an open casket at the funeral as his mother wanted to make sure everyone saw the brutality her son had experienced. The trial was covered extensively in two publications, the Tri-State Defender and JET. Despite key witnesses and evidence, however, the two men were acquitted. The outrage of the African American community at this injustice fueled civil rights efforts and continued calls for reform.
Joseph Hawthorne, presenting on Nathan Nearest Green
If you are a fan of Tennessee Whiskey and Jack Daniels, then you owe a thank you to Nathan Nearest Green. As the liquor juggernaut company Jack Daniel's reports on their site, Green was the first ever master distiller working with Jack Daniels. Green was an enslaved man when they first met, and he is credited with teaching Jack Daniels how to make whiskey by "sugar maple charcoal filtering" (known today as the Lincoln County Process), a universally accepted critical step in the making of Tennessee whiskey. With this process, whiskey is filtered through wooden charcoal chips before being placed in casks for aging, a technique food historians believe was inspired by similar charcoal filtering techniques used to purify water and foods in West Africa. The process imparted a unique smooth flavor that set Jack Daniel's whiskey apart from competitors. As a now free man, Green and many of his descendants worked for Jack Daniel's Distillery, though it is only in the last decade or so that the company has made a proper effort to recognize Green's vital contribution to their company's legacy.
Ishma-eel Safodien, presenting on Ketanji Brown Jackson
Ketanji Brown Jackson was nominated by President Joe Biden to become the 116th Associate Justice of the United States Supreme Court, assuming office in the summer of 2022, according to Whitehouse.gov. She is the first black woman to ever serve on the Supreme Court, as well as the first former federal public defender.
Her accolades are predictably endless, serving as a judge on the U.S. Court of Appeals for the D.C. Circuit and the U.S. District Court for the District of Columbia, as well as Vice Chair of the U.S. Sentencing Commission and much more.
Andy Moussignac, presenting on Ruby Bridges
Age six is very young to be leading revolutions, but Ruby Bridges faced the challenges head on as the first African American student to integrate an elementary school in the South (William Franz Elementary School in New Orleans). According to Womenshistory.org, Bridges had to take a very difficult admittance exam, and once she was admitted, she had to be escorted every day to school by four federal marshals and endure harsh prejudice and hardship inflicted on her and her family. Her teacher was Barbara Henry, who taught only Bridges after all the other teachers and students refused to work with her. They became friends in Bridges' adulthood.
Bridges' first fateful walk into school is depicted by a famous painting by Norman Rockwell entitled "The Problem We All Live With," and student Andy Moussignac brought a framed print copy of it to share with the class.
Bridges graduated from a desegrated high school, became a travel agent and had four sons with her husband. In 1999, Ruby established The Ruby Bridges Foundation to promote tolerance and create change through education. In 2000, she was made an honorary deputy marshal in a ceremony in Washington, DC.
---
Slice of LIFE is an invitation to and extension of everything happening at Life University. Whether you are a current student, a potential freshman or a proud alum, Slice of LIFE can help keep you connected to your academic community. Know of a compelling Life U story to be shared, such as a riveting project, innovative group or something similar? Let us know by emailing Marketing@life.edu.
Related posts