Marietta, Georgia, February 8, 2021 – The No. 2 nationally ranked Life University (LIFE) Men's Wrestling team captured the Mid-South Conference (MSC) South Division title for the second consecutive year after defeating No. 6 Cumberland University and Brewton-Parker College on Friday, February 5, 2021. The Running Eagles defeated Cumberland 39-8 before downing Brewton-Parker 49-0, totaling seven pins on the day over the two matches.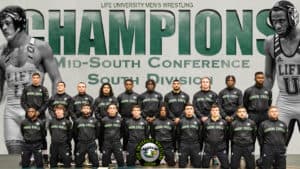 A member of the National Association of Intercollegiate Athletics (NAIA), the Life University Athletic Department fields 23 teams in 11 women's sports, 11 men's sports and one coed sport, in addition to club and intramural athletic programs. LIFE student-athletes have earned both team and individual national championships, as well as MSC Championships, All American, All Conference and academic honors.
Randy McCray, Jr. got the action started early at 125 lbs. in the match against Cumberland. He earned a 7-1 decision that was followed by Quin McGlamery, who picked up his third consecutive win via pin fall in 4:35. Logan Sims totaled a 9-2 win in the 141 lb. class as the Running Eagles led 12-0. Cumberland picked up a win at 149 lbs. before Jack Bass earned the pin in 2:37 at 157 lbs. Cumberland won its second matchup of the dual at 165 lbs. earning a tech fall, but a 20-3 tech fall from Asher Eichert at 174 lbs. put Life U ahead 23-8. Baker Hadwan extended the lead with a 12-3 major decision. Zane Lanham dominated his opponent in a 1:10 pin at 197 lbs. while J.J. Perez earned the pin in 1:54 to seal the win 39-8.
For the sixth time this season, the Running Eagles did not lose a single match in the dual against Brewton-Parker. After a forfeit at 125 lbs., McGlamery picked up his second win of the day with a 14-12 decision at 133 lbs. Marcus Abreu pinned his opponent in 1:47 at 141 lbs. and Yarhoski Aldiva bounced back with a pin in 1:05. Julian Hernandez took the 11-3 major decision at 157 lbs. as Sid Ohl earned his fastest pin this season in just ten seconds. Brewton-Parker forfeited 174 lbs. while Hadwan earned the decision at 184 lbs. Diallo Matsimela earned a decision as well at 197 lbs. and a forfeit at heavyweight for BPC gave Life U the 49-0 victory.
Men's Wrestling improved to 10-0 and 5-0 in MSC action as it wrapped up the regular season on Sunday, February 7 with a 52-0 victory over St. Thomas University, extending its winning streak to 10-0. The Running Eagles have outscored their opponents 479-16 over the course of the season.
"It has been a fun year competing, even though we have had to adapt and overcome adversity with everything going on," head coach Omi Acosta stated. "I want to thank God for keeping my guys healthy and for the opportunity to compete. Now we will focus our attention to finishing strong at the MSC and NAIA Championships!"
The team will be back on the mat Saturday, February 13 at 9:00 a.m., hosting Cumberland, Campbellsville University, Southeastern University and Reinhart University in the Life U Wrestling Roundup. The Mid-South Conference Championships will be held February 19-20 in Bowling Green, Kentucky, and the 64th Annual NAIA Championship Tournament is March 5-6  in Park City, Kansas.
Founded in 1974, Life University is a health sciences institution most known for its Doctor of Chiropractic (D.C.) program, the largest single-campus chiropractic program in the world. Undergraduates can pursue 14 undergraduate degrees as well as a pre-chiropractic, degree-seeking pathway. Three graduate degrees are available, encompassing areas of sport health science, clinical nutrition and positive psychology. Some degree programs are offered to distance learners through the College of Online Education.
Life University strives to empower its students to succeed both professionally and personally. LIFE advances a leading-edge approach to higher education while also remaining true to the University's philosophical commitment to produce informed leaders who exemplify humanistic values in their professions. To achieve this goal, LIFE recognizes and demonstrates its dedication through three official Life University Values: Lasting Purpose, Vitalism and Integrity.
LIFE's 110-acre campus in Marietta, Georgia, just northwest of Atlanta, is home to more than 2,700 undergraduate, graduate and professional students who come from all 50 United States and more than 45 countries.
For additional information about Life University Athletics and its student-athletes, please visit LIFERunningEagles.com.
For more about Life University, visit LIFE.edu.
Related posts