Marietta, Georgia, May 20, 2021 – Life University (LIFE) Vice President of University Advancement & Enrollment Dr. Gilles LaMarche has been honored by the Cobb Chamber of Commerce with the Focus, Insight and Vision Award for Embodying the 2020 Leadership Cobb Class Challenge.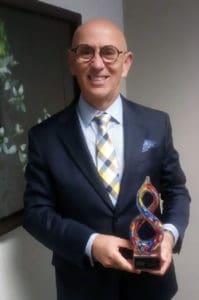 Founded in 1992, Leadership Cobb is a prestigious leadership development program focused on personal and professional growth through awareness, community resources and the social, political and economic needs of the community at large. Members are chosen from various industries, community organizations, government entities, religious organizations, volunteer programs and other groups throughout Cobb County.
"One of my greatest passions is creating deep and meaningful relationships," Dr. LaMarche said. "Serving on the Life University executive team gave me the opportunity to become a member of the Leadership Cobb Class of 2020. Through this experience, I have met and bonded with many valued members of our community, a further opportunity to demonstrate my Lasting Purpose. Life University truly is changing the world, and I am humbled to play a role in that process."
The 50 members of the 2020 Leadership Cobb class graduated on May 14, 2021. Dr. LaMarche was selected for the program in July 2019. Life University President Dr. Rob Scott is also a Leadership Cobb alumnus, having been a member of the 2013 class.
Founded in 1974, Life University is a health sciences institution most known for its Doctor of Chiropractic (D.C.) program, the largest single-campus chiropractic program in the world. LIFE also offers 14 undergraduate degrees, as well as a pre-chiropractic, degree-seeking pathway. Three graduate degrees are available, encompassing areas of sport health science, clinical nutrition and positive psychology. Some degree programs are offered to distance learners through the College of Online Education.
Life University strives to empower its students to succeed both professionally and personally. LIFE advances a leading-edge approach to higher education while also remaining true to the University's philosophical commitment to produce informed leaders who exemplify humanistic values in their professions. To achieve this goal, LIFE recognizes and demonstrates its dedication through three official Life University Values: Lasting Purpose, Vitalism and Integrity.
LIFE's 110-acre campus just northwest of Atlanta is home to more than 2,800 undergraduate, graduate, and professional students who come from all 50 United States and more than 45 countries.
For more information about Life University, please visit LIFE.edu.
Related posts