Marietta, Georgia, May 5, 2021 – Life University (LIFE) is holding a series of events throughout the month of May to honor Asian American and Pacific Islander (AAPI) Heritage Month and to celebrate the diversity of LIFE's campus community. Several University departments are collaborating on the events, including the Office of Diversity, Equity and Inclusion (ODEI), the Diversity Committee, International Student Programs, the University Library and Global Voices, an initiative of the Academic Support office.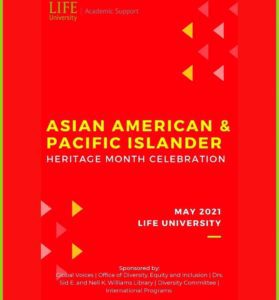 Founded in 1974, Life University is a health sciences institution most known for its Doctor of Chiropractic (D.C.) program, the largest single-campus chiropractic program in the world. LIFE also offers 14 undergraduate degrees, as well as a pre-chiropractic, degree-seeking pathway. Three graduate degrees are available, encompassing areas of sport health science, clinical nutrition and positive psychology. Some degree programs are offered to distance learners through the College of Online Education.
LIFE's 110-acre campus just northwest of Atlanta is home to more than 2,800 undergraduate, graduate, and professional students who come from all 50 United States and more than 45 countries.
Dr. Andrea Diaz developed Global Voices and said her goal for the program has been to center and empower LIFE students and their experiences, to help them find their places in the world and at the University.
"One of the things that I've understood through working with students and being from a diverse background myself is how hard sometimes it is to find a sense of belonging within a community," Dr. Diaz said. "Life University is doing a very intentional effort to not only invite those who are from a diverse background, but to help them feel welcome and diligently working to create an environment that will be inclusive for everyone, no matter where they come from or where they are going."
According to Dr. Diaz, Global Voices is constantly evolving, based on what students say they need and want, but the entire LIFE community is invited to participate.
"Our events and skillshops are open to students as well as faculty and staff," Dr. Diaz said. "They're really to create awareness and to educate about culture, ethnicity and even language, and how important they are. Culture and ethnicity are part of everybody's identity. It's not something you can check at the door and continue with your life, without taking that into consideration. It's actually the base that everything builds over. Learning, for example, cannot happen if culture and ethnicity are not taken into consideration and are not worked with."
On Thursday, May 6 from 11:00 a.m.-1:00 p.m., Global Voices is hosting a "Find Your Flag" event in the lobby of the College of Graduate and Undergraduate Studies (CGUS). LIFE students, faculty and staff who identify as Asian American and Pacific Islander are encouraged to create pins representing the countries of their ancestry and to wear them with pride.
ODEI will hold the next installment of its yearlong "With Liberty and Justice For All" symposium series, "A Retrospective on Recovery and Resilience," on Tuesday, May 18 from 6:00-7:30 p.m. LIFE Women's Rugby Head Coach Rosalind Chou will lead a conversation with faculty members Dr. Yit Lim and Dr. Fuhua Lu and Enrollment's Coordinator of International Programs, Dr. Sairagul Matikeeva-Kinney, focusing on the historic contributions of Asian Americans and Pacific Islanders as well as the biases and stereotypes that persist against AAPI communities, from the aftermath of Pearl Harbor to the present day. The discussion will take place live on Zoom and will be available for later viewing on the University's YouTube channel.
Several Life University students from Hong Kong have partnered with Global Voices, the Diversity Committee and International Student Programs to organize "Sharing AAPI Culture-Hong Kong" in order to give the LIFE community a closer look at their homeland. The event on Tuesday, May 25 from 11:00 a.m.-1:00 p.m. will include a workshop on traditional Chinese calligraphy as well as trivia games about Hong Kong, its history and its people.
In addition, the Drs. Sid E. and Nell K. Williams Library has created a special digital exhibit about Asian American and Pacific Islander communities, including websites, eBooks and other resources. The collection is available online at LIFE.LibGuides.com/MonthlyDisplay.
Life University strives to empower its students to succeed both professionally and personally. LIFE advances a leading-edge approach to higher education while also remaining true to the University's philosophical commitment to produce informed leaders who exemplify humanistic values in their professions. To achieve this goal, LIFE recognizes and demonstrates its dedication through three official Life University Values: Lasting Purpose, Vitalism and Integrity.
For more information on Life University, please visit LIFE.edu.
Related posts