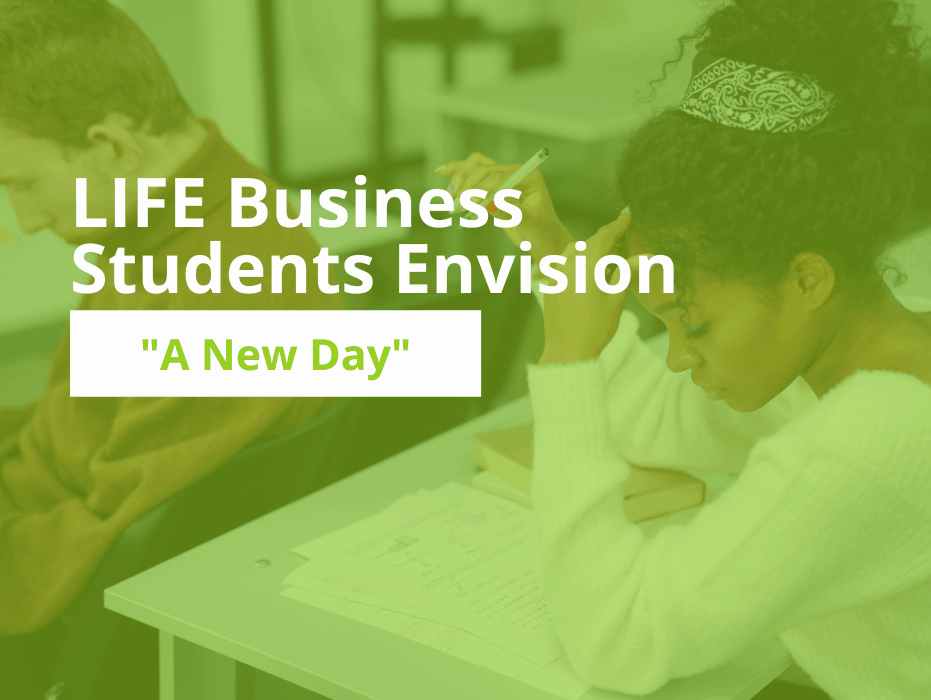 Dr. Paula Billups is an Assistant Professor in the Life University Bachelor of Business Administration (BBA) degree program. Earlier this quarter, Dr. Billups developed a unique assignment for her Principles of Management class.
Week 2 of Winter Quarter coincided with the U.S. presidential inauguration on January 20, 2021, during which Amanda Gorman read her original poem, "The Hill We Climb: An Inaugural Poem for the Country." Gorman, 22, is the first National Youth Poet Laurate and was the sixth and youngest poet to deliver a poetry reading at a presidential inauguration.
"I was just so inspired when I saw that, and it gave me the idea," Dr. Billups said. "What if my students had the opportunity to create a poem?"
After learning that many students in the class had gathered to watch the inauguration together and had seen Gorman's reading, Dr. Billups created an optional assignment.
"During that week, we were studying strategic management and planning, so having them write a poem on 'A New Day' really had to do with the planning function," Dr. Billups explained. "I wanted them to plan what their 'New Day' looks like."
She saw it as a chance for her students to think critically about current events – especially things that are happening off campus and outside of their daily routines – and to develop strategies for the future.
"The greatest thing about it was we were in Week 2, so I had not had a lot of examples of my students' writing up until that point," Dr. Billups said. "In past quarters, I have noticed that students still do have some challenges in writing. So when I gave them an opportunity to be creative, it kind of took the focus off everything being 100 percent grammatically correct – they could just free flow. That's what I really enjoyed about it, that stream of consciousness. Some of the writing was really great, and it gave me hope that for future assignments in this quarter, I'd be getting good writing samples from my students and that they could be creative."
Each student gave Dr. Billups permission to share their poems with the Life University community, some of which are reprinted below.
Japanese Haiku:
A new day is here
Small accomplishments are key
I will win all days
— Melvin Hernandez
The sun rose up into the sky again today
And just like yesterday the sky was blue
At first glance nothing seemed to have changed
A second look showed what we obtained
After all something feels anew
Today is a new day
— Tatum Johnson
As I wake to the bird's chirp
I know I'm in for a treat
Today is the day I get to my peak
I take a deep breath and arise from my lay
I thank God for a blessed New Day
— Anthony Rogers
Once today ends, let it go on
You did everything you can to enjoy it
Sometimes there are things and people that may get in your way, but you just can't control it
Understand why it's a brand new day
As the sunset rises and the moon begins to set
We are waking up and getting ready for bed
We are eating breakfast and waiting for dinner to be set
We are praying for all the bad days to end
Hopefully that's when a new day begins
Roses are red and the sky is blue
Meet new people that won't hurt you
We all lose and we all win
Yesterday was full of sins
But today can be full of wins
Some things people can't change
But things can change your life
Don't be afraid to stick up for yourself
Because you only live once, not twice.

— Susan Adegoke
Related posts