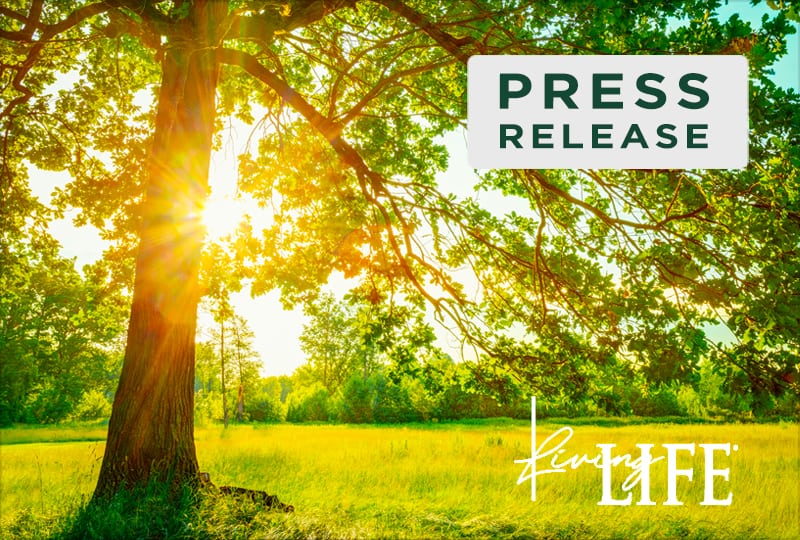 Marion, Indiana– June 1, 2023 – The Life University Outdoor Men's Track and Field team produced one national champion, four runner-ups and six All-American placements to claim their second consecutive team NAIA Outdoor Championship.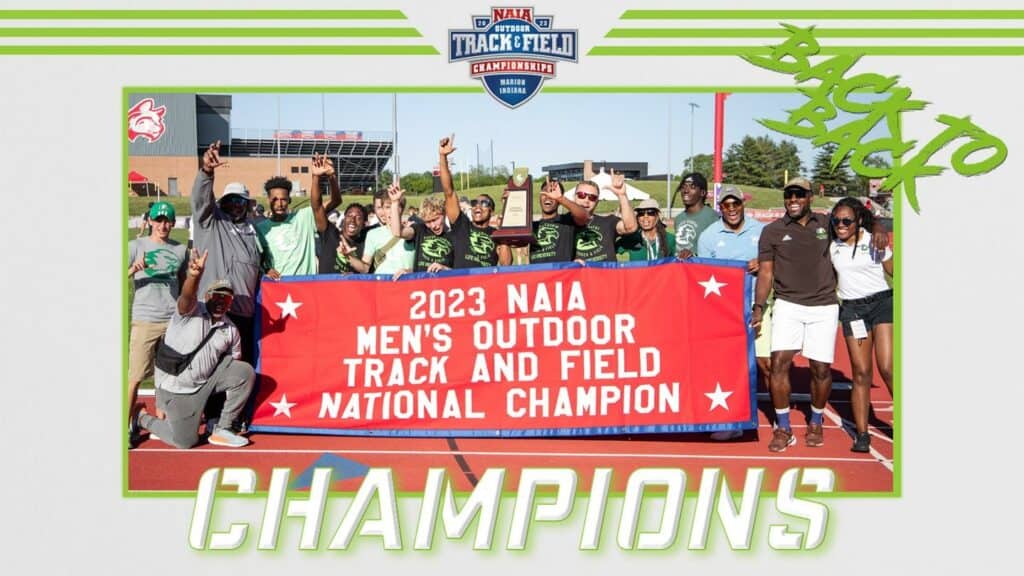 Beginning with day one, the Men's 4×100 Relay team began the day with a win in their heat, pushing them through to the finals on Friday. In addition to the 4×100 relay team, the Running Eagles saw two other individuals earn a spot to compete for All-American honors as Phemelo Matlhabe and Joshua Wagner both qualified in their respective events to move on to Friday's finals.
The Men's 4×800 Relay team of Lance Wells, Abedelemejid Kerebo, Joshua Wagner and Jacob Ulrich battled in their event but ultimately fell short of the qualifiers time, earning a 20th place finish overall.
To conclude day one's events, graduate student Zac Wright-Fisher became an All-American with an 8th place finish in the 10k, finishing with a time of 30:57.40.
On day two, the Men's side began with Phemelo Matlhabe earning All-American status in the 100m prelims, winning his heat with ease with a blazing-fast time of 10.20.
Next up, the Men's 4×400 team of Jacob Ulrich, Ngoni Chadyiwa, Abedelemejid Kerebo and Phemelo Matlhabe placed top two in their heat with a time of 3:14.16, the second-best seed in the prelims.
In the 400m, Jacob Ulrich and Ngoni Chadyiwa also advanced with ease, tabbing the top two times to qualify for the finals set for Friday.
The highlight of day two was the field events, as William Jones and Mark Morozov competed in the Long Jump. Unfortunately, Morozov's first two attempts were faults before the impressive freshman finally pulled one proper attempt out to leap 6.34m.
With Morozov's fate already determined in flight one, Jones was able to qualify with his first attempt, a 7.35m jump. Jones then faulted two more times before finding a rhythm in the championship round, producing an NAIA third-place leap with a distance of 7.44m in his final attempt.
On the final day of competition, and with a lot of ground to make up, the Men's team began their first finals appearance of the day ranked as the 9-seed in the 4x100m. Despite the unfavorable ranking, the relay team showed out when it mattered most as Markanthony Hayes, Phemelo Matlhabe, Ngoni Chadyiwa and William Jones nearly recorded a new season-best with a time of 40.30, only .35 slower than their best mark of the year, 39.65. The Running Eagles recorded the second-place finish even despite missing Daniel Williams, who was out due to an injury on day one.
Next up, in the 100m finals, Phemelo Matlhabe nearly defended his title as a two-time National Champion, but another second-place finish was awarded as the junior missed the title by .04.
Matlhabe then went on to get his revenge in the 200m finals, as the two-time 2022 NAIA Champion did repeat his 2022 200m title with his fastest time of the season, 20.51.
The next group of Running Eagles to hit the podium were Ngoni Chadyiwa and Jacob Ulrich, who claimed 4th and 2nd in the 400m. In what proved to be an all-out fight to the finish line, Ulrich's stumbling fall for first came up .03 short as Keishon Franklin from Southeastern claimed the 400m National Championship. Not far behind, Chadyiwa claimed fourth to join Ulrich on the podium as an All-American.
The final group to earn All-American honors was the 4x400m Relay Team of Jacob Ulrich, Phemelo Matlhabe, William Jones and Ngoni Chadyiwa who ran a 3:08.70 time for a second-place finish.
Overall, the Men's team won the 2023 NAIA Outdoor Track and Field Championships with 55 combined points, beating the closest competitor by 14 points. Additionally, the Men's team becomes the first men's program to defend their title since the 2013 & 2014 season when Indiana Tech obtained the feat.
With the conclusion of the 2023 Outdoor Championships, the Men's Track & Field season ends once more on the highest note.
Founded in 1974, Life University is a health sciences institution most known for its College of Chiropractic, the largest single-campus College of Chiropractic in the world. Undergraduates can pursue 14 undergraduate degrees; a pre-chiropractic, degree-seeking pathway; and three graduate degrees within the College of Graduate and Undergraduate Studies. Some degree programs are offered to distance learners through the College of Online Education.
Life University strives to empower our students to succeed both professionally and personally. At Life U, we innovate our approach to higher education, while also remaining true to our philosophical commitment to produce informed leaders who exemplify humanistic values in their professions. To achieve this goal, Life U recognizes and demonstrates its dedication through three official Life University Values: Lasting Purpose, Vitalism and Integrity.
Life U's 110-acre campus in Marietta, Georgia, just northwest of Atlanta, is home to more than 2,700 undergraduate, graduate and professional students who come from all 50 United States and more than 60 countries.
For more information about Life University, visit life.edu.
For more information about Life U's Track and Field teams and other athletic programs, visit LifeRunningEagles.com.
About Life University
Life University is regionally accredited by the Southern Association of Colleges and Schools Commission on Colleges (SACSCOC) to award baccalaureate, associate, master's and Doctor of Chiropractic degrees, and also has programmatic accreditation through the Council on Chiropractic Education (CCE) and the Accreditation Council for Education in Nutrition and Dietetics (ACEND). The mission of Life University is to empower students with the education, skills and values necessary for career success and life fulfillment, based on a vitalistic philosophy.
[/vc_column_text][/vc_column]
[/vc_row]
Related posts