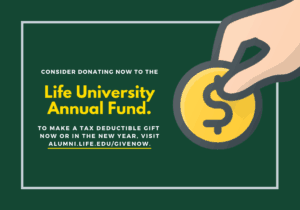 When you support Life University, you make a difference in the lives of students and faculty, and ensure our mission of serving with Lasting Purpose.
As the end of 2019 approaches, we ask that you please consider making a gift to the Life University Annual Fund, which provides unrestricted funds for a wide variety of programs and initiatives. Or, if you'd like, you can direct your gift to any one of a myriad of specific campaigns, such as Athletics, the Chillon Project and much more. If you wish to make a tax deductible gift now or in the new year, visit Alumni.LIFE.edu/GiveNow.
Related posts
Academic Events This Week
No events scheduled for November 23, 2021.
No events scheduled for November 24, 2021.
UG and GR pre-registration windows open starting at 8am by class level/hours
Thanksgiving (University Closed)
Priority registration opens for DC on Sat. and closes Mon. at 7am