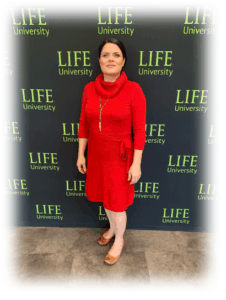 As she approaches her two-year anniversary at Life University, College of Online Education (COE) Coordinator, Dr. Georgianna (Geo) Laws spent some time to reflect on her growth and role at Life University.
In her spare time, Georgianna paints and runs road races. This March she ran the Atlanta 2020 marathon in six hours and 10 minutes. Whenever she runs road races, she runs into Life University colleagues, which speaks to our institution's commitment to wellness as a way for us to serve out of a sense of abundance. Geo is also most grateful to our C-HOP for the chiropractic services it provides to keep her and everyone at LIFE functioning optimally. She swears by chiropractic care after her stage III cancer was healed some 10 years ago through a combination of lifestyle changes and Chiropractic.
After earning a master's degree in adult education and distance learning, Georgianna earned a doctorate in higher-education leadership and conducted a national research study titled Powerful or Powerless? Chief Online Education Officers' Legitimate Power over Online Program Quality of U.S. Higher-Education Institution. Georgianna chose to work at Life University for the strong alignment she felt with Vitalism and with serving Lasting Purpose; she also chose LIFE for how it is changing the world through compassion. Finally, the strongest reason for choosing to serve LIFE was the appeal of the opportunity to work under the leadership of Dr. Richard Belcastro, the Dean of the College of Online Education, a position which literally mirrors her doctoral research with chief online education officers. Dr. Laws is one of only three groups of researchers in the U.S. to work with this population and the only one in the nation doing research with the legitimate power that higher education COEOs have over quality in online program administration.
A little more than a year after her employment, Drs. Belcastro and Laws, with the support of senior leadership at LIFE, were able to form the College of Online Education, which they continue to strengthen and to grow. By now the college added two professionals who took over parts of former responsibilities Geo held, namely Ms. Sabrina Armster, the College's Instructional Specialist, and Dr. Rochelle Rothman, the College's Instructional Designer. Georgianna recruited, trained and continues to mentor these two professionals, who currently operate and develop as a virtual team under Dr. Belcastro's positive and steadfast leadership.
Dr. Laws frequently speaks at national and international conferences on the topics of quality in designing and delivering online education; quality in the administration of online programs; and cybersecurity implications for online education. Most recently, she has been speaking about the Chief Online Education Officers (COEO) role in the United States and the key strategic position this professional holds in the administration of quality online programs, particularly during the pandemic. In her next presentation, at the Online Learning Consortium (OLC) Accelerate 2020 conference, Dr. Laws will address how higher-education presidents and provosts in the U.S. can support their COEO in these uncertain COVID0-19 times.
Dr. Laws also had the privilege to be invited to review leadership-track proposals at the 2020 OLC Accelerate conference as well as at the Unites States Distance Learning Association 2020 national conference. In recognition of her passion for and efforts in online higher education, the President of the Unites States Distance Learning Association (USDLA) appointed Dr. Laws as a member of the USDLA Board of Directors. In this role, Georgianna serves as co-chair of the USDLA awards committee and works closely with the marketing/communications committee. Other committees she serves are advisory, credentialing, events/conferences, governance, membership, nominating, professional development and state chapters.
Dr. Laws helped co-organize and co-moderate the 2020 USDLA conference and spearheaded the production of the inaugural USDLA Soundbites podcast through which, among other guests, she interviewed the CEO and Executive Director of the Association, Dr. Reggie Smith III as well as Dr. Gerry Henley, Executive Director at MERLOT and SkillsCommons and Emeritus Professor of psychology, who was just inducted in the USDLA Hall of Fame. She also spoke at this 2020 virtual conference on the topic of recruiting and retaining top talent in online higher education organizations, a presentation she gave in collaboration with a third-party company founder and with Dr. Kathleen Williams, Director of Learning Resources at Life University. This is one of several presentations Dr. Laws undertook with other professionals at LIFE, as she believes in the value of serving, sharing and collaborating.
As her career in online leadership continues to soar, Dr. Laws' profile was featured in Inkandescent Women magazine, next to the profiles of hundreds of women providing leadership in dozens of professional areas in the US. For the second year in a row, Geo was presented with the Life University Research and Scholarly Activity award for her work with chief online education officers. She was also recognized as an emerging leader in online learning through the Dr. Bruce N. Chaloux Scholarship for Early Career Excellence, awarded by the Online Learning Consortium to support the professional growth and preparation of the "next cadre" of leaders.
Dr. Laws is representing LIFE at the 2020 Institute for Emerging Leadership in Online Learning (IELOL), where she currently leads a team of four higher-education leaders. In her simulated role of chief online education officer, she partners with the VP of Administration, Budget, and Finance; the VP of Graduate Admissions and Enrollment; as well as the Provost to research and implement an online project management (OPM) marketing solution that they are to pitch to the president of a prominent university. Throughout the rest of her IELOL tenure, Dr. Laws is working on an initiative of strategic importance to the Life University College of Online Education, focused on building online culture.
"At most conferences, you have one or two 'aha moments'. With IELOL, I've had multiple 'aha moments' in every single session," Laws said. "We're taking every possible sliver of leadership in online learning, and we delve deeply in it. We are led by IELOL faculty and mentors who are online thought leaders and looked upon as utmost experts in their particular areas of expertise. It's just been a phenomenal journey!" Among the issues discussed in IELOL sessions are organizational branding; mission, policy and financial concerns; culture building around equity and inclusion; authentic faculty involvement and engagement; quality in online initiatives; continuity planning; data-informed decision making; communication; and much, much more.
As part of an initial IELOL assignment, Dr. Laws spoke with LIFE Vice President of Academic Affairs Dr. Tim Gross about the University's College of Online Education, "celebrating where we've been, how far along we've come and where we're going" and aiming to identify an opportunity Dr. Laws can research and implement at our institution. "It's such an honor to be able to serve Life University at IELOL," Georgianna said. "I'm learning so much, and I am constantly turning around and implementing what I am learning, helping strengthen our team in support of our faculty and students."
"In light of the pandemic, Online has certainly come to the forefront, not only for our institution, but also on a global level," Dr. Laws said. "What is important about Online is that it allows students access to quality education at times they cannot physically come to campus." Dr. Laws pointed out that the mission of the College of Online Education is "to provide a high-quality global online educational experience, based on a vitalistic philosophy, that maximizes each student's innate potential to pursue their goals and assume roles in leadership and the workplace through the application of integrity and principles of Lasting Purpose."
"Online is a partner to our main campus colleges," Dr. Laws said. "We're here to provide Life University students an alternative pathway to earning credits or perhaps an entire degree, and we are very excited to serve our institution's mission and to be the premier vitalistic organization in the world."
To learn more about Life University's College of Online Education, visit LIFE.edu/Online.
Related posts