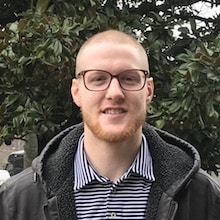 Zach Landis
Future Teacher and Leader
Student: Business Administration
December 2017
Zachary Landis says that he likes to be called "Zach" … and that speaks to the casual charm that shines through when talking with him. From Lawrenceville, Georgia, Landis is currently an undergraduate pursuing his bachelor's degree in business administration while also playing on the basketball team here at LIFE, one which he helped lead to the NAIA Championship Game last season.
Landis hails from a sports background – his father wrestled at the University of Georgia, his mother is a two-time all-American in soccer and his brother played football at Liberty University. He says that he has been interested in and played sports since he was very young, having played football, basketball and soccer, just to name a few, but one truly excited him. He explains, "I truly have a passion for basketball. Ever since I was little, I remember having one of those little basketball goals in the living room, and I'd run around with my big brother playing and having a great time."
"Basketball is kind of one of those sports that you can get better at on your own," Landis notes as he adds that he was fortunate to have a goal that his father set up in their driveway where he practiced with his friends. He then went on to play for all four years of high school and eventually ended up at Chattahoochee Tech where he took several general education classes in preparation for ultimately transferring to a four-year university.
After the first half of his freshman year at Chattahoochee Tech, Landis made a highlight video of his basketball career up to that point and sent it to several coaches throughout the state. He says that Life University Coach Anthony Maxwell got back to him right away and made arrangements to watch Landis play in several games – eventually leading to Landis attending the University on a basketball scholarship.
Landis says, "I was really happy about that because I wanted to go to Life University since it offers things that other schools don't." Just one of the things to which Landis is referring is the unique opportunity to receive a "full ride" scholarship, which allows him a full, four-year education. He notes that since he had only three years of basketball eligibility left, at LIFE he was able to actually get four years of school rather than the two- or three-year scholarship being offered elsewhere. This is very important to him, as his education is his first priority. He adds, "My parents have always told me that – 'education comes first.' So, I wanted to make sure that was covered. I was excited about the opportunity, and everything just seemed to fall into place."
Landis speaks quite fondly about the basketball team to which he belongs. "The camaraderie with the guys and having coaches that I can count on when I'm having some difficulty in my life really gives me a sense of family." And with great respect for his coaches, he says that they always put the players first and give of their time to make them better individuals. He adds, "They're really molding us into respectable men."
As far as his education is concerned, Landis decided to pursue business administration as it is a "broad subject" and would afford him opportunities to go in multiple directions. Those directions are truly varied in that he would like to teach, play professional basketball and conduct private skills coaching lessons for children and adolescents. He says that advancing their education and training is of high importance to him since he loves children and wants to give back to them in this way.
To achieve all that he wants to, Landis says that he would love to stay here at LIFE, acting as a graduate assistant for a year or so and get started on a master's degree in positive psychology. He adds that he feels positive psychology would be his most prudent choice since it will aid in the success of his approach to teaching and coaching.
He says that he would also like to travel overseas after the completion of his degrees and play professional basketball. He explains that he would like to make a living doing that for a couple of years and take that knowledge, along with knowledge gained from his degrees, and utilize it in his future career as an educator.
Graduating next quarter, Landis reflects on his time here at LIFE and sums up the experience thusly, "I love it!" He continues, "When I first got here, I was kind of quiet and kept to myself, but I've opened up and realized that this is a really great place. Every time I walk down the hall, everyone greets each other. It's a smaller school and has such a friendly, inviting atmosphere."
He adds that from his experience at other schools, he has also realized how different it is at LIFE. He counts among those differences the relationships that he has been able to establish with LIFE's staff and faculty. He enjoys the connections that he can make on a more personal level due to smaller class sizes and more in-depth conversations that take place between faculty and students. He emphasizes, "I've met some people here that I'll be friends with for the rest of my life. I wouldn't trade it for anything in the world."
LEARN MORE:
Faces of LIFE is a story campaign that showcases members of the dynamic LIFE community, including faculty/staff, students, alumni and health science professionals. Interested in being featured or nominating a candidate? E-mail LIFENews@LIFE.edu. Read more Faces of LIFE stories.
Related posts