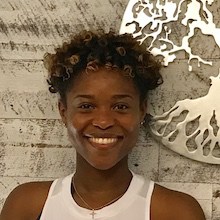 Shannon Craig
Protect the Patient
Student: Doctor of Chiropractic
September 2019
Shannon Craig studied biology in a pre-med track at Alabama A&M University and was a pharmacy technician for six months. She enjoyed it because she loved learning new things but kept asking the pharmacist: "How do you understand how all these drugs interact, and how do you protect your patient?" When thinking about patients who were on up to fourteen different medications, she felt uncomfortable not knowing how her involvement was affecting others. "I wasn't getting straight answers, and I didn't like it; it didn't feel good especially knowing 'Oh this person is coming in to get drug A to wean themselves off of drug B,' and it was just blowing my mind."
When Craig was originally trying to decide what she wanted to do after studying biology, there were so many things that she thought of as possibilities. She wanted to be a pediatrician, a dentist, a dermatologist and a pharmacist. "I just love learning, but eventually I had narrowed it down to pharmacy. I had a cousin at the time in pharmacy school at Auburn University."
Life University recruiter Mackel Harris came to Craig's school twice, and when they spoke, he said a lot of people who start in pharmacy end up at LIFE. She decided to go to a LIFE Leadership Weekend and began to learn about the principles of Vitalism and Chiropractic. She was surprised by how much the principles of Chiropractic really resonated with her because she had always been wary of medication even from a young age. "My mother would give me ibuprofen for cramps, and I would refuse to take it. I don't think that there isn't a place for it, but I think that medicine should be your last resort."
Both Craig and her mother had never been adjusted before learning about LIFE, but soon after, her mother started trying it for her TMJ. Craig describes her mother's experience by saying, "It is just so crazy because all her symptoms and swelling has gone down." At first Craig's family wasn't sure about her transitioning from studying pharmacy to Chiropractic, but after seeing the results, their minds quickly changed.
Craig is in her eighth quarter at Life University and is involved in Integrity Doctor Student Club, a practice management club, and what was called Adjusting Ninjas. "I am trying to get to as many clubs as I can to see if I can figure out what techniques and styles of Chiropractic resonate with me." While the classes can be really condensed in the quarter system, she feels like she is doing her best to handle the workload.
Craig has a boyfriend that is also in the program, Kevin Mendez, and after graduation they are considering opening their own practice together. If not, then they would choose to associate with one of the doctors that has been looking at them. "We have been intentionally growing our relationships with them, and even the person who sees my mom has offered to let me study under her." Now that Craig transitioned from studying pharmacy to vitalistic Chiropractic, she is excited to better protect her patients and understand how to facilitate healing.

LEARN MORE:
Faces of LIFE is a story campaign that showcases members of the dynamic LIFE community, including faculty/staff, students, alumni and health science professionals. Interested in being featured or nominating a candidate? E-mail LIFENews@LIFE.edu. Read more Faces of LIFE stories.
Related posts