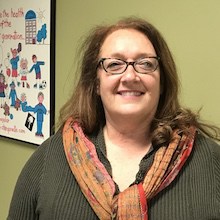 Dr. Teri Stockwell
Readying the Next Generation
Faculty: C-HOP Faculty Clinician
February 2018
As Faculty Clinician at the Center for Health and Optimum Performance (C-HOP), Dr. Teri Stockwell instructs and mentors chiropractic students in their first experience with outpatients – through supervision of their patient care, adjustment delivery, electronic record keeping and many other facets of clinical experience. Stockwell notes that she is also the lead instructor of a technique that she proudly speaks of – Chiropractic Bio-Physics (CBP) – and says that it is the most researched technique in Chiropractic. CBP concerns the making of permanent structural changes to the spine and is currently being taught as an elective here at Life University.
After operating a pediatric and CBP practice for 24 years in Traverse City, Michigan, Stockwell came to LIFE almost six years ago. She says, "I came here because my daughter was in school at LIFE and my son was in Mobile, Alabama, and I wanted to be closer to them. After I made the move, my other kids followed too."
Stockwell says that she came to Chiropractic as a "third or fourth career," as she had previously served as an educator for severely disabled children with neurological disorders. When she did eventually find Chiropractic, she says that it really spoke to her interest and experience in neurology. She followed up that interest with a chiropractic education from Cleveland University-Kansas City in Kansas, and then moved back to Michigan to pursue the CBP and pediatric specializations.
When speaking about Chiropractic, Stockwell says that other than her neurological interest, her own personal experience also attracted her to it. Her personal health issues that had not been resolved by traditional medicine had been done so by Chiropractic. She says, "I saw a chiropractor, and miraculously, I just felt like one of those chiropractic miracles that you hear about, and I thought that this is pretty incredible stuff!"
She adds that while she was the first chiropractor in the family, she is now not the only one since her daughter, Dr. Rachel Stockwell Weimer, graduated from LIFE in 2012. Stockwell says that when her daughter was considering chiropractic colleges, she insisted that Rachel attend LIFE since she was highly impressed with Dr. Riekeman and knew that he "was making some great things happen."
In her previous practice, Stockwell also served as a PEAK doctor (PEAK – Practice, Excellence, Art and Knowledge program designed to allow senior interns to complete their clinic requirements under the direction of an off-campus doctor) for Life University, Cleveland University, Parker University and Palmer College. She adds, "So, I had students from the program coming to my practice all the time, and that was something that I loved doing – developing those students and letting them have real-world experiences. Plus, when you're teaching others, it expands your reach. Now here I am teaching all of these future doctors who will see their own patients, and it just goes on and on."
Regarding her experience with the PEAK program, she also adds, "I had these PEAK students from several universities, so I got to know what those institutions were like, and there's nothing out there that compares to Life University. There just isn't, so I'm happy to be part of it. LIFE does a remarkable job for a whole lot of students."
Stockwell says that the clinic in which she works, C-HOP, provides high quality care that is supervised by experienced faculty and staff for a "ridiculously reasonable" price, while also providing LIFE students with broader real-world experience with chiropractic techniques and patient care than they receive at other schools. She adds, "The faculty here is truly interested and invested in making this an excellent learning experience for our students."
She goes on to say that she loves working at C-HOP and mentoring interns, but that when she took over the CBP technique class, she truly relished in being able to relate to students in that way because, she says, "It's an entirely different relationship that you have with them, and after all, I was a teacher first and loved it!"
About a prospective student considering Life University, Stockwell notes that she has referred many students to the University, even long before she started teaching here. She says that LIFE is an excellent learning environment where the programs prepare students for actual experiences so that once they start their careers, they can truly apply what they have learned.
She adds, "I always encourage people to explore their options, but I see them come back to LIFE time and again. Something great about LIFE is that someone can attend a LIFE Leadership Weekend or Eagle Madness Event and truly experience what we are all about." She says that she also encourages those individuals to go to the other schools that they are considering and see if they have that same experience. "However, they come back to LIFE because after that initial experience, it's pretty much decided for them," she adds with a smile.
Life University has seen its fair share of multiple family members attending the University, as well as working as faculty and staff, and Stockwell's family is no exception. Not only did Stockwell's daughter attend LIFE, but her niece, Emily Stockwell, is here in the nutrition program (upon her aunt's recommendation); her son, Jerome Stockwell is an I.T. Specialist for Enrollment Services; and her daughter-in-law, Karyssa Standeven Stockwell, also works in Enrollment Services. Plus, another daughter-in-law is about to make an application to attend LIFE as an undergraduate.
When queried why so many individuals close to her are also here at LIFE, Stockwell simply says, "I think that's because it's a great environment – a family environment – and just such a nice place to spend your day."

LEARN MORE:
Faces of LIFE is a story campaign that showcases members of the dynamic LIFE community, including faculty/staff, students, alumni and health science professionals. Interested in being featured or nominating a candidate? E-mail LIFENews@LIFE.edu. Read more Faces of LIFE stories.
Related posts