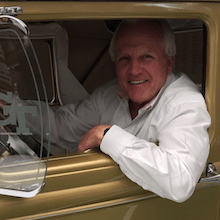 Dr. Randy Rhino
Enhancing LIFE at Tech
Alumnus: Doctor of Chiropractic (Class of 1983)
February 2018
Dr. Randy Rhino had a poster in his room growing up that said, "What you are is God's gift to you and what you make of yourself is your gift to God." A 1983 alumnus of Life University (then called Life College), Rhino has made it his purpose to make a special gift in return and currently serves as Team Chiropractor for all Georgia Tech varsity student athletes.
Rhino grew up in Charlotte, North Carolina and attended Olympic High School where he lettered in baseball, basketball and football. He was named All-State and All-American and earned the title 'Athlete of the Year' in the Charlotte area while at Olympic.
He then began his college career at Georgia Tech, from which he earned a Bachelor of Science degree in Industrial Management in 1976. Rhino's father, Chappell Rhino, had also attended Tech and was a football letterman and All-Southeastern Conference baseball player while there. In football, Randy Rhino became the only three-time first-team All-American in Georgia Tech history. Rhino adds that someone we have all heard of here at LIFE was a classmate and football teammate of his father's – Dr. Sid Williams.
After college, Rhino joined the Canadian Football League (CFL) and played for the Montreal Alouettes. He earned all-pro honors for the 1977, 1978 and 1980 seasons and was a member of the Grey Cup Championship team in 1977. He retired with the CFL record for career punt return yardage and in 2002, was inducted into the National Football Foundation College Football Hall of Fame.
Another important milestone also occurred in 2002 when Rhino took the next step in his chiropractic career when he started working for his alma mater. He says, "The Athletic Director, Dave Braine, gave me an opportunity to have my dream job when he invited me to come and work in the Georgia Tech training room as the Team Chiropractor."
Rhino recounts a few memories of his time here at LIFE when he says that Dr. Gerry Clum and Dr. Williams were huge benefits to him by helping him with this unusual schooling arrangement. He elaborates, "Because of the way that I went to school – two quarters playing football professionally in Canada and then two quarters at school – I needed special approval for that arrangement that I had to do for several years."
Rhino says that in 1978, when he began his education at LIFE, "It was just some trailers really. There was maybe one building, but most of the classrooms were trailers," adding that the way the school looks now is "truly mindboggling."
Another memory of his days here, is one of Dr. Williams and Lasting Purpose. He says, "Every Thursday, we had meetings where the whole school got together to get a famous 'Dr. Williams' sermon' on Chiropractic, the Palmers and our beginnings." Rhino notes that they were inspiring and helped students who might have been lagging behind a bit to pick themselves up and move forward, newly energized by chiropractic philosophy.
About his current participation in Chiropractic, Rhino points out that it is extremely important to him as he specializes in musculoskeletal injuries for sports. He says that as he works with students, he teaches them how the proper alignment and adjustment of their spines can not only help them recover from injuries, but also even help prevent injuries and perform optimally. He adds that while he specializes in only the athletes' musculoskeletal issues, he works with one of the best trainers in Division 1 football, Jay Shoop, who works with them on other issues. He adds, "(Jay) respects what I do, and I respect what he does immensely. We work well together to keep all of our athletes in their best shape for competition."
Rhino says that his typical day consists of treating Georgia Tech athletes, other students and even faculty and staff, with about 20% of his time spent with private patients. He notes that some of them have been coming to him for the more than thirty years that he has been in practice. He says, "That's cool for them because I treat them here in the Tech training rooms, and we might have the starting quarterback, or the point guard for our basketball team in here, and it's always exciting for the patients to meet them."
When he reflects on his time at Georgia Tech, he adds, "It has absolutely been a privilege, and I cannot ever imagine wanting to retire. Hanging around the kids here keeps me young. Especially the kind that go to Tech who get through this rigorous academic environment and still play at the level that they do; it's the 'cream of the crop' kind of kid."
He says that it has been amazing to see some of them come back as well. He remembers student-athletes who he took care of during their time at the school who later come back to visit him and bring pictures of their own kids to show him. He adds that sometimes they even ask for one more adjustment for 'good ole times' and muses that he probably gets more out of these relationships than they do.
Rhino also has great things to say about the way that 'Life College' has evolved into such a modern and diverse institution. He says, "I really like what Dr. Riekeman did to expand the University. I believe that all of the new degrees that have taken it from 'Life College' to 'Life University' have also been a tremendous enhancement to the chiropractic portion of health care in general. I just really respect how the school has changed and become what it has."

LEARN MORE:
Faces of LIFE is a story campaign that showcases members of the dynamic LIFE community, including faculty/staff, students, alumni and health science professionals. Interested in being featured or nominating a candidate? E-mail LIFENews@LIFE.edu. Read more Faces of LIFE stories.
Related posts