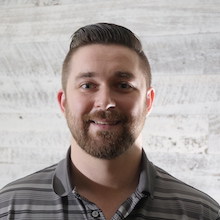 Richard Forte
Principled Chiropractic to His Roots
Alumnus: Doctor of Chiropractic (Class of 2018)
October 2018
"My first chiropractic adjustment took place when I was just a couple minutes old" … and not only was the world introduced to Richard Forte, but he was introduced to Chiropractic at the same time. Forte continues, "As soon as I was born, the doctor saw that I was not breathing, and my lips started turning blue. My mother immediately adjusted my atlas right there on the delivery table and I instantly turned pink and started screaming!" He says that while the M.D. was in utter shock, his mother's midwife had just two words to say, "That's Chiropractic."
Forte, now Dr. Richard Forte, graduated from Life University just this past June. From Long Island, New York, Forte's mother, Dr. Ann Forte, was also a chiropractor there for 32 years and recently moved to Arizona to start a practice. Dr. Ann attended New York Chiropractic College, but only recognized one place where she wanted her son to gain his chiropractic education: Life University. Forte says, "My mom is so pleased with the philosophical background that LIFE offers and with the amount of techniques that I could choose. She always says that it's the most hands-on of any chiropractic school."
Interestingly, Forte and his mother were so dedicated to a LIFE education that he also finished his undergraduate degree in Exercise Science at the University. He says that he knew he wanted to do something in the health field after that, but since he has never taken any over-the-counter medications, going into a field where he would prescribe drugs was completely contradictory to his belief system. So, he says, "I never really considered anything but being a chiropractor."
Forte is now practicing at McCormick Family Chiropractic in Willow Grove, Pennsylvania. He originally thought he would open his own practice right out of school, but his plans changed when Dr. Dean Depice, one of his mother's friends and founder of TLC (Team and Life Conditioning) Coaching, offered him a position. Forte had been the president of the TLC Club here at LIFE, so it was a great fit for him. He explains that TLC is a coaching group that keeps principled Chiropractic at its core while serving as a community for doctors and CAs to come together and lift each other up through their shared philosophy, principles and relationships.
After discussing the possibility of opening his own practice with Dr. Depice, Forte concluded that he simply did not have the funds to do so and joined the team at McCormick. And now he could not be more thrilled when he says, "The opportunity there is second to none. It's a thorough, thriving practice with a high volume of patients where I can really gain some experience and learn from people who've been in the business for thirty plus years."
When speaking of his five years at LIFE, Forte says that he made some incredible, lifelong friends, but, most importantly, he really discovered who he was as a person. From his time at LIFE Leadership Weekend all the way to graduation, he says that he thrived at such a warm and inviting campus.
As a new alumnus, Forte has a little more perspective on his time here and wants to share a bit of advice for new students when he says, "You should really 'dig in' while you're here because when you graduate, there is so much more work that you need to do. So, whatever you can absorb while you're here in a learning environment, the better set you'll be for the obstacles that you will meet when you graduate."
Forte also offers his take for prospective chiropractic students when he says that when comparing schools, pay close attention to how each one handles the philosophy of Chiropractic. He offers this analogy, "A tree remains stable through its roots. With so many schools not sticking to their chiropractic roots, how can they remain stable? It's the roots that provide the foundation from which to move forward. Stick to your roots and thrive!"

LEARN MORE:
Faces of LIFE is a story campaign that showcases members of the dynamic LIFE community, including faculty/staff, students, alumni and health science professionals. Interested in being featured or nominating a candidate? E-mail LIFENews@LIFE.edu. Read more Faces of LIFE stories.
Related posts