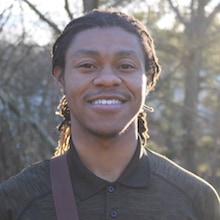 JaGerran Knight
Answering the Call to LIFE
Student: Doctor of Chiropractic
March 2018
"When people reach out to you for help, you want to help them in the best way possible and give them the best advantages to thrive," says JaGerran Knight. Graduating in 2019 with a Doctor of Chiropractic degree, Knight grew up with a father who was very ill with hepatitis A, hepatitis C, liver disease, hernias and diabetes, and at the end of his life, was on 22 different medications. He says, "You see your dad throwing up blood into the toilet, and he looks up at you and says, 'all I want to do is be a dad.' I believe that if my dad had seen a chiropractor, maybe he could have been on less medications, and since Chiropractic assists the body in healing itself, maybe he would have had a better chance at life." Knight says that this had a profound effect on him that he drew inspiration from later in life.
While in high school in his hometown of Charlotte, North Carolina, Knight played football, but never had any injuries and was a typical, healthy teenager. So, he says that he never thought about going to a chiropractor since he had no need to do so. He recounts that while shopping in the local mall, his mother was approached by a Maximized Living chiropractor (Dr. Aaron Ernst) who was making contacts with prospective clients while his office was being built. Knight says, "At that time, my mindset was that I was taking care of myself and staying away from doctors. My mom meets a doctor in the mall, and she started seeing him. It sounded really sketchy, so I wanted to check him out to protect her."
Even though Knight had his doubts, his mother's back pain was getting better, her mood was improving and she was losing weight. He says that one day, she pulled him out of football practice and told him that he, too, was going to see Dr. Ernst. Again, he had no desire to go since he was skeptical and did not have any health problems. He went anyway, at his mother's insistence.
"When the doctor started the interview and exam, I just knew that he was 'fishing' for something to say was wrong with me. He even took x-rays, which I thought were totally unnecessary," Knight recounts. Then, when he went to his follow-up appointment, Ernst told him about subluxations and asked if he had ever had problems with his vision. He answered that he never had vision problems, even being called 'eagle-eye,' and he knew for sure that the doctor was then 'fishing' for a condition. He wanted to leave immediately, but his mother convinced him to go ahead and have an adjustment.
One week later when Knight was on the football field, he turned to his left and realized that every time he had done so previously, he would get quite hot, all colors would 'go black' and he would hear ringing in his ears, but he had just ignored and lived with it. However, that day none of those aberrations occurred. "I thought about what the doctor said about subluxation and interference in the nervous system and how everything in the body is connected to everything else. Stuff started clicking for me, and I thought that if I was just 'living with it' and not functioning at 100%, then I wondered what else in my body might not be functioning correctly."
Knight was so excited about his realization that he went to see Ernst to thank him and told him that he had never felt so much love as he had while he was in his office. He had observed that there was an "energy" there that the clients, the staff and Ernst himself gave out. So, Knight told him that he wanted to be a chiropractor and asked him how to go about it. Ernst replied, "I went to Logan University, but I'm going to tell you this, there are 17 different universities with 17 different philosophies. Visit all of them if you want, because it's important to know which one speaks to you, but just promise me that you will drive four hours down the road on I-85 and check out Life University."
Knight went home that same day and sent his information in to attend a LIFE Leadership Weekend – but keep in mind that he was just a sophomore in high school at that point, and he says with a chuckle, "I didn't know what I was getting myself into!" When he arrived at LIFE, he said that he felt right at home here. He adds that after he heard Dr. Riekeman talk about Vitalism, he realized that he had never heard health care being approached in that way, but it made so much sense to him. He knew that day that he truly wanted to pursue Chiropractic.
He went home to tell his mother about his experience and get her feedback on his decision, and she had one simple thing to say, "JaGerran, I think it's the best decision that you've ever made."
Fast forward a few years and Knight graduates from East Carolina University with a B.S. in Biology as well as a B.A. in Chemistry. He says that since his plan had always been to attend LIFE, he chose undergraduate studies that would prepare him to do so.
Upon arriving, Knight says that he came across Lasting Purpose, which inspired him to become a Student Ambassador during just his second quarter in attendance. He adds that as he started to serve and give back to the LIFE community, he experienced something that he never had as an undergraduate – he developed the leadership and communication skills necessary to connect with others. He notes, "It was so challenging for me … but in the best possible way."
Knight repeats something that he has said many times before, "In Chiropractic, the credit does not go to the chiropractor because he is just the conduit. He removes the interference, but it is the body that heals itself. It's the innate potential, the spirit of God, that has given it that ability and potential."
When Knight talks about Ernst, he says that he feels blessed that he created another chiropractor. He notes that you just never know what a ripple effect you can have on the world and adds, "Dr. Ernst turned on my light for me, allowing me to be what I was meant to be and find my purpose."
LEARN MORE:
Faces of LIFE is a story campaign that showcases members of the dynamic LIFE community, including faculty/staff, students, alumni and health science professionals. Interested in being featured or nominating a candidate? E-mail LIFENews@LIFE.edu. Read more Faces of LIFE stories.
Related posts