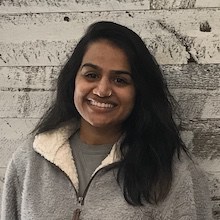 Prita Patel
Silencing the Negative Voices
Student: Doctor of Chiropractic
March 2019
For many years, Prita Patel knew that she wanted to work in health care but couldn't quite seem to land on a specialty. At the same time, she knew that she did not want to attend medical school. Unfortunately, that did not leave her with many choices. She went on to attend the University of Georgia from which she graduated with two degrees – one in psychology with a pre-health track and another in communications studies.
After graduation and knowing she still wanted healthcare to be her profession, Patel shadowed a physical therapist but found that it was not really meant for her, and she says she was "pretty bored." Next, she shadowed an occupational therapist and really liked it, but she felt that since they primarily focus on the upper extremities while she wanted to perform an "overall therapy," it didn't fit what she was looking for either. However, she did really like the creativity of occupational therapy and decided to look into something similar. To aid in her search, on the Bureau of Labor Statistics' website, she noticed a "similar occupations" section on the occupational therapy page, and Chiropractic was listed as an option.
Patel says, "I clicked on it, read about Chiropractic and it immediately made sense to me. I then researched chiropractic schools here in Georgia and found LIFE." With only one other school in mind, she decided to shadow a few chiropractors before making her final decision. However, every one of them recommended LIFE to her, with even a couple not having attended the University themselves.
As soon as she started classes, she was overwhelmed with just how much Chiropractic made sense to her. She has always believed that there was a better way to alleviate symptoms rather than suppress them in the way traditional medicine does. Later, after reaching LIFE's C-HOP clinic with her own patients to adjust, she says it's all truly come full circle when they tell her how much their health has improved, and she could not be happier about it.
She adds, "I want to actually change lives and not just suppress patients' symptoms by prescribing meds. What I do now is clear the body of subluxations so that it can actually heal on its own."
About her time at the University so far, Patel says, "It's definitely been a crazy ride. It's been tough at times, and it's so easy to get stressed and forget why you're here, but once you get the hang of things, start going to clubs and getting to know professors, it all really makes sense. I can genuinely say that I've learned so much and gained confidence in myself since coming here."
Patel often mentions one of her heroes – Michelle Obama. Apparently Patel has taken strength from the former First Lady. at times when she most needed it. Patel says that she suffered from bullying many times throughout her childhood and early adulthood. She says that the bullying mostly consisted of people telling her that she could not and would not achieve academic and professional success. And about those people, whom she chooses not to listen, she repeats Mrs. Obama's quote, "When they go low, we go high." She says that people should never listen to anybody who tells them that they cannot do something.
As an example, she says, "Look at me; I'm here in a great school actually achieving something and loving it! We should try to use others' negativity as motivation and only put out positive energy back into the world. Putting out positive energy and silencing the negative voices is how I've become successful."
Patel says that she very much wants to tell her story to those who are bullied so that they can see what "not letting it get to you" can mean by way of her own success. She adds that she wants others to do their best to also not dwell on their situation, since she feels now that her biggest mistake was spending so much time letting it get to her when she could have started down her own more positive path much sooner.
And back to that path, Patel also wants to remind others that Chiropractic is a tough and stressful road, but with hard work and perseverance, it can be a successful journey. She mentions the multitudes of people at the University who care deeply about the students here and want them to succeed. She adds that there probably aren't any successful people out there who have had a smooth ride. After all, she says, it's not about not hitting the speed bumps, but how you handle it once you do.

LEARN MORE:
Faces of LIFE is a story campaign that showcases members of the dynamic LIFE community, including faculty/staff, students, alumni and health science professionals. Interested in being featured or nominating a candidate? E-mail LIFENews@LIFE.edu. Read more Faces of LIFE stories.
Related posts