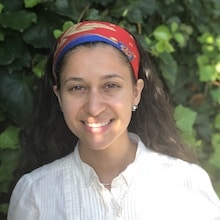 Lola Rodriguez
Building a Sense of Community
Staff: Bilingual Academic Support Professional
December 2017
Lola Rodriguez, from Jayuya, Puerto Rico, is a Bilingual Academic Support Professional in the Student Success Center. Not long ago, a new division called Global Voices was created under the umbrella of Academic Support, and that is specifically where Lola works. She adds, "I work with undergraduate and graduate students and provide helpful resources to LIFE's international students. We help with a little bit of everything because our students are certainly not alike and do not have the same needs." She explains that because of students' cultural differences, their needs vary greatly, and she helps them reconcile issues that they may have so that they may be successful in the completion of their degree.
After studying at the University of Puerto Rico, Rodriguez obtained a bachelor's degree in industrial microbiology, but she had a desire to teach. Luckily, the University offered her an enticing proposition – if she would continue her education and obtain a master's degree from them, they would give her a teaching assistant position so that she could gain experience teaching. Then after completing her master's degree, she conducted research in an environmental laboratory for two years. How she ended up here at LIFE, she has her husband, LIFE D.C. student Xavier Ortiz, to thank. He wanted to become a chiropractor, and since there were no chiropractic schools in Puerto Rico at the time, they came to Marietta so that he could attend Life University.
When asked why she did not pursue the same type of research position here as she held in Puerto Rico, she notes that research is a very solitary vocation, and since she loves interacting with people so much, she decided to seek an entirely different environment. She notes that what she is doing now is something that has always interested her and adds that while she was good at what she used to do, she feels that what someone is good at may not necessarily be something that they should be doing.
"So, I found my job here at LIFE and fell in love with it! It's like a combination of all the things that I have experience with and love, and it provides me with the ability to directly serve the community of those who were not born here," says Rodriguez.
Rodriguez feels that her role at LIFE provides an excellent resource to the success of our international students. While she feels that we have a very open and inviting campus, some international students tend to isolate themselves and group with fellow students from like backgrounds and cultures. Her job is helpful to bring those isolated students, for whatever the reason, into the mainstream on campus by helping them to overcome barriers.
She also encourages students to share their unique cultural experiences with others. She adds, "It's a very open environment here, and everybody wants to hear about other cultures. We're all different – from different places – and not only are the students interested in hearing more about that, but also the faculty and staff as well."
Rodriguez also draws a parallel between Life University's guiding principle of Lasting Purpose and her department's mission. She notes, "Serving out of a sense of abundance and creating a positive impact on students is very prevalent in everything that we do. In my department, we create a bridge from all of the University's resources to our international students. I have found that when making those connections, the faculty and staff here have such big hearts and are here because they want to serve. They didn't just end up here; they wanted to be here, and that is apparent to the students."
She would like to point out that the students' use of her services is completely voluntary, but she encourages those in need of the services to make sure to avail themselves. She explains that students become aware of this resource through new student orientation, classroom visits, student club visits and department open houses. But for someone who was not able to take part in any of those, students may also visit her (undergraduate or graduate students) or Dr. Andrea Diaz (D.C. students) in the Mod 4 building located to the right of Campus Safety, or drop by the Student Success Center in the CCE building.
Rodriguez feels that it is her department's duty to set the tone and communicate to everyone here that all of our students are an integral part of the LIFE community and should enjoy being part of it. She says, "You might feel that you look different, dress differently, sound different, but the LIFE community is being made stronger by welcoming those differences. We know that 'different' is good, and diversity is beautiful."
She adds that we are strengthening our community, increasing awareness and reminding students that whether they stay in the U.S or return to their home countries, after attending LIFE, they will forever carry with them the guiding principle of serving others.

LEARN MORE:
Faces of LIFE is a story campaign that showcases members of the dynamic LIFE community, including faculty/staff, students, alumni and health science professionals. Interested in being featured or nominating a candidate? E-mail LIFENews@LIFE.edu. Read more Faces of LIFE stories.
Related posts