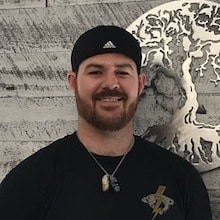 Erik Doherty
LIFE, a Family Affair
Student: Doctor of Chiropractic
September 2019
Erik Doherty struggled to choose between teaching high school math and becoming a chiropractor. However, he considered himself a "chiro baby since day one" because two of his uncles are chiropractors and he's been getting adjusted since he was born.
Doherty is originally from Wall Township, New Jersey and went to Ithaca College in 2010 to study Education to teach high school math. "I soon found out that calculus does not like me," Doherty says after explaining that after two years, this didn't work out for multiple reasons. While he felt like it was a growing experience, Doherty sensed that the universe was telling him he wasn't mean to be a teacher. "Alright, you gave it a shot, but there is a different way you can teach, and you are going to go the other route, and you're going to do Chiropractic."
His brother moved to Los Angeles with his mom to pursue a career in acting, and his dad got a job in Georgia and moved with his other brother, leaving Doherty in New Jersey. That following summer he worked as a camp counselor and lived with his grandmother as he tried to figure out his next steps. He had moved around a lot as a kid and was trying to figure out how to stay in one place, but by the Spring semester of his second year, his dad decided it was time for Doherty to move to Georgia to join them.
Doherty's move from New Jersey to Georgia was a bit of a culture shock, and he decided to take a year off school. His parents had a heart to heart to try and help him figure out his next steps. They decided the best step was to enroll during summer of 2014 in Kennesaw State University to pursue an undergraduate degree in Exercise Science because it would lead into a degree in Chiropractic. A year into his time at Kennesaw, Daugherty did a LIFE leadership Weekend and loved the Life University campus.
LIFE is a family affair because both uncles graduated from LIFE, and one of those uncles had four of his six children attend, or plan to attend, LIFE as well – one graduated from the D.C. program; another is in his second quarter of the D.C. program; one is playing rugby and graduated from undergrad last quarter; and one of his daughters is anticipating to attend LIFE this fall.
In Fall 2017, Doherty enrolled at LIFE because it felt like a no brainer. "My mother was holistic, and I was always around Chiropractic growing up," Doherty said. "When something went wrong, we would get adjusted, eat some good food, rest and trust that the body functions to fix itself." Health and wellness have been engrained in his life for a number of reasons. "Having done my undergrad in exercise science, playing sports my whole life and being a child in a chiropractic family, learning about the body has always been fascinating to me."
Through his eight quarters on campus thus far,Doherty has enjoyed the chiropractic program overall. There have been many challenges that have presented themselves during his time here both at school and his personal life, but Doherty says these challenges have helped him grow as a person, student and future chiropractor.
When it comes to incorporating Lasting Purpose in his life, sometimes Doherty finds it difficult because in order to have a sense of abundance, you have to first take care of yourself. "I work as an orientation leader, but sometimes I feel like there is more that I can do, and I am not yet reaching my full potential." Doherty went on to say that Life University has given him a "sandbox" to play in and meet all the people he was supposed to meet. As an orientation leader he knows the resources that are available and where to find them. As someone who has gone through his fair share of struggles, he looks forward to becoming a contact for new students and to be someone they can truly reach out to while they are here.
Doherty shares his plans to travel after graduation. "Since my senior year of high school, I missed out on a trip to Italy. I have traveled to Scotland, England and Puerto Rico, and I really enjoy exploring. After graduation, I will be taking that trip to Europe. I also have family in Scotland, so I want to see them too." He also is considering studying under another doctor for a year or two before opening up his own practice but is open to whatever opportunity presents itself.

LEARN MORE:
Faces of LIFE is a story campaign that showcases members of the dynamic LIFE community, including faculty/staff, students, alumni and health science professionals. Interested in being featured or nominating a candidate? E-mail LIFENews@LIFE.edu. Read more Faces of LIFE stories.
Related posts