Williamsburg, Kentucky, April 27, 2021 – Life University (LIFE) is proud to announce that its Women's Track & Field team won the first Outdoor Mid-South Conference Championship in program history on Monday, April 26, 2021. Running Eagles student-athletes also claimed eight individual titles and eight other All-Conference honors; Head coach Dominic Demeritte earned the Mid-South Conference Coach of the Year award; and Bria Sands took home MSC Athlete of the Year.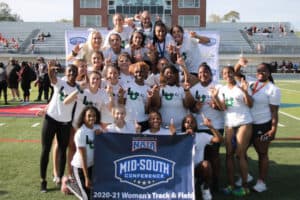 Life U came from two spots back after the first day of competition to win the championship with a total of 217 points, besting Lindsey Wilson (160.50 points) and University of the Cumberlands (144 points), the host of the event.
Out of the nine titles earned by Running Eagles, Sands and Iantha Wright pitched in a total of five. Sands swept all the jumping events she took part in with A-Standard marks across the board, including 5.60m in the long jump, 1.69m in the high jump and 12.05m in the triple jump. Sands exploded for personal records in both the 100m and 200m dashes, leading all racers with times of 11.73 and 24.34 to qualify for the NAIA National Championships in both events.
Other title winners were Alisha Wright blowing past the competition in the 100m hurdles with a time of 14.30; Aliyah Sangster fighting through in the 400m to secure the top spot on the podium with a 58.02; Levonis Davis coming through in the clutch with a throw of 37.49m in her final discus thrown for first; Taylor Ward getting things started for the Running Eagles with a wide margin of victory in the 10,000m run with a time of 38:45.00; and the 4x400m relay team of Alisha Wright, Sangster, Maya Smith-Speed, and Iantha Wright ending things on top for the team with a time of 3:57.53.
Out of Life U's 10 All-Conference team honors, four of them came in very opportune moments for the Running Eagles on the second day, as Briana Madison and Ariana Madison helped the team sweep the podium in the 100m hurdles with times of 14.59 and 15.49, respectively. Life U finished another sweep in the 100m dash with Smith-Speed coming in second with a time of 12.09 and Alexia Perkins third with a 12.12.
Other All-Conference nods went to Silja Petursdottir in the heptathlon with 3,220 points; Sangster finishing third in the 400m hurdles with a time of 1:08.13; Smith-Speed grabbing second place in the 200m dash in 25.08; Ward clinching third in the 5,000m run with a time of 18:46.38; Danielle Albright earning two honors with a second in the hammer throw on a distance of 46.40m and third in the discus with a 36.27m mark; Addison Ammons coming in second in the pole vault with a height of 3.15m; and Davis earning a second place finish in the shot put with a distance thrown of 12.46m.
The championship was a team event with many players contributing points to the win. Ariana Madison took fourth in the heptathlon; Perkins had a 25.41 mark in the 200m; Kaitlin Ivey finished the 3000 steeplechase in 12:34.59; Tatiana Gonzalez and Hannah Burner had times of 35:12.18 and 38:34.48 in the 5,000m racewalk; Kamryn Kimmel ended the 800m in 2:26.75; Kaylee Lowe and Petursdottir had marks of 5.18m and 4.90m in the long jump; and Lowe had a height of 1.39m in the high jump and 10.53m in the triple jump.
The team next turns to the North Florida Invite in Jacksonville, Florida on April 29-30, a last-chance qualifier as the team prepares for the NAIA National Championships May 26-28.
Founded in 1974, Life University is a health sciences institution most known for its Doctor of Chiropractic (D.C.) program, the largest single-campus chiropractic program in the world. LIFE also offers 14 undergraduate degrees, as well as a pre-chiropractic, degree-seeking pathway. Three graduate degrees are available, encompassing areas of sport health science, clinical nutrition and positive psychology. Some degree programs are offered to distance learners through the College of Online Education.
Life University strives to empower its students to succeed both professionally and personally. LIFE advances a leading-edge approach to higher education while also remaining true to the University's philosophical commitment to produce informed leaders who exemplify humanistic values in their professions. To achieve this goal, LIFE recognizes and demonstrates its dedication through three official Life University Values: Lasting Purpose, Vitalism and Integrity.
LIFE's 110-acre campus just northwest of Atlanta is home to more than 2,800 undergraduate, graduate, and professional students who come from all 50 United States and more than 45 countries.
Additional details about Life University Athletics are available at LIFERunningEagles.com.
For more information on Life University, please visit LIFE.edu.
Related posts