Marietta, Georgia, September 8, 2021 – Life University (Life U) alumna and current member of the Georgia House Representatives Dr. Karen Mathiak presented a commendation from Georgia Governor Brian Kemp and the Georgia State Legislature in honor of Founders Month for Research to Life University yesterday, September 7. Founders Month for Research is a 30-day campaign in the month of September centered around the founding date of Chiropractic: September 18, 1895. Life University dedicates the entire month to raising resources and awareness for Chiropractic research.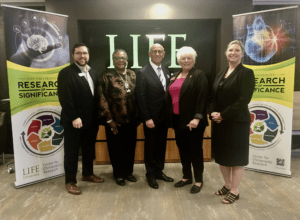 Yesterday's event, held by Life U's Dr. Sid E. Williams Center for Chiropractic Research (CCR) in midtown Atlanta, provided further support that Life U's administration and those faculty, staff and students that work in the CCR are dedicated to tell the chiropractic story using the language of research.
"The recognition from the Governor of Georgia and the Georgia State Legislature that Chiropractic is a profession worth getting behind from a research standpoint is monumental," noted CCR Director Dr. Stephanie Sullivan. "We are grateful to Dr. Mathiak for her efforts in spreading awareness for Chiropractic researcher's need for funding so that we continue to conduct research both relevant to chiropractic patients and those working within the field."
In celebration of 126 years of Chiropractic, Life U is asking donors to please consider a gift of $126, $1,260 or more. If donors would like to set up their own personal Fundraising Page, they can click on the following link for helpful step-by-step instructions: Alumni.LIFE.edu/personalgiving.
If you have any questions, please contact Angela Getter, Executive Director of Development, at 770.426.2974 or Angela.Getter@LIFE.edu or Derek Herron , Senior Development Officer at 770.426.2975 or Derek.Herron@LIFE.edu.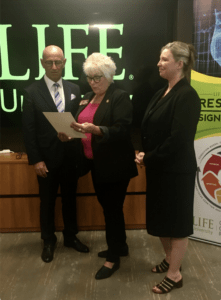 Founded in 1974, Life University is a health sciences institution most known for its College of Chiropractic, the largest single-campus College of Chiropractic in the world. Undergraduates can pursue 14 undergraduate degrees; a pre-chiropractic, degree-seeking pathway; and three graduate degrees within the College of Graduate and Undergraduate Studies. Some degree programs are offered to distance learners through the College of Online Education.
Life University strives to empower our students to succeed both professionally and personally. At LIFE, we innovate our approach to higher education, while also remaining true to our philosophical commitment to produce informed leaders who exemplify humanistic values in their professions. To achieve this goal, LIFE recognizes and demonstrates its dedication through three official Life University Values: Lasting Purpose, Vitalism and Integrity.
LIFE's 110-acre campus in Marietta, Georgia, just northwest of Atlanta, is home to more than 2,800 undergraduate, graduate and professional students who come from all 50 United States and more than 45 countries.
For more information about the Dr. Sid E. Williams Center for Chiropractic Research, visit CCR.LIFE.edu.
For more information about Life University, visit LIFE.edu.
Related posts