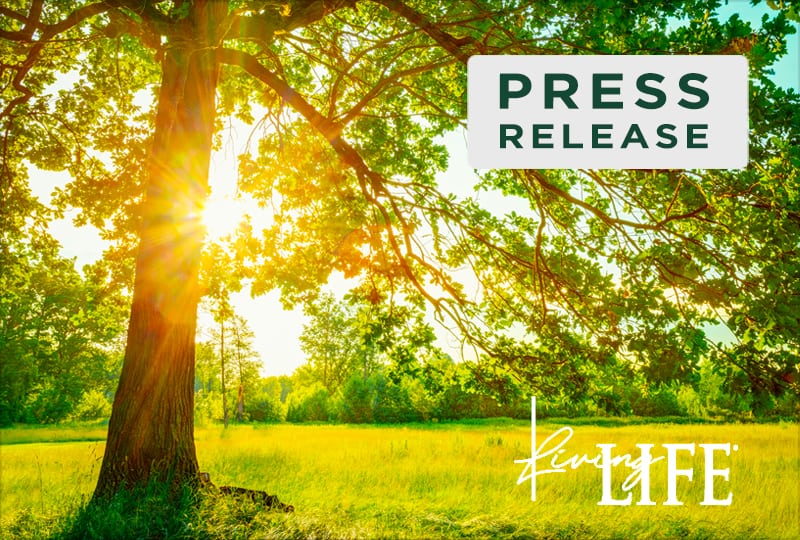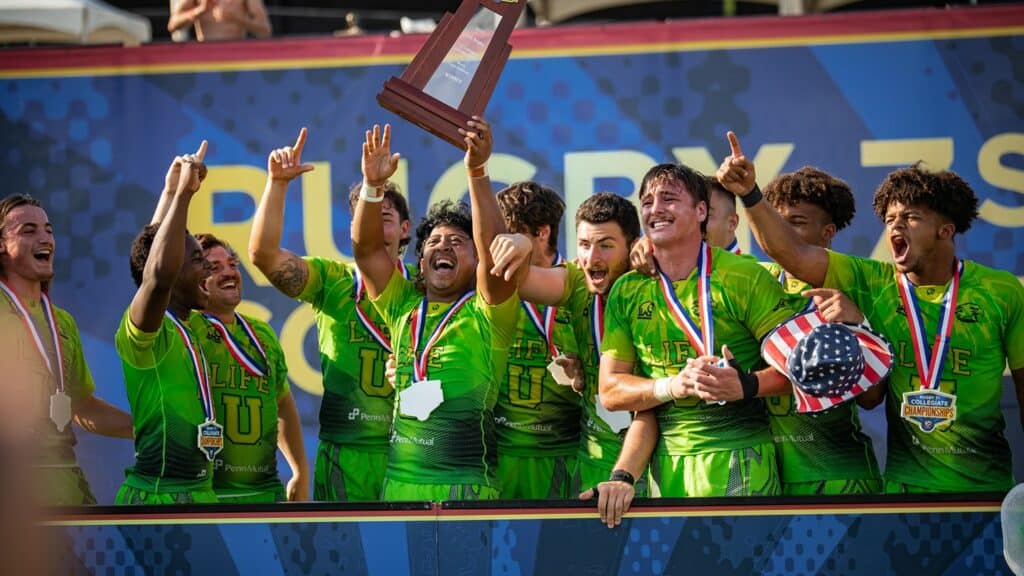 Kennesaw, Georgia- May 16, 2022- It was an exciting finish to a thrilling weekend of athleticism for the Life University (Life U) Men's Rugby team as they captured their first sevens championship in more than a decade at the USA Rugby 7s Collegiate Championships in Fifth Third Bank this Sunday afternoon.
Competition started Saturday with all participating teams competing in pool play with the top eight teams from the opening day moving on to the Gold Cup Championship Bracket for a chance at the top-level title. Life U started in Pool D with Cal Poly, Air Force and Indiana, with the Running Eagles running away with their grouping as they beat their three opponents by a total of 71-12.
As one of only two teams to collect three day-one victories, Life U Men's Rugby earned the second overall seed in the bracket, starting Sunday with a game against a familiar foe from the first day, Cal Poly. The distance between the teams stayed the same in the second meeting, with the Running Eagles quickly dispatching them in the Quarterfinals by a score of 35-7. The Semifinals saw Life U's toughest test of the tournament to that point, facing a very talented and disciplined Saint Mary's program. In what was a tough fought, defensive match that was tied 12-12 late, Philani Simamane broke away late and jumped into the try area to record the game-winning score, sending the Running Eagles into the championship game with a 19-12 win.
The championship game saw Life U line up against their longstanding rival Lindenwood. The first half of the match could not have gone better for the Running Eagles. Smart, clean playing led to a huge 19-0 lead as the teams took a brief pause for halftime. The victory would not come that easily against Lindenwood, however, as the Lions ran off 19 points of their own to see the game tied at the end of regulation. Lindenwood held the advantage going into sudden-death overtime, receiving the opening kick, but excellent defensive play led to a charge down by Darius Law, with Law collecting the ball and racing all the way down the field to tap down the game winning try.
Acting Sevens Coach Jacques Odendaal spoke on how important the win was for the team and community and what helped propel the team to the victory. "This win wasn't just for the team; obviously, the fans held a part in this too. This game brought the Life U community together; the fight was insane. It really felt like everyone was a part of the team. Moving forward from here, I think Life U has put themselves back on the map [in regards to sevens rugby], since it's been 11 years since the last championship," said Odendaal. "A couple of weeks ago, the team sat down, and we asked ourselves what we wanted to accomplish this weekend. Did we want to just come and have fun, or did we want to win? Building up to this win was like a puzzle, putting together small pieces, one at a time, working up to the Final here today where everything just came together. The main thing that helped pull us through was just how close this group is."
The Life U Women's Rugby team also had an admirable showing in this championship, with two wins on Saturday, 40-0 against Queens and 29-0 against Sacred Heart. They suffered an early loss against Army, 14-19, but they progressed into Sunday with a victory over Central Washington by a score of 24-14. They played their hearts out in their Gold Bracket matchup opposite Lindenwood, but couldn't quite turn the tide their way, with a final score of 7-27.
With the conclusion of the USA Rugby 7s Championship, Life U's 2021-22 season comes to a close, with the teams now looking forward to and building toward next season.
Founded in 1974, Life University is a health sciences institution most known for its College of Chiropractic, the largest single-campus College of Chiropractic in the world. Undergraduates can pursue 14 undergraduate degrees; a pre-chiropractic, degree-seeking pathway; and three graduate degrees within the College of Graduate and Undergraduate Studies. Some degree programs are offered to distance learners through the College of Online Education.
Life University strives to empower our students to succeed both professionally and personally. At Life U, we innovate our approach to higher education, while also remaining true to our philosophical commitment to produce informed leaders who exemplify humanistic values in their professions. To achieve this goal, Life U recognizes and demonstrates its dedication through three official Life University Values: Lasting Purpose, Vitalism and Integrity.
Life U's 110-acre campus in Marietta, Georgia, just northwest of Atlanta, is home to more than 2,800 undergraduate, graduate and professional students who come from all 50 United States and more than 65 countries.
For more information about Life University, visit life.edu.
For more information about Life U Athletics, visit liferunningeagles.com.
About Life University
Life University is regionally accredited by the Southern Association of Colleges and Schools Commission on Colleges (SACSCOC) to award baccalaureate, master's and Doctor of Chiropractic degrees, and also has programmatic accreditation through the Council on Chiropractic Education (CCE) and the Accreditation Council for Education in Nutrition and Dietetics (ACEND). The mission of Life University is to empower students with the education, skills and values necessary for career success and life fulfillment, based on a vitalistic philosophy.
Related posts