Marietta, Georgia, May 7, 2020 – Life University women's rugby senior captain Spiff Sedrick was recently named the 2020 MA Sorensen Award winner, which is given to the best women's collegiate rugby player in America.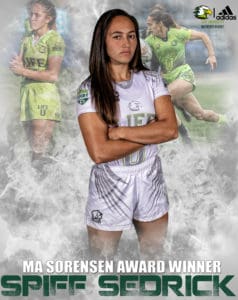 Sedrick is a speedy wing/center who ignited the Life University offense in both 7s and 15s, and who also was named to the USA Falcons team that won the LA Invitational Women's Elite bracket—Sedrick scored for the Falcons in the final to help secure that win.
Fan and team voting around the country pared the group of nominees down to five finalists. Selecting the Sorensen Award winner was then the task of the MA Sorensen Award Panel, which included: USA Rugby's head of collegiate rugby Johnathan Atkeison, BYU Head Coach Tom Waqa, Life University Head Coach Rosalind Chou, Quinnipiac Head Coach Becky Carlson, Air Force Academy Head Coach and Commissioner of NIRA Amy Rusert, Editor of The Rugby Breakdown Jackie Finlan, and Goff Rugby Report Editor and Sorensen Award coordinator Alex Goff. MaryAnne Sorensen herself is also on the selection panel.
Those eight panelists chose Sedrick in a very competitive vote. Sedrick won thanks to her broad range of skills. Not only is she elusive and quick, but she is a smart player with strong passing ability who is excellent on defense. The product of Utah Youth Rugby, Sedrick has also shown great talent in 7s.
"Since her first day on campus, Spiff has been laser focused and has excelled in her role as a student-athlete," Head Women's Rugby Coach Rosalind Chou stated. "She is perpetually working to become the best version of herself and has been outstanding in the classroom and on the rugby pitch. She's developed into a leader, and while she has received a number of accolades, she carries herself with humility and grace. She's left the program and the jersey better than she found it. I cannot think of a more deserving person for this honor than Spiff."
The MA Sorensen Award is named after MaryAnne Sorensen, who was a groundbreaking player for College of William & Mary, and was the starting prop for the USA team that won the 1991 Women's Rugby World Cup. An accomplished player for many years, accomplished rugby coach and highly respected doctor who is still practicing, Sorensen epitomizes the broad-based contributions college rugby players make to their community. She has also attended all four of the previous awards dinners, and her speeches are one of the highlights of the evening.
The MA Sorensen Award is given out by the Washington Athletic Club of Seattle, Washington every year. It was started in 2016, and Goff Rugby Report has partnered with the WAC each year to help select the recipient. Unfortunately, due to the COVID-19 outbreak, there will be no awards dinner this year, but that shouldn't take anything away from the accomplishments of all of the finalists.
"This was a hugely competitive field, and any one of these finalists—Spiff Sedrick, Sarah Skinner, Cassidy Bargell, SuiA'au or Alex DiMarco—would have been worthy recipients of the award," said Goff in his role as award coordinator. "It was a shame that the season had to end early, but I want to thank the panel for making a very difficult choice. And congratulations to Spiff for this accomplishment."
To read the full article from the Goff Rugby Report, please click here: Life University Back Spiff Sedrick Wins MA Sorensen Award
Finalist Video
Rugby 7's Magazine Highlight
Related posts