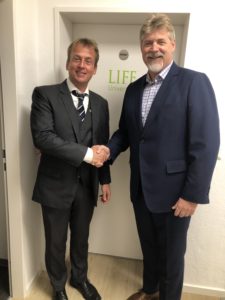 Germany
After several events for Life University networking organized by Dr. Sven Paris in Germany, and with the support Life University President Dr. Rob Scott along with representatives of Global Initiative team, Life University opened an Office of Representation in Braunschweig, Germany.
The purpose of this Office of Representation is to become a reference point and information source for individuals in Germany, and indeed in Europe, inquiring about chiropractic studies in the United States.
"This is a great step in establishing credible reference and networking venues for the advancement of Chiropractic in Europe," says Dr. Hussein Elsangak, full-time faculty member in the Clinical Sciences division of Life University's College of Chiropractic, member of the Alliance for Health Promotion board and Life University Global Initiatives Liaison for Europe, Eastern Mediterranean and Africa.
Dr. Sven Paris is one of the most disciplined, successful chiropractors in Germany and in Europe. For more than 20 years, he has operated a very busy practice and has been the official chiropractor for the Volkswagnon factory in Wolfsburg, Germany.
Dr. Paris is a great supporter and advocate for Chiropractic. He has been helping many young students learn about the chiropractic lifestyle, principles, education, effectiveness and practice.
Over the decades, Dr. Paris has referred many students to several European Chiropractic institutions and to LIFE, where his own two sons Kjel and Fyn are students in their 11th and 4th quarters, respectively.
Dr. Paris comments, "I visited Life University several times, and I am thoroughly impressed with its principles and discipline, as well as its leadership. This encourages me to support LIFE's global direction for the benefit and progress of our profession."
 Costa Rica
On January 7, Life University signed a Memorandum of Understanding with Universidad de Iberoamerica, Costa Rica to assist them in establishing a chiropractic education program for Spanish speaking students throughout North, Central and South America. It will start as a nationally accredited program with their desire to provide chiropractic education regionally, as well as chiropractic services to the people of Costa Rica. Also, initial meetings have begun with the licensing board to launch PEAK opportunities for senior students interested in completing their clinical experience in Costa Rica beginning in Summer 2020.
Related posts