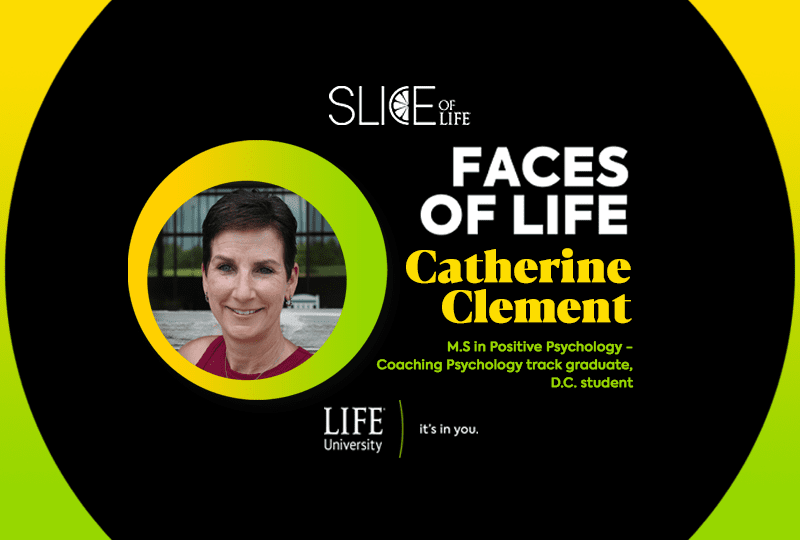 M.S in Positive Psychology – Coaching Psychology track graduate
D.C. student
"The Problem Solver"
Prior to attending Life University (Life U), Catherine Clement owned and operated Stabilize Studios, a Pilates and movement rehabilitation studio in Raleigh, North Carolina. Her primary concentration in that business revolved around providing support for individuals with movement issues, particularly those related to scoliosis. Many people might think of Pilates as a trendy exercise regiment, but Clement's clients typically came to her to alleviate systemic health issues as opposed to simple aerobic enjoyment.
"I became the problem solver," said Clement.
During COVID-19 lockdown, Clement took the opportunity to fulfill a longtime desire to return to school by signing up for the M.S in Positive Psychology – Coaching Psychology track with Life U. This online degree complimented her efforts working with people and movement because "often times when people have a hard time moving, it's not just a physical issue. It's sometimes an emotional or mental issue."
Clement's intention was to be able to coach those people through these difficulties as they arose. This kind of one-on-one physical and emotional work lends itself to a deeper kind of coach/client relationship, "kind of like a hairdresser, where you tell them your whole life story. You develop a more intimate relationship in that sense."
At the conclusion of her master's, Clement sought the next steppingstone to propel her career forward and to find therapeutic solutions for the people that counted on her. This process led her to an interest in spinal support and eventually chiropractic care.
In a big leap of faith, Clement decided to close her studio and move to Georgia to pursue her Doctor of Chiropractic at Life U.
"Right now, I am really enjoying all of it […]. The information is amazing, although heavy at times. But it's what I really want to know. I want to know why and how, and I need to be curious. And I am more curious than I was before," said Clement.
Faces of LIFE is a story campaign that showcases members of the dynamic Life U community, including faculty/staff, students, alumni and health science professionals. Interested in being featured or nominating a candidate? We want to hear from you! Email Marketing@life.edu. Read more Faces of LIFE stories.
Related posts