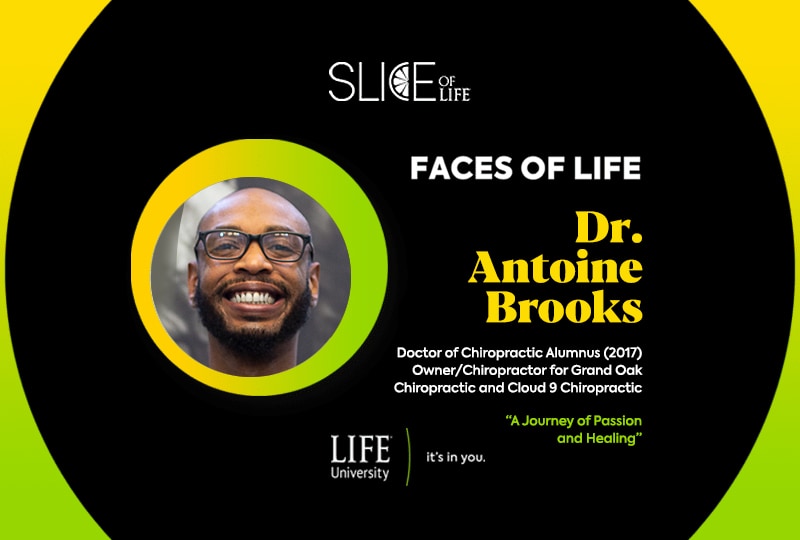 Doctor of Chiropractic Alumnus (2017), Owner/Chiropractor for Grand Oak Chiropractic and Cloud 9 Chiropractic
"A Journey of Passion and Healing"
In this edition of Faces of LIFE, we delve into the inspiring story of Dr. Antoine Brooks, a chiropractor who has followed his passion for preventive health care and makes a significant impact in his community. From his small-town upbringing to his dedication to helping others, Dr. Brooks' journey is one of determination and success.
Discovering Chiropractic
Growing up in Lafayette, Alabama, Dr. Brooks always knew he wanted to pursue a career in medicine. However, he was unsure of the specific path he wanted to take. It was during his senior year at Alabama State University that he attended a lecture given by a Life University (Life U) representative and discovered the world of Chiropractic.
Dr. Brooks recalls, "I never really thought about Chiropractic, but when I heard about it, it sounded phenomenal."
Intrigued by the idea of a preventive approach to health care, he visited the Life U campus and instantly fell in love with the energy and atmosphere.
Building a Family and a Home:
After completing his education, Dr. Brooks settled in Loganville, Georgia, with his wife Felicia and their one-year-old daughter Serenity. They recently purchased their first house, marking a significant milestone in their lives.
Reflecting on the experience, Dr. Brooks shares, "It's definitely different from apartment living, but I wouldn't change it for anything in the world."
The sense of accomplishment and the ability to create a nurturing environment for his family is a source of great joy for him.
A Mobile Chiropractic Practice
In addition to his work at Grand Oak Chiropractic in Loganville and the Riverdale location, Dr. Brooks runs his own mobile chiropractic practice called Cloud 9 Chiropractic. This innovative approach allows him to bring his services directly to clients' homes or places of business. Particularly during the COVID-19 pandemic, this mobile practice was invaluable in ensuring people could receive the care they needed while feeling safe and comfortable.
Dr. Brooks emphasizes, "It's a blessing to be able to help someone get out of pain and get back to where they were before."
Teaching and Guiding
Dr. Brooks' passion for education led him to become a professor at Point University in West Point, Georgia. As the first full-time African American male professor teaching biology, he felt a tremendous sense of pride and responsibility. Guiding undergraduate students and sharing his knowledge and experiences allowed him to make a positive impact on their lives.
Dr. Brooks recalls, "It felt awesome to go from being a student to now being the teacher. I could guide them and provide real-life advice, helping them navigate their academic and personal journeys."
The Astonishing Influence of Role Models
Dr. Brooks reminisced about his childhood and the impact of seeing an African American male doctor in their hometown. This representation inspired him and made Dr. Brooks realize the potential of his own future. Dr. Brooks also expressed his desire to be a professor or teacher as he fell in love with the profession. He highlights the importance of diverse role models in shaping career aspirations and the power of representation.
Juggling Multiple Roles
Dr. Brooks shared his experience of working multiple jobs simultaneously, including teaching and working at chiropractic clinics like The Joint Chiropractic, emphasizing the opportunity to hone his adjusting skills because of the high volume of patients he saw. He also discussed the diverse range of patients he treated, from those seeking wellness care to those with minor injuries. This showcases the versatility and breadth of chiropractic practice.
Making a Difference in Patients' Lives
Dr. Brooks recounted a heartwarming story of a woman who had slipped and fallen out of her bed, leaving her unable to walk without a brace and cane. After receiving chiropractic care, she was able to walk down the aisle on her wedding day. The chiropractor humbly attributes his role to being a messenger, removing interference and allowing the body to heal.
Memorable Moments and Community Bonding
Dr. Brooks also reminisced about his time at Life U. He recalled attending events on campus where he had the opportunity to sample different foods and meet various clubs and organizations. These events fostered a sense of community and allowed for connections to be made across different student groups. He fondly remembers the excitement of obtaining free T-shirts and the camaraderie shared with his best friend during these events.
Faces of LIFE is a story campaign that showcases members of the dynamic Life U community, including faculty/staff, students, alumni and health science professionals. Interested in being featured or nominating a candidate? We want to hear from you! Email Marketing@life.edu. Read more Faces of LIFE stories.
Related posts