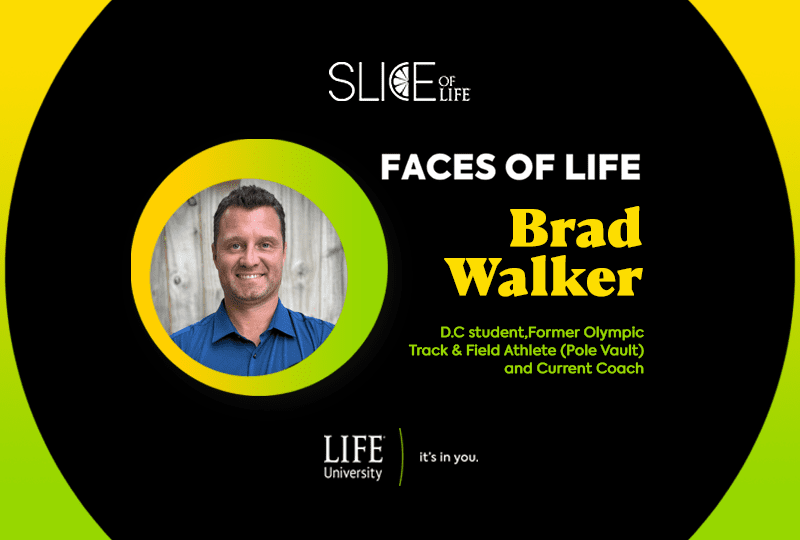 D.C student, Former Olympic Track & Field Athlete (Pole Vault) and Current Coach
"Chiropractic, Coaching and the Olympics"
Brad Walker moved around a good bit growing up, but he considers Spokane, Washington home. Walker attended the University of Washington for his undergraduate degree, which is where his success in track and field "started to take off." His collegiate competition kicked off a roughly decade-long professional track and field career, culminating in Walker competing with Team USA at the Olympics in Beijing 2008 and London 2012 in the Pole Vault event.
"Competing at the highest level and biggest stages in the sport and traveling all over the world, getting my passport stamped almost everywhere I could have wanted to go was an amazing part of track and field. And the opposite side of it, the hard work, determination and willpower to succeed are the lessons that sports at the highest level teach you," said Walker.
Life University (Life U) is no stranger to welcoming Olympians on campus, with past student-athletes that have previously competed in the games or student-athletes that have gone on to compete post-graduation. Now retired from professional competition, Walker has reinvented himself as a coach mentoring the next generation of elite pole vaulters, and his vision of fully realized coaching involves a background in chiropractic education to help his athletes unlock their ultimate potential. Walker coaches a team of Olympic-hopeful and Olympic-champion pole vaulters, including Katie Nageotte, 2020 Gold Medalist in Women's Pole Vault, and Sandi Morris, 2016 Silver Medalist in Women's Pole Vault.
"It's a very different set of emotional feelings being an athlete versus being a coach. […] I don't get super nervous because I know it is the athlete's responsibility to go and get the job done," said Walker.
Walker consistently utilized chiropractic care throughout his athletic career in order to perform at peak condition and stay healthy, so it makes sense to him to become a chiropractor through Life U and incorporate those skills on the sidelines as needed along with his coaching. Walker quickly realized that, as a coach, it made sense to be able to "do soft tissue work and keep his athletes healthy, and it would be an important aspect of coaching at the highest level."
Walker most enjoys the adjusting classes he is taking, as well as "learning the general anatomy as a person who has used his body for his job and for his career, so it's neat to understand anything related to physiology." His main goal is to hopefully help his athletes remain "as subluxation-free as possible."
Faces of LIFE is a story campaign that showcases members of the dynamic Life U community, including faculty/staff, students, alumni and health science professionals. Interested in being featured or nominating a candidate? We want to hear from you! Email Marketing@life.edu. Read more Faces of LIFE stories.
Related posts