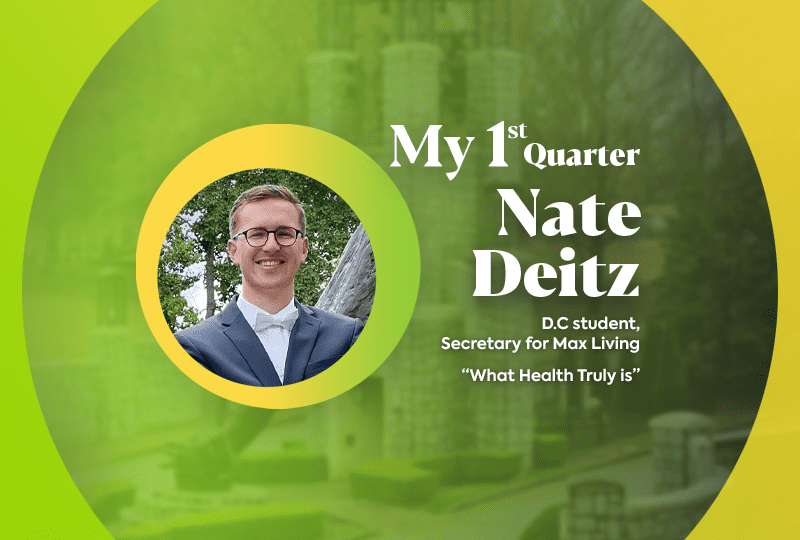 D.C student, Secretary for Max Living
"What Health Truly is"
What made your first quarter at Life U memorable?
The most memorable thing about my first quarter was just meeting so many like-minded people in their own communities. It's such a different culture here at Life U. Everybody is so happy and so fulfilled. Just being around that environment was awesome to see and be around.
What surprised you during your first quarter at Life U? 
It was so much different than my undergrad program. All the professors were so friendly and they were all so interested in bringing the most out of their students. I felt like the students were also focused on being their best selves.
They were all very focused on 'What can I do to better myself or be the best doctor I can be in the future?'
Tell us about your experiences with the Max Living club?
Max Living is a place where we work to develop our personal skills to become the next best doctor in our community. It's really so important because people in our communities are starving for what health truly is.  
Max Living helps us articulate that in a way that can draw people and change lives, change families' directions to help people that have been generationally sick. We can change paradigms, help people move into a more natural health paradigm.
What advice would you give to a new or prospective Life U student? 
Make sure that you become the most well-rounded student that you can, not to just focus on technique clubs because that is such a popular thing. Most of my friends when we first started would say 'Okay, where are all the technique clubs?'
But you also need to make sure that you are able to talk to people and spread the word of Chiropractic, doing things where you are forming habits that make you the most successful person. [That can also refer to] whether you are the most successful father, most successful mother, most successful friend and most successful person in the community where you are going to maximize your life and feel ultimately fulfilled.
Things like Max Living club or the Life U Bible club or Pediatric Experience on campus, anything to help you develop those skills to where you are going to become that person that is magnetic for people to come and see.
My 1st Quarter is a campaign featuring students reflecting on their 1st quarter of studies at Life University and why it was so special and unique. All University students (undergraduates, graduates and D.C.) are encouraged to share their experiences in order to help those in future incoming classes get a real-life glimpse of what they can expect as they start a new chapter of their education journeys at Life U. If you would like to be featured or have a suggestion, email Marketing@life.edu.
Related posts