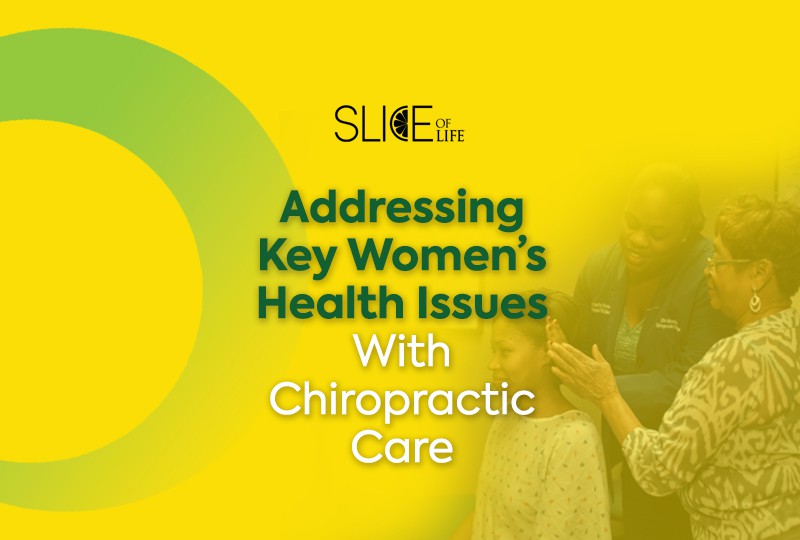 Health care is at its best when it involves the unique and individual needs of the patient. That is especially true in women's health issues, which is why responsible chiropractors make it a priority to address them in personalized and holistic ways. For an overview of how chiropractic care deals with challenges related to women's health, The Foundation for Chiropractic Progress (F4CP) drafted an informative article titled "Chiropractic Care & Women's Health."
While it is true that both men and women have many of the same pains, such as low back pain, neck aches, joint pain and headaches, women often require a different kind of specialized care for these neuro-musculoskeletal pain issues. Just as each individual patient has various factors that may need to be addressed with chiropractic care, so too does the unique physiology of the female body structure and needs. Doctors of Chiropractic (DCs) help their patients determine the root cause(s) of their pain and work with their patients to craft care plans focusing on prevention, pain relief and an overall improved sense of well-being. The best part is the care plans drafted by DCs utilize natural and holistic health care methods without relying on possibly harmful pharmaceuticals.
Let's look at a few common neuro-musculoskeletal problems that women encounter and how Chiropractic can help them safely and effectively.
Prenatal and Pregnancy Care-Over 68 percent of pregnant women report pain in their lower back according to Obstetrics & Gynecology. Pelvic pain after birth is also extremely commonplace. There are many studies that show that chiropractic care for pregnancy is safe and effective, though more information is needed to reliably pinpoint what percentage of women report relief and to what degree. In general, DCs can help new mothers and moms-to-be to manage pain responsibly and improve structural balance to prevent discomfort from returning once the baby has been delivered.
Pelvic Floor Functionality- During and after pregnancy, urinary incontinence can often occur, caused by stretching or tightening of pelvic floor muscles. These muscles control the bladder, vagina, uterus and bowel's ability to remain in place and affect the functioning of these organs. Menopause, weight gain, past injury or inactivity can also trigger pelvic floor dysfunction. Chiropractic care can help correct structural imbalances causing incontinence, as well as back pain. Chiropractic adjustment can be used to relax pelvic floor muscles and improve urinary and bowel control.
Breast Health- Women with larger breasts can experience poor posture, and this can result in the back muscles working harder, which could lead to back pain when left uncorrected. Selecting a properly fitting bra can help prevent back pain, but only 15 percent of women wear bras that are correctly fitted according to a study by the Journal of Science and Medicine in Sport. A personal DC can help relieve pain caused by a badly fitting bra, as well as provide guidance to improve posture through care, exercise and more. Poor posture is a major contributor to back pain, and it needs to be addressed.
Sciatica- Characterized as pain that radiates from the lower back down to the hips and legs caused by compression of the sciatic nerve, this condition can affect both men and women. Women, however, can often have longer recoveries and worse outcomes compared to men. Wearing high heels can exacerbate this problem, as the shoes shift the weight forward and stretch the hamstring where the sciatic nerve is located. Clinical trials have been conducted that show that chiropractic adjustments can help sciatica sufferers experience significant pain relief. A DC can also recommend shoes or sole inserts that can help prevent pain from coming back.
Menstruation Pain- Cramping and abdominal pain related to menstruation is highly common among women of reproductive age. It is an ever-present problem that many women don't like to talk about, but there is more to be done than to just grin and bear it. Connective tissue manipulation is a type of care that a DC can deliver that has shown some reduction in pain in clinical trials. Similar pelvic area treatments have also resulted in reports of reduced pelvic pain in the lower back as well as higher serotonin levels, a brain chemical associated with a greater sense of well-being.
You deserve chiropractic care that addresses your unique needs.
How Life University Promotes Women's Health and Female Chiropractors
Life University (Life U) offers a wide array of student clubs that educate about the particular needs for women's health as it relates to chiropractic care, as well as prenatal care and pediatrics. These clubs include, but are not limited to: League of Chiropractic Women, International Chiropractic Pediatric Association (ICPA) and Alpha Delta Upsilon (Chiropractic sorority).
Sources (from original F4CP article):
Wang, Shu-Ming et al. "Low back pain during pregnancy: prevalence, risk factors, and outcomes." Obstetrics and gynecology vol. 104,1 (2004): 65-70. doi:10.1097/01.AOG.0000129403.54061.0e
Bergström, C., Persson, M. & Mogren, I. Pregnancy-related low back pain and pelvic girdle pain approximately 14 months after pregnancy – pain status, self-rated health and family situation. BMC Pregnancy Childbirth 14, 48 (2014). https://doi.org/10.1186/1471-2393-14-48
Lisi AJ. Chiropractic spinal manipulation for low back pain of pregnancy: a retrospective case series. J Midwifery Women's Health. 2006;51(1):e7-e10. doi:10.1016/j.jmwh.2005.09.001
Haavik, Heidi et al. "Effect of Spinal Manipulation on Pelvic Floor Functional Changes in Pregnant and Nonpregnant Women: A Preliminary Study." Journal of manipulative and physiological therapeutics vol. 39,5 (2016): 339-347. doi:10.1016/j.jmpt.2016.04.004
Schinkel-Ivy, Alison and Drake, Janessa D.M. 'Breast Size Impacts Spine Motion and Postural Muscle Activation'. 1 Jan. 2016 : 741 – 748.
McGhee, Deirdre E, and Julie R Steele. "Optimizing breast support in female patients through correct bra fit. A cross-sectional study." Journal of science and medicine in sport vol. 13,6 (2010): 568-72. doi:10.1016/j.jsams.2010.03.003
Peul, Wilco C et al. "Influence of gender and other prognostic factors on outcome of sciatica." Pain vol. 138,1 (2008): 180-191. doi:10.1016/j.pain.2007.12.014
https://uspainfoundation.org/blog/five-surprising-ways-you-might-be-worsening-your-sciatica/
Ju, Hong et al. "The prevalence and risk factors of dysmenorrhea." Epidemiologic reviews vol. 36 (2014): 104-13. doi:10.1093/epirev/mxt009
Özgül, Serap et al. "Short-term effects of connective tissue manipulation in women with primary dysmenorrhea: A randomized controlled trial." Complementary therapies in clinical practice vol. 33 (2018): 1-6. doi:10.1016/j.ctcp.2018.07.007
Molins-Cubero, Silvia et al. "Changes in pain perception after pelvis manipulation in women with primary dysmenorrhea: a randomized controlled trial." Pain medicine (Malden, Mass.) vol. 15,9 (2014): 1455-63. doi:10.1111/pme.12404
Slice of LIFE is an invitation to and extension of everything happening at Life University. Whether you are a current student, a potential freshman or a proud alumni, Slice of LIFE can help keep you connected to your academic community. Know of a compelling Life U story to be shared, such as a riveting project, innovative group or something similar? Let us know by emailing Marketing@life.edu.
Related posts