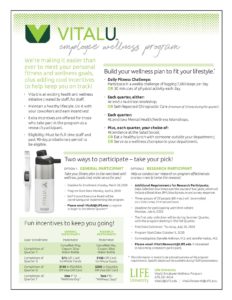 Taking care of your wellbeing is more important than ever, and this program will help you stay on top of various aspects of your health. Spring 2020 VitalU will be completely virtual! Join us in staying connected, active and grounded while earning incentives for doing so.
Register by the Monday, March 30 deadline to participate by clicking HERE. You will receive a welcome email once your eligibility has been verified.
We're making it easier than ever to meet your personal fitness and wellness goals, plus adding cool incentives to help keep you on track!
• VitalU is an exciting health and wellness initiative created by staff, for staff.
• Maintain a healthy lifestyle. Do it with your coworkers and earn incentives!
• Extra incentives are offered for those who take part in the program as a research participant.
• Eligibility: Must be full-time staff and past 90-day probationary period to be eligible.
Related posts