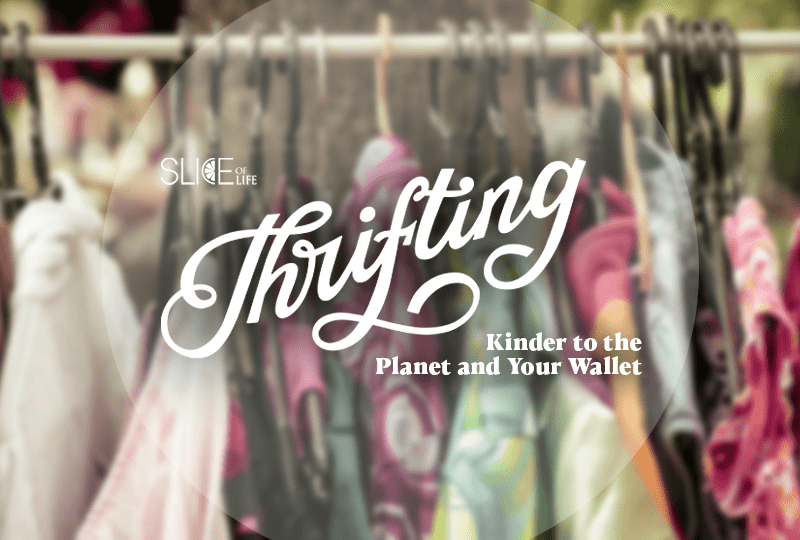 Life University (Life U) is committed to a more sustainable future. This is perhaps most evident in our Human Ecology program, which explores how human behavior impacts the larger environment. To that end, we love to share simple and easy ways that our Life U community can make a positive impact on Mother Earth. There is one everyday lifestyle choice that has substantial environmental implications: fashion.
Personal fashion and clothing selections make a statement about how we want to be seen by the world, and they also make hidden statements about what matters to the wearer, whether they know it or not. To a certain degree, it boils down to the concept of voting with our dollars. Every time we purchase a brand-new t-shirt or slick pair of sneakers produced through fast fashion manufacturing practices, that has a negative impact on the environment, which compounds as more and more people fill their closets with clothes designed for affordability and profitability in mind rather than sustainability. That, of course, isn't to say that we as fashion-loving shoppers should never indulge in a splashy new handbag or pair of classic jeans, but it is something to be aware of as we fill up our physical and virtual shopping carts.
Say no to Fast Fashion
Bloomberg's riveting exposé, "The Global Glut of Clothing Is an Environmental Crisis," highlights the mounting issue from many different sides, citing how fashion accounts for up to 10 percent of the global carbon dioxide output according to the United Nations Environment Programme. That carbon dioxide usage outnumbers the combined output of international flights and shipping. And every year, the demand for new styles and more product increases this environmental strain.
Additionally, fashion creation accounts for 60 million tons of plastic produced annually around the world, a fifth of the 300 million overall tons produced each year. You probably didn't know it, but there is a high probability that you are wearing plastic right now, in the form of polyester. Polyester is a fabric formed primarily from plastic, and it now outranks cotton as the foundation of industrialized clothing production.
Many major brands are starting to recognize the sustainability issue, attempting to incorporate recycled clothing and sustainable fabrics into their stores, but it is an uphill battle that may or not come to any sort of satisfactory conclusion. In regard to the recycling of fashion, it is virtually non-existent, and in fact, a staggering 87 percent of the total fiber input used for clothing ends up being incinerated or in a landfill. Not to mention the fact that it isn't uncommon for fashion brands to simply destroy unsold product or to send piles of clothes to rot in landfills.
There is also a fair amount of greenwashing going on, where companies offer products that look good and on the surface appear to be sustainable, but in reality, it is just a way to assuage the guilt of their customers while adding more green to their own pockets. The topic of greenwashing in fashion is a complex and riveting problem that would take too long to unpack here, but check out Harvard Business Review's "The Myth of Sustainable Fashion" for an industry insider's take on why many current corporate sustainability efforts are ill-conceived at best and lip-service at worst.
Now we have looked at why that $7 t-shirt at Target might not be the best idea if we want to reduce our carbon footprint. Yet, the question remains: Where am I going to get my clothes?
Thrifty Fashionista
In 2012, music superstars Mackelmore and Ryan Lewis unveiled a super catchy, if at times explicit, ode to the joys of thrifting called "Thrift Shop" that had the right idea. Shopping in thrift stores can get a bad rap, but, ultimately, it is good for the environment and typically saves you some money as well.
You can find clothes from many kinds of brands, often in very good condition and many times with the original tags still on. And every time you buy something from a thrift store, you are saving it from going straight to the landfill. It is the simplest form of clothes recycling and reuse. Don't forget to donate your own clothes and unwanted items once you no longer need them as well.
Fun Thrift Stores Near Campus 
Here are some great places nearby campus to find your next favorite sweatshirt, skirt or jacket.
Park Avenue Thrift- 1977 S Cobb Dr SE, Marietta, GA 30060
Furkids Thrift Store- 1487 Roswell Rd, Marietta, GA 30062
Goodwill- 1355 Roswell Rd Ste 500, Marietta, GA 30062
St. Vincent de Paul Society Thrift Store- 787 Roswell St NE, Marietta, GA 30060
Uptown Cheapskate- 4880 Lower Roswell Rd Ste 880, Marietta, GA 30068
Slice of LIFE is an invitation to and extension of everything happening at Life University. Whether you are a current student, a potential freshman or a proud alum, Slice of LIFE can help keep you connected to your academic community. Know of a compelling Life U story to be shared, such as a riveting project, innovative group or something similar? Let us know by emailing Marketing@life.edu.
Related posts